A weekly update by the Human Rights Foundation of Monland (HURFOM) on the situation on the ground. Summary data includes Mon State, Karen State, and Dawei Region.
ANALYSIS
HURFOM is extremely concerned over the increasing number of atrocities being committed by the military junta across Burma. Over the last week, violence in Karen State fuelled by arbitrary arrests and abductions of rights defenders and politicians in areas controlled by the Karen National Union (KNU), led to thousands of civilians fleeing uncontrolled horrors.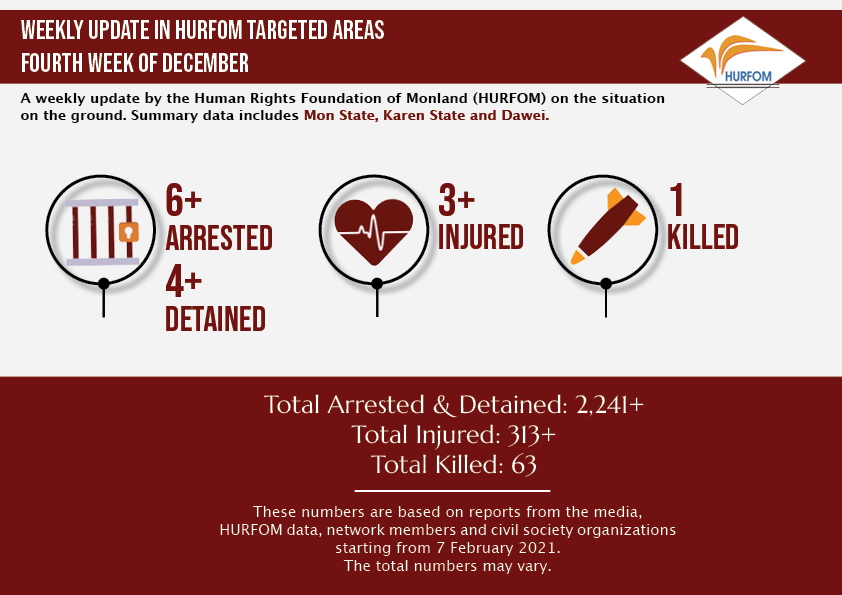 "At the time of reporting, at least 30 indiscriminate artillery shells were fired at our villages. No one dares to live in the village now" said a recently displaced person.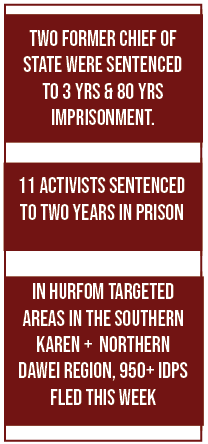 The KNU released a statement following the attacks appealing for humanitarian aid and calling for the Burmese Army to immediately withdraw their troops. HURFOM Program Director, Nai Aue Mon, said in an interview: "Villagers, including innocent women and children, are being forced to flee from their homes because of artillery shells being fired by the military junta."
On 24 December, the junta launched airstrikes in Lay Kay Kaw, Myawaddy township, Karen State. According to local sources, over villagers in Min Let Pan and Phalu fled to the Thai side of the border overnight seeking refuge. The Thai Border authorities assisted in transporting the war-affected refugees from the Burmese side of the border with vehicles near the Thai border and sent them to temporary resettlement sites.
Calls were also amplified by the International Karen Organisation (IKO) for sanction aviation fuel, arms and gas revenue. IKO called for the urgent implementation of new targeted strategic sanctions on the Burmese military in response to escalating attacks against civilians in Karen State.
Arbitrary arrests have not relented, not even during the holidays. Former Karen State Chief Minister Nang Khin Htwe Myint was sentenced by a Hpa-an Township court on December 22 to three years in prison for rigging the election, and now she has been convicted a total of 80 years in prison, according to sources close to Hpa-an Court.
Weekly update on situation in Karen, Mon & Dawei Region since the attempted coup:
7+ Arrested
6+ Detained
2+ Injured
0 Killed
More civilian abductions are taking place by the junta with many missing & being held in unknown locations. HURFOM amplies calls for their release.
Read more
HURFOM: On December 15, 2021, the Ye Township General Administration Chief called all social and emergency rescue groups to a meeting to discuss the licensing of ambulances used by their groups.
During the meeting, a Township police officer suddenly began to speak about an unrelated issue, namely that members of these groups should seek to become police officers, due to a shortage of staffing.
Read more
HURFOM: The previous National League for Democracy (NLD) government had allocated a budget of 400 million Kyat for ethnic affairs in Mon State, but the military junta cut that figure in half, approving a budget of only  200 millions Kayt.
"The budget for the four Mon, Burmar, Karen and Pa-O ethnic affairs units has been halved leaving just 200 million Kyats. The budget for the Mon affairs department has been cut in half and we can access only 50 million Kayts," said a senior member of the Mon Literature and Culture Committee (Central).
Read more
HURFOM: On December 8, 2021, the Local People Defense Forces (LPDF) attacked a police check-point and the Administrative office in Kyaung Yaw village, eastern Ye Township, Mon State.   Soldiers operating from the local military base responded by randomly shooting heavy weapons well into the evening.
Read more
HURFOM: On December 8, 2021, an unknown armed group attacked a police check-point and the Administration office in Kyaung Yaw village, Ye Township, Mon State. The attacks took place at about 5 and at 8:30 pm and the local military base responded by randomly shooting back with heavy weapons, resulting in a woman and a child being seriously injured.
Read more
It has been a difficult year for the people of Burma who have had every aspect of their lives made much more difficult by the military junta. Business owners over the last week were targeted as the regime increases its targeting of those on suspicion of being affiliated with various civilian armed groups across the country.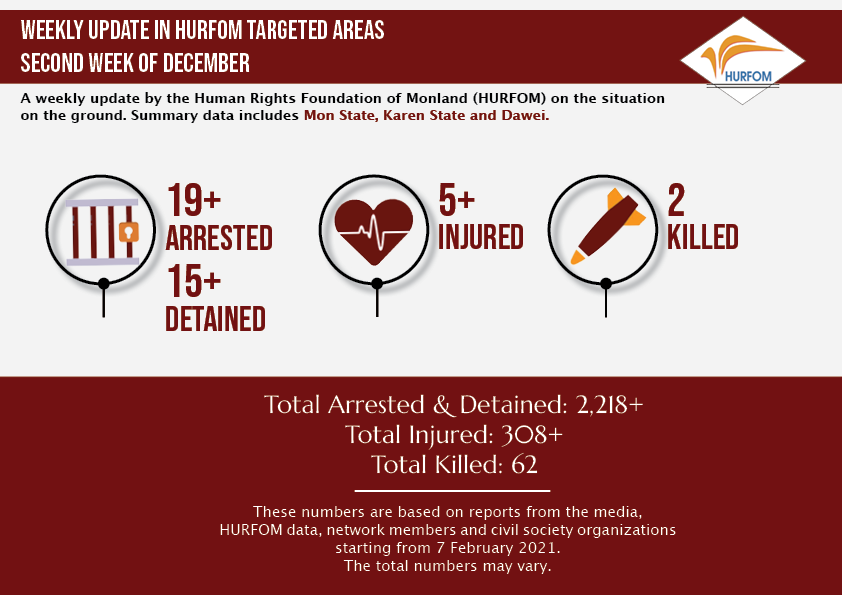 Ko Pyae Sone Oo, age 40 and the owner of Rice & Curry from Naught-Lae Ward, Myeik was killed in the junta's detention centers on December 6, according to a family member who were called to pick up the body at a cemetery. Soldiers arrested and detained him on accusations of being a supporter of the People's Defense Forces on 4 December.
Read more
HURFOM: On December 7, 2021, an armed clash between the Karen National Union (KNU) and the Burmese army broke out near the Lane Maw Chan and Kanin Kamaw villages, in Ye Township, Mon State.
Worried residents have now fled their villages and plantations.
Read more
HURFOM: Ten months of terror have passed since the Burma Army orchestrated a failed coup on 1 February. "Trajectory of Terror," is a new briefing paper by the Human Rights Foundation of Monland (HURFOM) which outlines human rights violations committed in Mon State, Karen State and the Tanintharyi region perpetrated by the military junta between the end of February until the end of November 2021. Military impunity is emboldening the junta to commit more atrocities.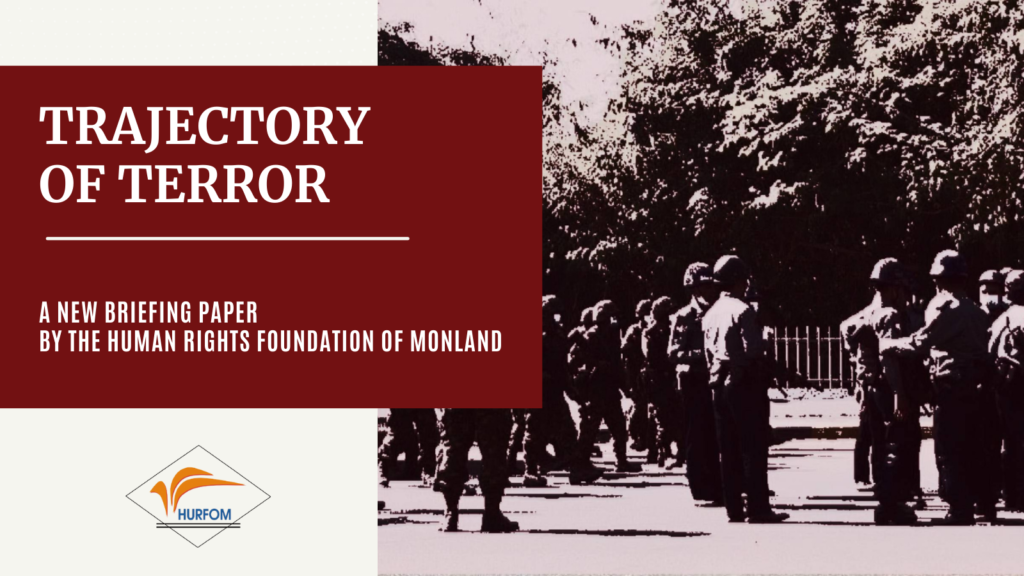 On Human Rights Day, HURFOM expresses grave concern over the lack of safety civilians are being forced to contend with amid the junta's dark crusade for power and control. HURFOM calls for an immediate forfeiting of powers by the Burmese military and an end to the violence which has killed hundreds and injured many more, including the elderly, women and children. [Download in English]
The human rights situation in Burma has spiraled out of control. The increased violence and negligence wielded by the military Generals has left millions without food and shelter. Civilians do not feel safe in the country. Homes are being looted, and villages are being burned to the ground in deliberate acts of arson by the junta. Members of political opposition parties and human rights defenders have been forced into hiding. Children are being denied the right to be educated safely as military soldiers roam schools and use classrooms as bases. Livelihoods have been crippled as landmines litter farms and encircle villages, making leaving for food and work a life or death prospect. This sabotage of survival has been brought on willfully by the Burma Army.
HURFOM fieldworkers have spoken to witnesses on the ground who detailed arbitrary arrests, abductions and assaults on fundamental freedoms of residents in our target areas. The violence has created an unstable environment where hundreds are fleeing persecution and fearful for what their futures hold.
A response by the international community which meets the gravity of the peril's civilians are being confronted with on a daily basis is long overdue. As the year ends, it is with the most profound urgency that HURFOM reiterates calls of our network and allies to respond to the many crises which are worsening daily.
Media Contact
Nai Aue Mon, HURFOM Program Director, Email: info@rehmonnya.org, Signal: +66 86 167 9741
HURFOM was founded by exiled pro-democracy students from the 1988 uprisings, recent activists and Mon community leaders and youth. Its primary objective is the restoration of democracy, human rights and genuine peace in Burma. HURFOM is a non-profit organization, and all its members are volunteers with a shared vision for peace in the country.
HURFOM: According to a source close to the Mon State military junta, anti-coup activists are being monitored via their social media posts.
"Many anti-coup activists have been arrested based on their activities on social media. They aren't aware that the military junta is watching them. The junta has a major project underway monitoring social media leading to activists being arrested," said a source close to the Mon State military junta.
Read more