HURFOM: Today, the Human Rights Foundation of Monland (HURFOM), releases a new briefing paper, "The Rise of Pro-Junta Militias in Southeastern Burma." Our latest briefer finds evidence of increasing violence perpetrated against civilians since the attempted coup on 1 February 2021 by newly formed paramilitias in Mon State, Karen State and Tanintharyi region. These armed groups are trained and fully supported by the military junta. They have access to weapons and are incentivized through moral and monetary support by the illegal regime. View full PDF
Read more
HURFOM: In target areas of the Human Rights Foundation of Monland, including Mon State, Karen State and Tanintharyi region, torture has been perpetrated by the military junta on a regular basis. HURFOM field workers have documented rising levels of fear as the junta increases their presence in civilian areas. Torture is considered a human rights violation under international law. See in full: Burmese | English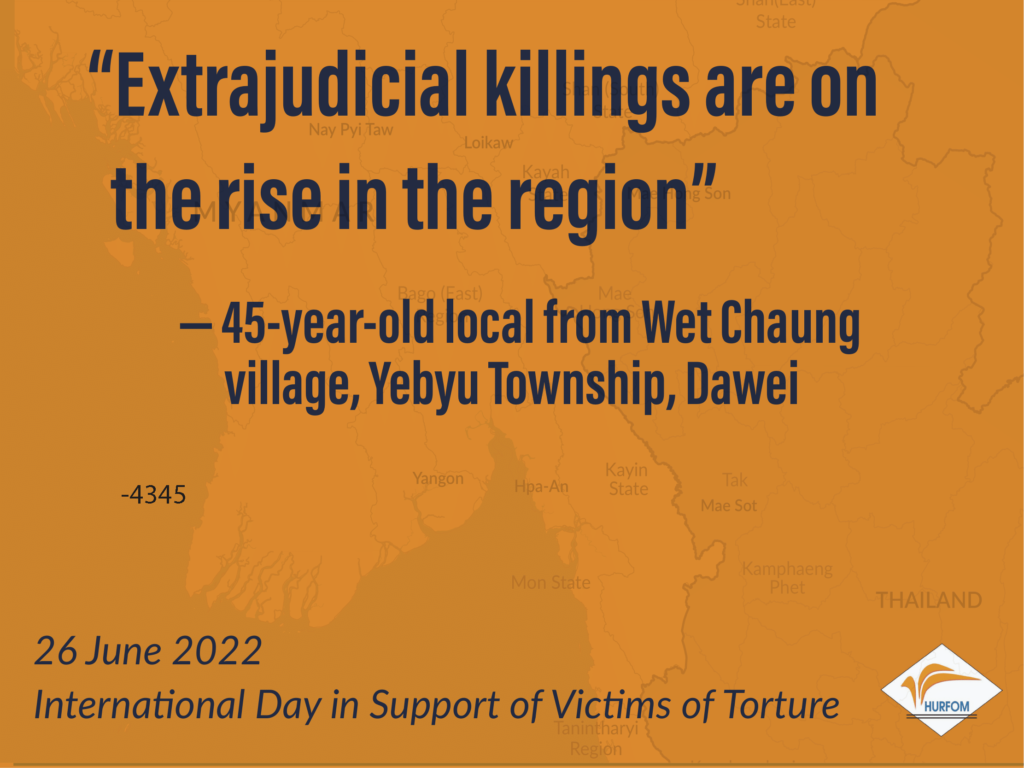 Torture in particular is a tactic which is deployed to scare and intimidate villagers. It is a way to force confessions and to exert power over unarmed, innocent populations. These acts have been committed with impunity. Villagers expressed to HURFOM that victims are denied their final death rights before they are killed. There are growing levels of frustration and uncertainty amid the current situation.
Across HURFOM areas, there have been reports of people being detained by the junta, and tortured to death in military run prisons. All political prisoners are subject to state-sponsored violence in the form of torture. Sexual violence is also considered a form of torture that robs civilians of their dignity. HURFOM has reported incidents of sexual violence against women while being interogated. Female inmates have also been deprived of food and water. Women in Burma are regularly denied their rights in military custody and are an increaed risk of being victims of sexual violence. Prison conditions are unsanitary and also deprive prisoners of their fundamental human rights.
HURFOM condemns the use of torture by any and all parties and calls for investigations to probe the unlawful deaths of civilians across the country who have been tortured to death, as well as those who have been forced to endure trauma and long term injuries as a result.
See in full: Burmese: https://rehmonnya.org/reports/TVSD-HURFOM-Bur.pdf
English: https://rehmonnya.org/reports/TVSD-HURFOM-Eng.pdf
Women in Myanmar have shown their strength over decades of armed conflict. They have also reshaped a landscape of patriarchal values that have long attempted to shape the country. Advocates have been calling for stronger legislation to protect women from physical and emotional violence,  but there has been a disappointing lack of desire to pass laws which would protect survivors and ensure access to justice. [Download the report in PDF format]
Read more
REFLECTING ON 2021
HURFOM: One year has now passed since the Burma Army's attempted coup on 1 February 2021. The Human Rights Foundation of Monland (HURFOM) began documenting atrocities being perpetrated against civilians by the military junta in Mon State, Karen State and Tanintharyi region on 7 February 2021. The crimes that have been committed speak to the unrelenting horrors which continue to be forced upon innocent clusters of the population. The majority of the people in Burma strongly reject the military coup and have been collectively strengthened by a commitment to toppling the terrorist regime.
Read more