HURFOM: The People Defense Forces sometimes use motorbikes when attacking military forces. In response the junta has issued a new order in an attempt to counter the PDF attacks.
As of November it is not allowed for two men to ride a motorcycle or for a woman to be the driver and a man to occupy the pillion (passenger) seat.
Read more
HURFOM: The market price of elephant foot yam,  which accounted for significant income earnings  for the local people in Southern Ye Township, Mon State, has dropped in half.
This price collapse has left local villagers with significant financial losses and is contributing to severe unemployment.
Read more
A weekly update by the Human Rights Foundation of Monland (HURFOM) on the situation on the ground. Summary data includes Mon State, Karen State, and Dawei Region.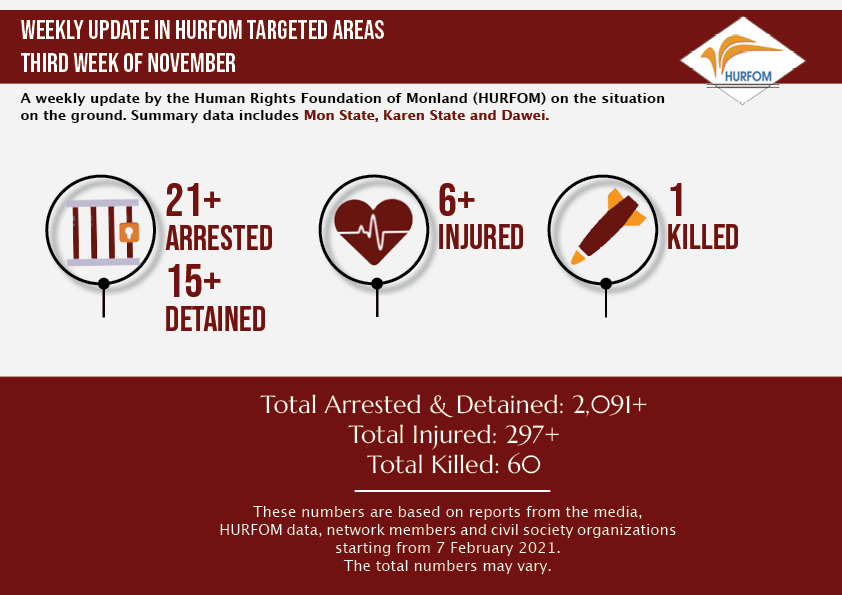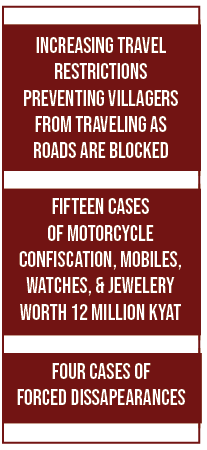 Food insecurity is a worsening threat to the survival of residents across the country. HURFOM has observed ongoing road blockages and travel restrictions, combined with the increased presence of junta soldiers in the streets is making it impossible for daily food needs to be met. The crisis is exacerbated by routine blockages of aid by the military junta.

Travelers that manage to pass the toll gates are regularly extorted for money and possessions including jewelry by the junta. Ransoms are frequently forced to be paid in Mon State while traveling between Thanbyuzayat to Three Pagodas Pass. One of the notorious junta battalions, Light Infantry Battalion No.283 based in Anankwin,has been committing illegal activities daily, according to three travelers interviewed by HURFOM. 

"It seems they have a license to commit these crimes against us. Gangsters are ruling the country. Don't use this route if not necessary," a social worker from Three Pagodas Pass said.

A woman was shot and killed at Maw-Kanin junta's security tollgate (Ye Township, Mon State) at 8:25 PM on November 19. The victim's name is Daw Yi Yi Cho, 48, originally from Maubin Irrawaddy delta. "The soldiers said they ordered to stop us; however, our driver did not hear the order. Shots were fired, and my mother was bleeding from her waist" recalled the son of the victim.

Meanwhile, state-wide abductions of innocent civilians are adding peril and grief to the multitude of crises plaguing the nation. On 14 November, Ko Linn Maung Aye, a father of a three-year-old son was taken away by plain clothes soldiers and is still missing. His wife, who is pregnant, and family and friends are all very worried. The reason for his abrupt arrest remains unknown.

In the evening when junta soldiers arrive to various neighbourhoods, men are searched unlawfully door-by-door where civilians are taken away by military intelligence and special branches forces. These tactics are being deployed to weaken morale of the growing resistance movement and discourage those from joining People's Defence Forces.
HURFOM: The New Mon State Party (NMSP) is taking steps to support migrant labourers who have been cheated by labour brokers.  The NMSP in Three Pagodas Pass, Kyarinnseikyi Township, Karen State, has announced that workers who may have been cheated are encouraged to report their problems to them. 
Read more
HURFOM: The military council that canceled the 2020 election results must implement a Proportional Representation (PR) system in the coming elections, said Nai San Tin, the Joint Secretary of the Mon Unity Party (MUP).
On November 5 and 6, 2021, the Union Election Commission (UEC) , which is controlled by the military, invited recognized political parties to discuss the potential of adopting a PR system in Myanmar.
Read more
A weekly update by the Human Rights Foundation of Monland (HURFOM) on the situation on the ground. Summary data includes Mon State, Karen State and Dawei.
Read more
HURFOM: Starting in October, 2021, privately owned/operated electricity companies in Ye Township, Mon State decided to increase their user fee rates.
Local people who have been suffering from the economic and societal consequences of COVID-19 and the military coup want these companies to withdraw that decision.
Read more
HURFOM: Military's junta check points based at the entrance and exits of cities have been extorting money from travellers, according to a villager with first hand experience.
"I go to the rubber plantation every morning and evening and I always pass the gate. But one day, they stopped me and asked for my motorbike license. We've never had a motorbike license for when we go to the rubber plantation. Only after giving them 5,000 Kyat, did they let me go," said a rubber plantation worker who passed through the Mudon-Thanbyuzayat Check Point.
Read more
(First week of November 2021)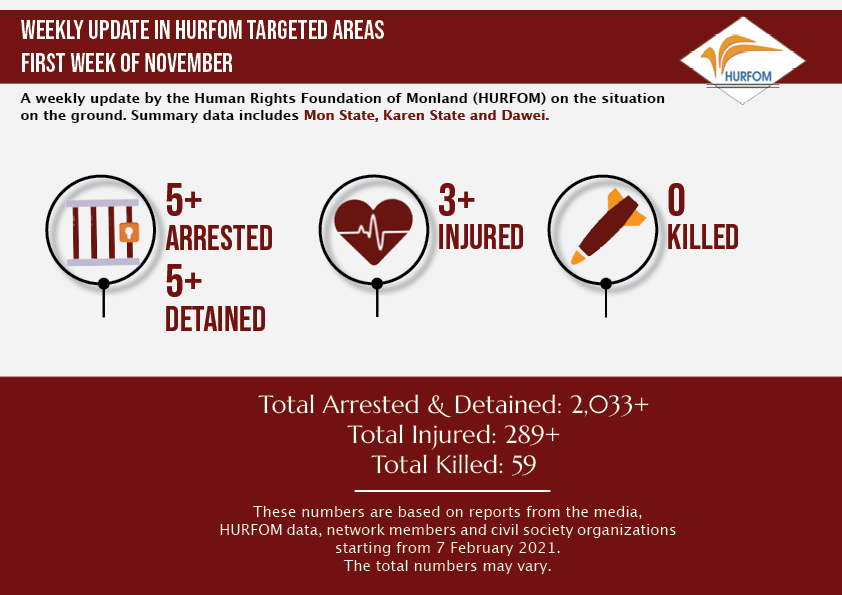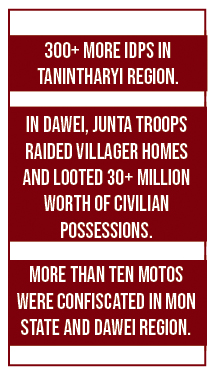 A combination of fear mongering tactics perpetrated by the junta including but not limited to extortion, threats and verbal and physical assaults have sought to advance a military agenda of state-sponsored coercion. However, the people of Burma remain adamant to not bend to the authoritarian rule being forced upon them. Overwhelmingly, citizens have rejected the military's power-grab and have continued to support anti-coup activities. 

HURFOM released a briefing paper called Under Attack, which highlighted the increase in human rights violations committed by the military junta in Mon State, Karen State and Dawei region. The assaults on fundamental freedoms are ongoing. The junta security troops arrested two local civilians without having no arrest warrants after raiding a house in Tha-Baw-Seik-Pyin Village, Long Lon Township, Dawei Region. The two men they arrested were not the ones they wanted, but they were taken away as hostages. When they left the village, they forcibly took three Honda motorcycles, a tank of oil and also robbed three million Kyats from the villagers. 

Alongside, the abductions are growing numbers of civilians fleeing their villages. According to HURFOM network members, approximately 300 more IDPs from four villages in eastern Dawei have fled their homes after the junta vowed retribution against the civilian armed resistance, and those involved in the guerrilla attacks that killed and injured security troops in the last two weeks.
Local villagers said they were worried about being killed, arrested, abducted and/or used as human shields by the junta, or be subjected to sexual harassment. Many have fled in fear.

Leaders on the global stage have a moral responsibility to meet the moment of crisis that civilians have been confronted with
HURFOM: The military junta desperately wants to demonstrate their bureaucracy is running smoothly. This includes starting the 2021-22 academic year at any cost.  Vaccinations for those 12-year-old and above have been prioritized, and they have announced that schools will be open on November 1, 2021.
However, COVID-19 still threatens communities and there is an active people's armed revolution opposing the military dictatorship gaining momentum across the country. These developments have led parents to keep their children at home, rather than registering for school.
Read more