Weekly Update in HURFOM Targeted Areas [Fourth Week of December 2021]
A weekly update by the Human Rights Foundation of Monland (HURFOM) on the situation on the ground. Summary data includes Mon State, Karen State, and Dawei Region.
ANALYSIS
HURFOM is extremely concerned over the increasing number of atrocities being committed by the military junta across Burma. Over the last week, violence in Karen State fuelled by arbitrary arrests and abductions of rights defenders and politicians in areas controlled by the Karen National Union (KNU), led to thousands of civilians fleeing uncontrolled horrors.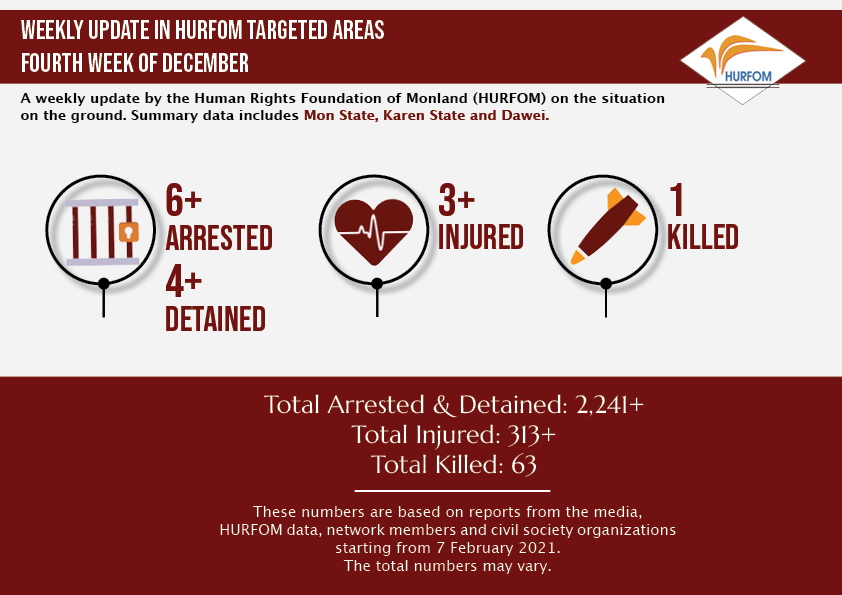 "At the time of reporting, at least 30 indiscriminate artillery shells were fired at our villages. No one dares to live in the village now" said a recently displaced person.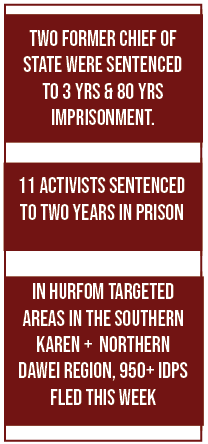 The KNU released a statement following the attacks appealing for humanitarian aid and calling for the Burmese Army to immediately withdraw their troops. HURFOM Program Director, Nai Aue Mon, said in an interview: "Villagers, including innocent women and children, are being forced to flee from their homes because of artillery shells being fired by the military junta."
On 24 December, the junta launched airstrikes in Lay Kay Kaw, Myawaddy township, Karen State. According to local sources, over villagers in Min Let Pan and Phalu fled to the Thai side of the border overnight seeking refuge. The Thai Border authorities assisted in transporting the war-affected refugees from the Burmese side of the border with vehicles near the Thai border and sent them to temporary resettlement sites.
Calls were also amplified by the International Karen Organisation (IKO) for sanction aviation fuel, arms and gas revenue. IKO called for the urgent implementation of new targeted strategic sanctions on the Burmese military in response to escalating attacks against civilians in Karen State.
Arbitrary arrests have not relented, not even during the holidays. Former Karen State Chief Minister Nang Khin Htwe Myint was sentenced by a Hpa-an Township court on December 22 to three years in prison for rigging the election, and now she has been convicted a total of 80 years in prison, according to sources close to Hpa-an Court.
Comments