Weekly Update in HURFOM Targeted Areas [Third Week of December 2021]
Weekly update on situation in Karen, Mon & Dawei Region since the attempted coup:
7+ Arrested
6+ Detained
2+ Injured
0 Killed
More civilian abductions are taking place by the junta with many missing & being held in unknown locations. HURFOM amplies calls for their release.
Full Analysis:
Across the last ten months, the people of Burma have demonstrated unshaken commitment to ensuring the Spring Revolution succeeds. HURFOM has documented widespread human rights atrocities committed by the military junta over the last ten months. A summary of the main violations can be found in our most recent briefing paper, Trajectory of Terror. Despite all of the horrors which have robbed the people of their right to live peacefully, protests are still ongoing and the pro-democracy movement is continuing to be propelled forward by brave civilians committed to a peaceful Burma.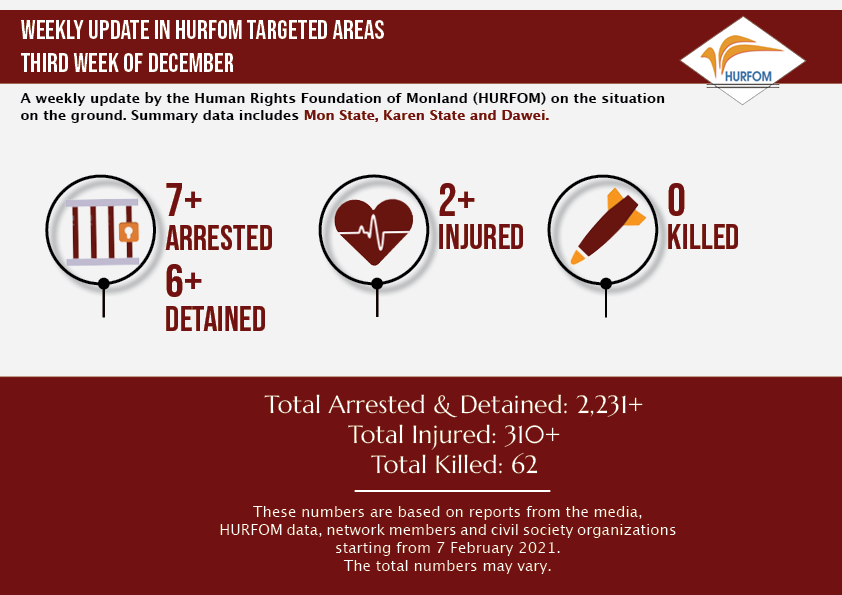 The military junta has scaled up unlawful arrests and warrantless raids on innocent people. Young men are being taken away to unknown locations on suspicions of having ties to local resistance groups. Min Thein Tun Oo, also known as Ko Skit, a businessman from Lamaing, Ye Township, was arrested by a group of junta soldiers on the evening of December 15 on suspicion of funding a local People's Defense group. A source close to his family said that about 20 junta forces raided his home and interrogated him at the LIB No.106 (Light Infantry Battalion) based in Mowkanin village, Lamine, Ye Township, Mon State.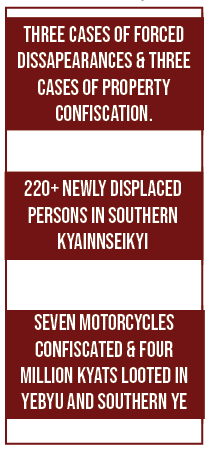 Families and friends reported that their sons and friends have disappeared since December 7, after being arbitrarily arrested by junta troops in Dawei: "We confirmed that Ko Moe Lay, 34, was arrested after the junta checked his smartphone near Kayap-Pyin Ward. We have no idea where he is detained," said a friend of Ko Moe Lay.
Similarly, two young men, Ko Min Maung and Ko Nee, originally from Yebyu have been missing since December 3. Their families are worried about them.
Violence in Karen State has fuelled further instability as civilians are forced to flee the junta's ongoing, increasing offensives.
Comments