HURFOM: The military junta has installed a CCTV system at every street intersection throughout Mawlamyine, Mon State and other big cities.  The system  monitors civilian's movement 24 hours/day, every day.
The installation of the CCTV system was first introduced by the civilian government NLD (National League for Democracy) government, but following the February 1, 2021 coup, the military junta rushed to complete the project.
Read more
HURFOM: Local authorities in the big cities of Mon state have been conducting night searches with the hopes of  catching the members of People Defense Force (PDF) and those involved with the  Civil Disobedience Movement (CDM).
Local people are increasingly worried about the authorities making false arrests.
Read more
HURFOM: A weekly update by the Human Rights Foundation of Monland (HURFOM) on the situation on the ground. Summary data includes Mon State, Karen State and Tanintharyi region.
Read more
HURFOMP: In order to distract from the  current political crisis including the long lasting  anti coup movement, the military junta has been promoting festive events, suggests at least one Mon politician.
The critique points to the fact that permission has been granted to hold any events in Mon State despite the need for adherence to COVID-19 public health and safety measures. Furthermore the military wants to detract public attention from the rampant killing of anti-coup activists, prolonged detentions and growing number of armed clashes including the mass killing of civilians in some ethnic areas.
Read more
HURFOM: According to an official from the Drug Control Department of the Thaton District New Mon State Party (NMSP), the use of drugs and Kratom leaves has increased dramatically.
Previously, only the use of methamphetamine(WY) was found in the area but now, Kratom leaves are widely available. The leaves are boiled and used as a drug in nearly all villages.
Read more
HURFOM: On January 2, 2022, a local People Defense Force  (PDF) unit used drones to attack military forces in Pearl Township, SaGaing Division, located in Northern Burma. The People Soldier's Production Team announced on January 5 that they successfully modified drones to carry bombs and attack military targets.
Soon after, the junta's authority banned the use of drone technology which is often used for video recording or photography in festive events.
Read more
HURFOM: A weekly update by the Human Rights Foundation of Monland (HURFOM) on the situation on the ground. Summary data includes Mon State, Karen State and Tanintharyi region. Amid worsening hostilities and clashes between the junta and armed groups, HURFOM documented 700+ IDPs in Kawkareik Township, Karen State & 100+ in Dawei region.
Read more
HURFOM: Throughout the month of December, documentation by HURFOM found an increase in the number of those arrested, detained and killed. The junta's violence has sparred no one as their onslaughts have trapped the most vulnerable and created new, worsening hardships for civilians. Predictions for 2022 estimate that millions more will be even deeper in poverty, including children. [Download the report in PDF Format]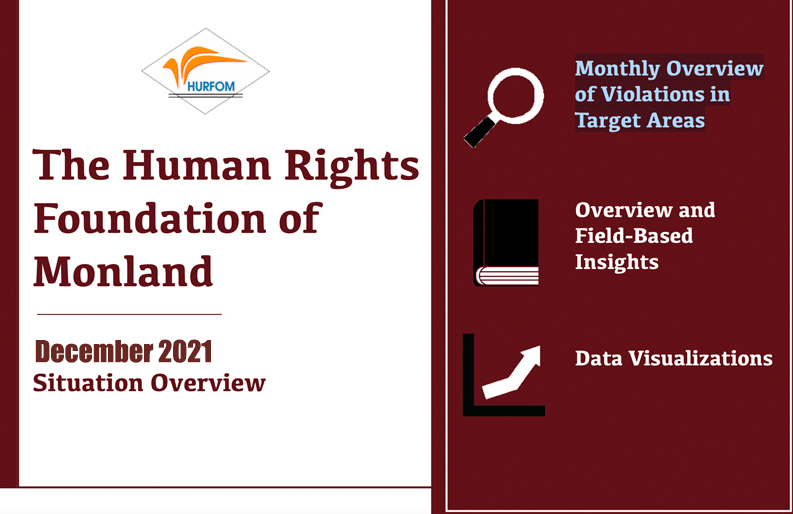 The arbitrary arrests of innocent civilians have not eased. Since November 5, the junta has arrested more than 60 individuals in Dawei alone. About 30 have been released by ransom. Approximately 30 are still detained, and some have been charged with Panel Code 505 A, B, and the Terrorist Act. In HURFOM's final briefing paper of 2021, "Trajectory of Terror," between February 7 and 6 December 2021, at least 2,184 civilians were arrested and detained, at least 303 injured and 60 killed.
The military junta has intensified fighting in Burma's ethnic states. With a dark history of over 70 years of warfare, the Burmese Army has never been sincere in their commitments to peace. This is evident across a trajectory of broken ceasefires, including with the Karen National Union. Fighting with junta-backed forces and the Karen National Liberation Army led to more displaced of thousands of civilians who remain in limbo – uncertain of their futures in Thailand where they face hostile policies and yet are unable to return to their homelands.
The path forward for 2022 is unfortunately grim as the situation on the ground is still in need of a timely and urgent response by the international community.
A weekly update by the Human Rights Foundation of Monland (HURFOM) on the situation on the ground. Summary data includes Mon State, Karen State and Dawei Region.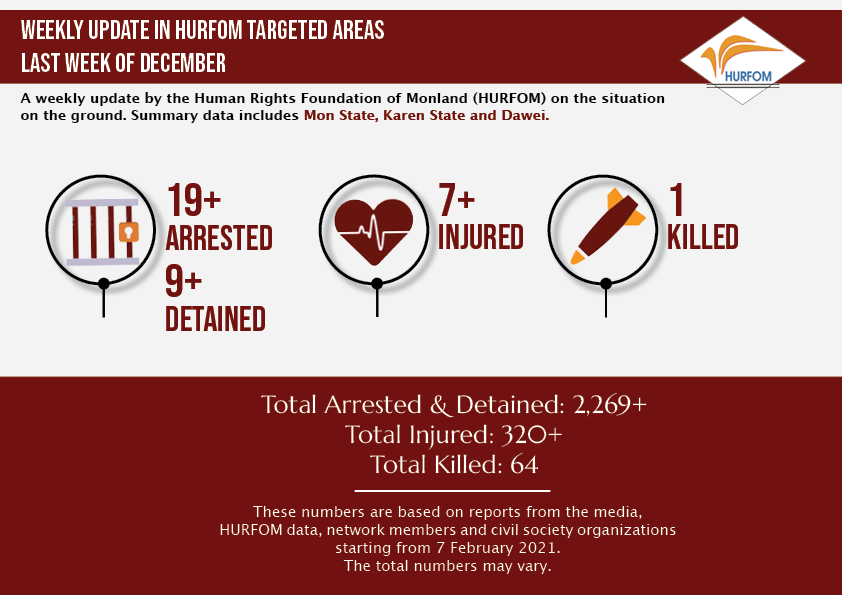 The end of December in HURFOM target areas of Mon State, Karen State and Dawei was met with more violence being deployed by the military junta. Arbitrary arrests, indiscriminate firing and relentless assaults on civilian rights persisted.
At least four local youth were reportedly arrested in Myaing Kalay, Hpa-an, Karen State between 27 and 28 December. Soldiers and police lifted their motorcycles into their trucks. Sources expressed that they felt more women were being targeted by the regime. Another young man was arrested by junta military forces on December 29 at Thida Road in Dawei, Kanyon Ward. According to a local resident, Ko Kyaw Naing was arrested at his home around 3 pm. Two army trucks parked in front of his residence. Troops were mixed in civilian clothes and full uniform. He was abducted by four soldiers and forced to get in one of the trucks after the forces raided his home.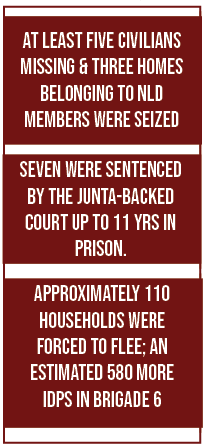 According to family members, five villagers from Sakhangyi village, Long Lone Township, Dawei who have been detained since December 26, have been missing. The missing detainees are Ko Kyaw Nee, a former administrator from the National League for Democracy (NLD) and his four colleagues. The home of U Zaw Zaw Htoo, a member of the State Parliament of Paung Township, Mon State who escaped arrest, was seized by the junta military troops and township General Administration Department on December 22. U Zaw Zaw Htoo, a State Hluttaw representative from Paung Township Constituency No. 2, is currently on the run like other NLD former members. A group of soldiers had broken into his house and destroyed his properties.
Fighting broke out between the junta's battalions and the Karen National Liberation Army (of KNU) Brigade 6 in Dalee village, located between Kyainnseikyi and Tampayar village between 8 and 9 AM on December 31. Consequently, at least 60 households, an estimated 240 local villagers fled to the deeper Brigade No. 6 of the KNU's administration areas.As a new year begins, HURFOM reinstates our calls for an immediate cessation in fighting and for the military junta to be held accountable for their crimes.