HURFOM Marks the 73rd annual International Human Rights Day by Releasing a New Briefing Paper, "Trajectory of Terror," which finds dozens of human rights violations committed by the Burma Army in Mon State, Karen State, and Tanintharyi region
HURFOM: Ten months of terror have passed since the Burma Army orchestrated a failed coup on 1 February. "Trajectory of Terror," is a new briefing paper by the Human Rights Foundation of Monland (HURFOM) which outlines human rights violations committed in Mon State, Karen State and the Tanintharyi region perpetrated by the military junta between the end of February until the end of November 2021. Military impunity is emboldening the junta to commit more atrocities.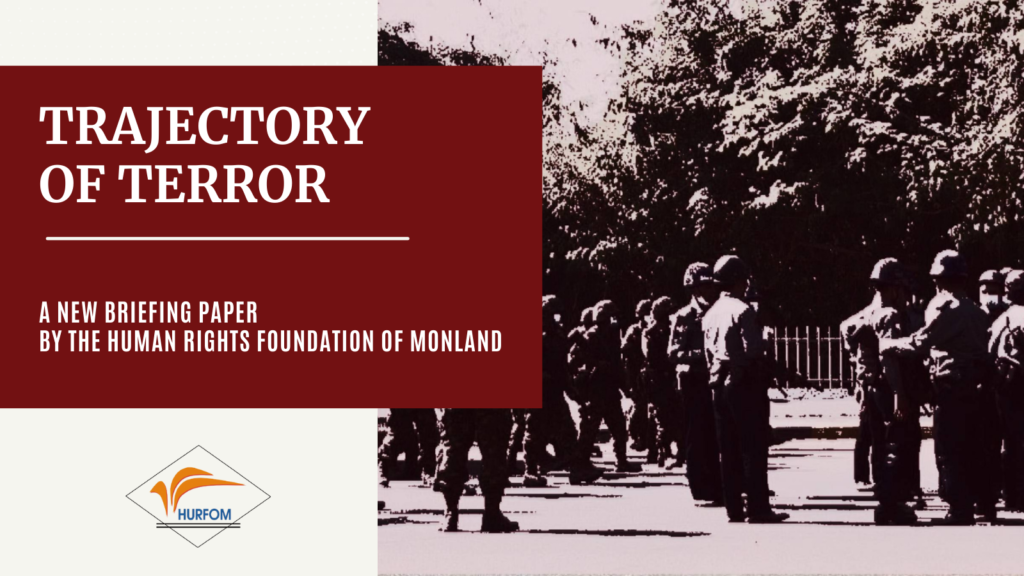 On Human Rights Day, HURFOM expresses grave concern over the lack of safety civilians are being forced to contend with amid the junta's dark crusade for power and control. HURFOM calls for an immediate forfeiting of powers by the Burmese military and an end to the violence which has killed hundreds and injured many more, including the elderly, women and children. [Download in English]
The human rights situation in Burma has spiraled out of control. The increased violence and negligence wielded by the military Generals has left millions without food and shelter. Civilians do not feel safe in the country. Homes are being looted, and villages are being burned to the ground in deliberate acts of arson by the junta. Members of political opposition parties and human rights defenders have been forced into hiding. Children are being denied the right to be educated safely as military soldiers roam schools and use classrooms as bases. Livelihoods have been crippled as landmines litter farms and encircle villages, making leaving for food and work a life or death prospect. This sabotage of survival has been brought on willfully by the Burma Army.
HURFOM fieldworkers have spoken to witnesses on the ground who detailed arbitrary arrests, abductions and assaults on fundamental freedoms of residents in our target areas. The violence has created an unstable environment where hundreds are fleeing persecution and fearful for what their futures hold.
A response by the international community which meets the gravity of the peril's civilians are being confronted with on a daily basis is long overdue. As the year ends, it is with the most profound urgency that HURFOM reiterates calls of our network and allies to respond to the many crises which are worsening daily.
Media Contact
Nai Aue Mon, HURFOM Program Director, Email: info@rehmonnya.org, Signal: +66 86 167 9741
HURFOM was founded by exiled pro-democracy students from the 1988 uprisings, recent activists and Mon community leaders and youth. Its primary objective is the restoration of democracy, human rights and genuine peace in Burma. HURFOM is a non-profit organization, and all its members are volunteers with a shared vision for peace in the country.
Comments