A weekly update by the Human Rights Foundation of Monland (HURFOM) on the situation on the ground. Summary data includes Mon State, Karen State, and Taninthayi Region.

24+ arrested
22+ detained
3+ injured
13+ motos were seized in Ye, Paung, Yebyu, and Hpa-an townships by the junta
12+ arrest warrants issued for civilians in hiding
Read more
HURFOM: On May 24, 2021, the military junta controlled Union Election Commission (UEC) sent a letter to the Ministry of Home Affairs informing them that if a political party connects or provides assistance to any "terrorist group or any unlawful association", that disqualifies their standing as a political party.
Read more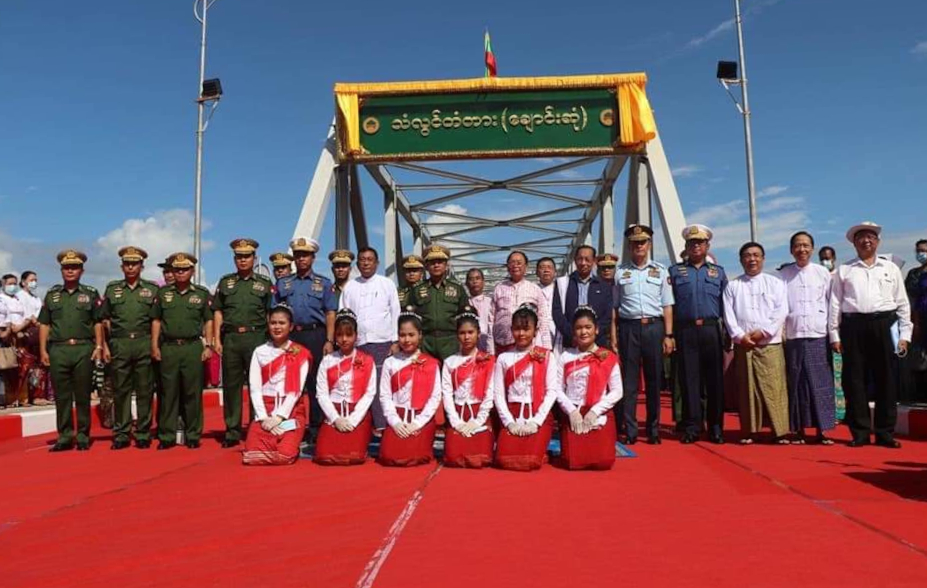 HURFOM: The "General Aung San Bridge (Belu Island)" that connects Mawlamyine and Belu Island in Chaung Zone, Mon State was opened by the National League for Democracy (NLD) government on May 9, 2017. Now, the military junta has changed its name to "Than Lwin Bridge (Chaung Zone)" with a reopening ceremony on June 1, 2021.
Read more
HURFOM, Mawlamyine: In May, the oppression faced by the people in HURFOM target areas increased. The junta is continuing to instill fear in the people by arresting and abducting innocent civilians. Since the army overthrew the democratically elected party on 1 February, the armed forces have killed eight people in Mon State, including an 11-year-old. Over 200 people have been charged, and evidence is being fabricated to justify the regime's harsh crackdown. Children are no exception – they too are being targeted and becoming political prisoners. Subsequently, rural people are seeking more secure places, but there is nowhere safe to go under this illegitimate regime. HURFOM recorded seven cases of disappearances in Hpa-An, Karen State, since March 2021. Most are young people. Parents have expressed fears as they have lost contact with their children. HURFOM received three cases of seven missing young protestors from Paung, Myeik, and Hpa-an. Many young protestors, who were listed on 'police wanted lists', are in also in hiding.
Read more
HURFOM: For the 2021-22 academic year, the military junta indicated that student registration in most basic education schools should take place between  May 24th and May 30th, 2021.
However, very few students registered for the current academic year. For some schools in Ye Township, only 10 students registered their names – a number much lower than previous academic years.
Read more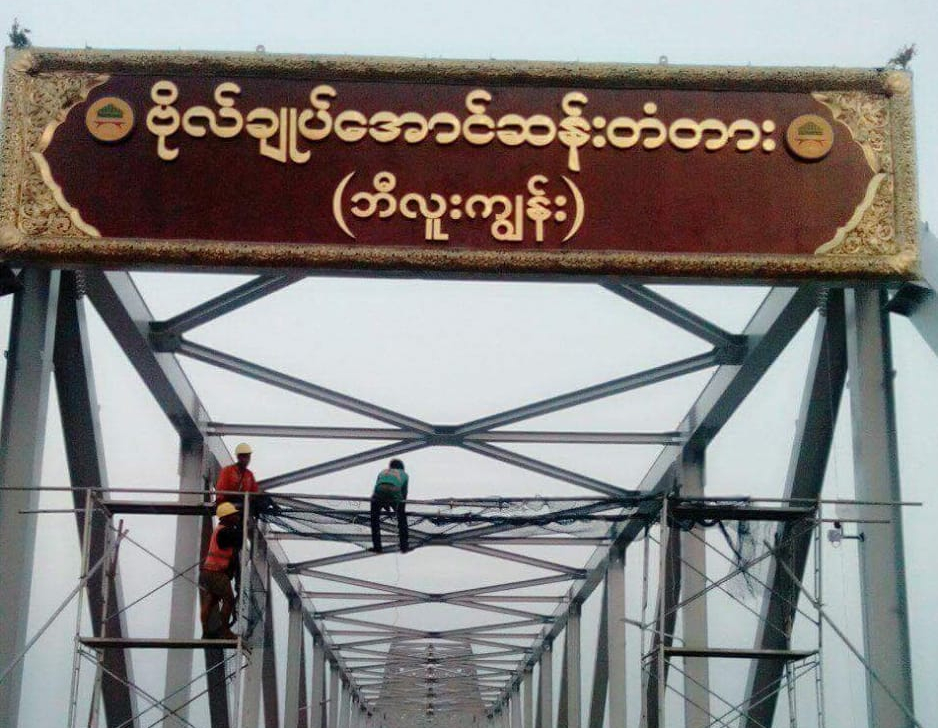 HURFOM: General Aung San Bridge (Belu Island) located in Chaung Zone Township, Mon State will return to its original name "Than Lwin Bridge (Chaung Zone)".
"According to the USDP (Union Solidarity and Development Party), Aung San bridge is to be renamed. The new name will be "Than Lwin Bridge (Chaung Zone)", said a Chaung Zone resident who is close to high ranking members of the USDP.
Read more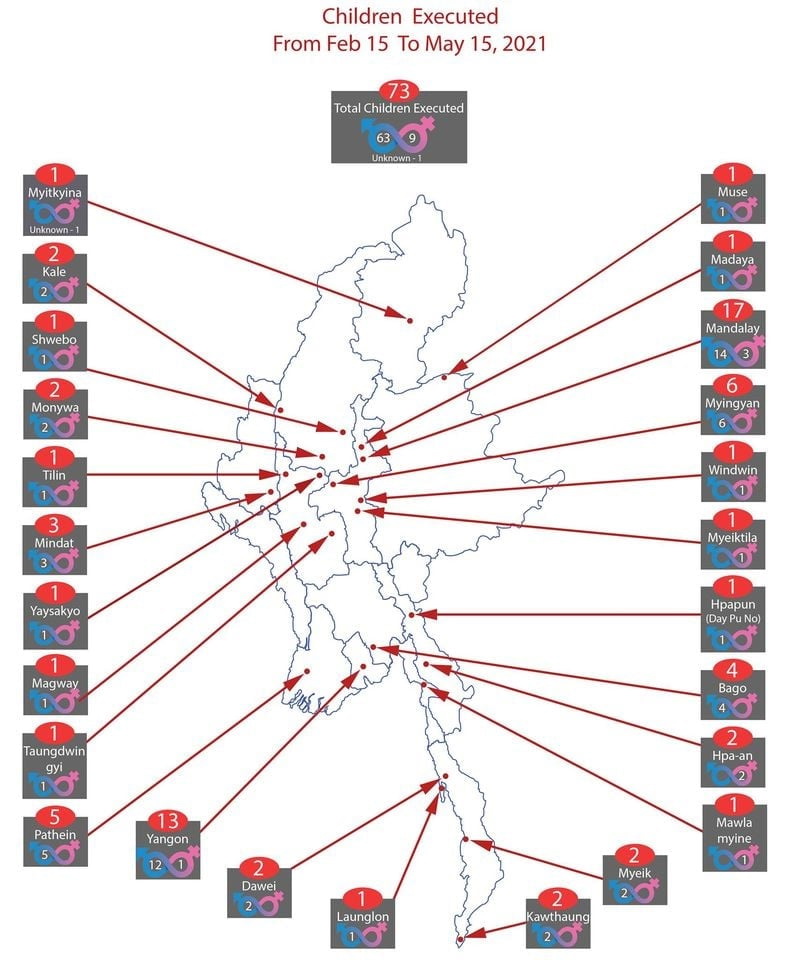 HURFOM: Since the military coup, and between February 15 to May 15, 2021, the military junta has killed 73 children, said the Human Rights Minister of the National Unity Government (NUG).
Because the military does not recognize the NUG, and has limited the abilities of the media to report on internal events within the country, the Minister made the statement via his social media page.
The children who have been murdered include, Ma Aye Myat Thu, an 11-year-old girl from Mawlamyine who was shot in the head on March 27.
She was shot while playing in her compound and died one hour after the incident. Her funeral was held on March 28 at a Burmese cemetery in Pane Nel Gone, Mawlamyine.
The majority of the dead are males (63), females (9) and one child whose gender was not identified.
The NUG Minister said the junta continues to kill its own citizens, and as a result the number of child deaths will likely increase.
The Assistance Association for Political Prisoners (AAPP) noted that the children in Burma have not received any kind of protection from the authorities.
HURFOM: On May 19 and 20, 2021, there were four bomb blasts in Ye Township, Mon State. There were no casualties but some people were injured.
At around 8 pm on May 19, a bomb exploded at the Administration Office in Kyaung Yaw village injuring four people. An administrator appointed by the military junta, a member of a local militia group, a woman and a child were among those injured. The child's injuries were severe.
Read more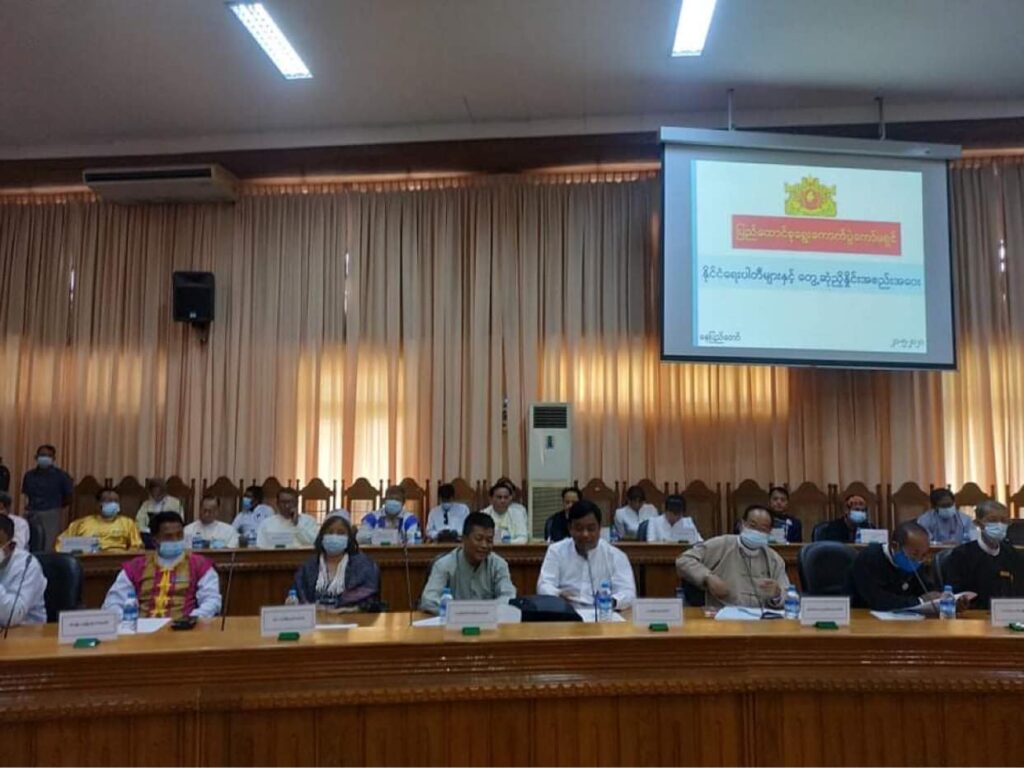 HURFOM: On May 21, 2021, the Union Election Commission (UEC) which is controlled by the military junta held a meeting with political parties in Naypyidaw.
There were at least 23 political parties represented in the Assembly of the Union, and another 42 unrepresented parties. In addition there are another 63 defunct political parties.
Read more
HURFOM, Mawlamyine: Security forces continue to wage war against civilians with impunity. According to HURFOM data, there were 12 cases of looting, confiscation, and destruction of property and mobile devices, as well as an additional 30+ cases of motorcycles being stolen by military troops in Dawei. There was approximately six million Myanmar Kyat confiscated. Of those arrested, one includes a Myanmar Red Cross Society member and medical doctors. The youngest detainee arrested this week is 17 years old.
Read more