HURFOM: The first month of the year in Southeastern Burma and country-wide proved equally disastrous. Despite the multiple calls to the international community for action as the junta commits endless atrocities, they seemed to fall upon deaf ears. Across January 2023, the Human Rights Foundation of Monland (HURFOM) documented dozens more malicious attacks against civilians. While these crimes are occurring, the regime is shamelessly continuing with their plans to hold 'elections' later this year. HURFOM fieldworkers reported on early cases of civilians already being bribed to vote for the military.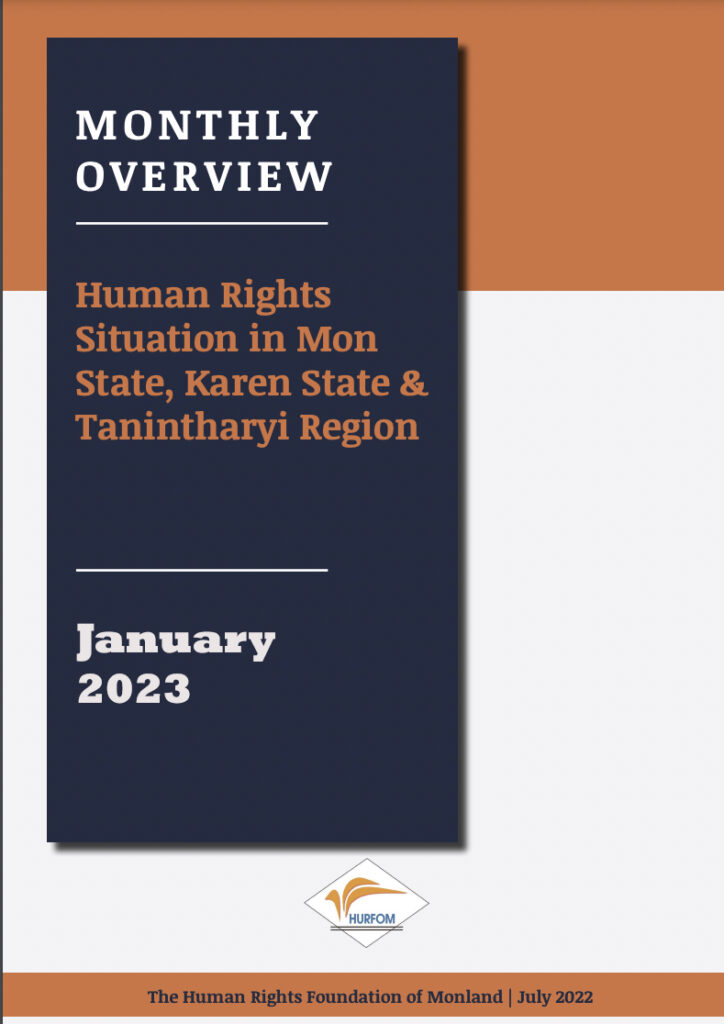 The Mon State Junta Administration General Administration Department (GAD) has been conducting several meetings in each township in Mon State for all levels of Administrators to operate an accurate census and prepare for the upcoming junta-run election:
"They seem like they are preparing for the election. The Mon State junta is conducting election-related activities such as instructing each level of GAD staff to collect the numbers of the population in the whole state and training the polling station officers to hold the General Election," said a source close to HURFOM.
On the other hand, the military-backed Union Solidarity and Development Party members are tasked by the junta to obtain the entire population of households in each ward, village, and township. The people know these elections are not credible, yet they are threatened with their lives if they do not comply with military orders. The election plans are another malicious attempt by the junta to make Burma appear like a country that has returned to normalcy in the days since the coup. The junta has targeted opposition forces and pro-democracy proponents and, once in junta custody, are tortured and killed. Defacto Head of State, Aung San Suu Kyi and President U Win Myint has been detained on baseless charges since 1 February 2021. Each faces up to several decades in prison – effectively life sentences.
Read more
Indiscriminate Firing, Mortar Shelling and Ongoing Abductions by the Military Junta Force Thousands of Civilians in Southeastern Burma to Flee
HURFOM: Over the last twelve months, the Human Rights Foundation of Monland (HURFOM) has continued to document the widespread and systematic atrocities perpetrated against innocent civilians by the Burma Army. As the year 2022 ends, HURFOM has concluded that the human rights situation has shown no improvement based on our findings and analysis. The military has resorted to violence to advance its authoritarian agenda, even at the cost of innocent lives. This includes more abductions, torture and conflict-related sexual violence.
Read more
Destruction of Property Rampant in Southeastern Burma, Ongoing Offensives Undermine Civilian Safety and Security
With 2022 coming to an end, Burma's human rights landscape remains fractured due to the Burma Army's constant attacks. The targeting of the civilian population has been deliberate. Patterns of their systematic and widespread atrocities are evident through airstrikes and ground attacks intentionally deployed in areas without active conflict. Their acts are part of a broader strategy by the junta to replace the support of the opposition movement with fear.
However, even nearly two years after the attempted coup, the power of the people remains unstoppable. Protests are ongoing and calls for the immediate dismantling and delegitimizing of the junta have not slowed. The bravery of human rights defenders persists even amidst moments of great uncertainty. Decades of military rule and economic turmoil have left Burma in shambles as a new generation refuses to allow a new generation to inherit the junta's devastating policies and failure to adhere to basic human rights norms and principles.
Throughout November, the Human Rights Foundation of Monland (HURFOM) observed an increase in the number of homes the Burma Army deliberately destroyed. Extortion of local possessions and houses is being done systematically across the country. Junta forces threatened to burn villagers' homes and launch airstrikes following any attack that injured or killed their soldiers. The junta routinely attacks villages near mix-controlled areas in Thanbyuzayat Township, Mon State. These villages are controlled by the Karen National Union (KNU) and the junta.
Read more
Abductions and Arbitrary Arrest on the Rise in Southeastern Burma, Unrest Continues to Threaten Civilian Security & Well-being
HURFOM: Worrying increases of civilian abductions and unlawful detentions throughout the month of October in areas of southeastern Burma including Mon State, Karen State and Tanintharyi region, have sparked fears among local communities. The military junta is expanding their operations throughout various townships and villages and have not hesitated to act violently upon anyone they perceive to be a threat. Tensions are high, residents are hesitant to leave their homes and risk encounters with the Burma Army. Many of which have resulted in questioning, extortion and bribery for the release of items or loved ones detained. Civilians are being wrongfully incriminated and charged on baseless, fabricated charges which the junta has no evidence of. The legal system has been weaponized by the junta, making prospects for true and meaningful justice impossible.
Read more
Human Rights Violations Remain Rampant in Mon State, Karen State and Tanintharyi Region
Inflation is Contributing to Rising Levels of Poverty in Southeastern Burma as Civilians Struggle to Cope Amid Worsening Uncertainty
Throughout the month of September, the Human Rights Foundation of Monland (HURFOM) reported on the challenges being faced by civilians in Southeastern Burma. Amid increasing clashes and worsening conflict, the military junta has also weaponized the law to work in their favor. Despite being an international human right, those abducted, detained and charged by the Burma Army are being denied their right to a free and fair trial. The regime continues to deny family members any information about loved ones and has continued to fabricate charges in sham trials.
Read more
HURFOM: Throughout the month of August 2022, the Human Rights Foundation of Monland (HURFOM) documented increasing attacks on civilians and human rights defenders. Many of these assaults amount to crimes against humanity and war crimes. Across target areas of Mon State, Karen State and Tanintharyi region, the Burma Army has continued to commit widespread human rights violations with impunity. 
Civilians have routinely been caught in the crossfire of the junta's offensives, which are expanding and are subsequently fueling the worsening humanitarian crisis on the ground. Children are among those targeted in a series of raids and flyover attacks by the military who are using various tools of terror to isolate and intimidate ciivlian populations.
Read more
Summary Overview & Analysis
The Military Junta is Continuing to Perpetrate Human Rights Violation with Impunity in Southeastern Myanmar
It has now been nearly a year and a half since the military junta attempted their unlawful coup. The regime has failed to honor the wishes of the people who overwhelmingly showed their support for the National League for Democracy (NLD) in a landslide victory. Despite earning less than 10% of the vote, the junta claimed electoral fraud without evidence and has since continued to make decisions which have devastated the country's economy and social, political order. In addition, a humanitarian crisis has plunged one-million civilians into deep poverty as they are forcibly displaced from their homes. Their behavior in the days and months which have passed since 1 February 2021 have been increasingly violent. Download the report in PDF format
Read more
Across the month of February, the Human Rights Foundation of Monland (HURFOM) continued to witness and document ongoing human rights violations being unlawfully perpetrated against innocent civilians. The junta has shown no signs of easing their attacks against the people and has instead continued to spearhead their campaign of terror and illegal, inhumane actsincluding arbitrary arrests, indiscriminate firing and shelling, enforced disappearances, murder and many others. [Download in PDF]
Read more
REFLECTING ON 2021
HURFOM: One year has now passed since the Burma Army's attempted coup on 1 February 2021. The Human Rights Foundation of Monland (HURFOM) began documenting atrocities being perpetrated against civilians by the military junta in Mon State, Karen State and Tanintharyi region on 7 February 2021. The crimes that have been committed speak to the unrelenting horrors which continue to be forced upon innocent clusters of the population. The majority of the people in Burma strongly reject the military coup and have been collectively strengthened by a commitment to toppling the terrorist regime.
Read more
HURFOM: Throughout the month of December, documentation by HURFOM found an increase in the number of those arrested, detained and killed. The junta's violence has sparred no one as their onslaughts have trapped the most vulnerable and created new, worsening hardships for civilians. Predictions for 2022 estimate that millions more will be even deeper in poverty, including children. [Download the report in PDF Format]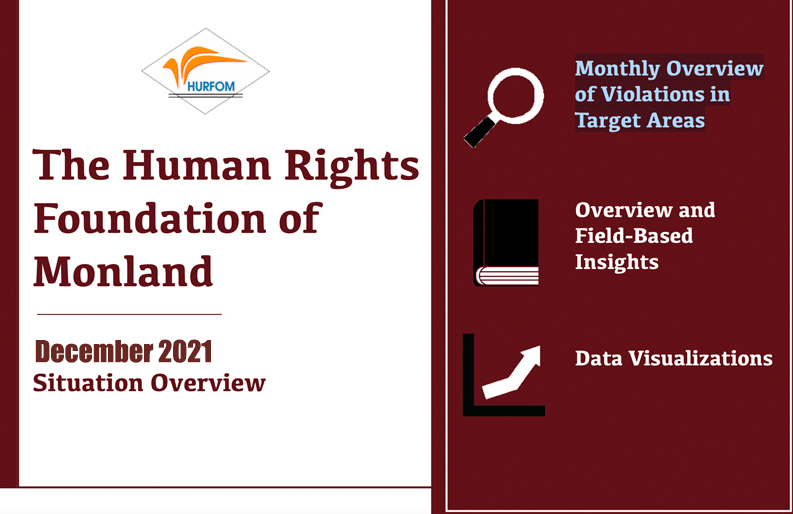 The arbitrary arrests of innocent civilians have not eased. Since November 5, the junta has arrested more than 60 individuals in Dawei alone. About 30 have been released by ransom. Approximately 30 are still detained, and some have been charged with Panel Code 505 A, B, and the Terrorist Act. In HURFOM's final briefing paper of 2021, "Trajectory of Terror," between February 7 and 6 December 2021, at least 2,184 civilians were arrested and detained, at least 303 injured and 60 killed.
The military junta has intensified fighting in Burma's ethnic states. With a dark history of over 70 years of warfare, the Burmese Army has never been sincere in their commitments to peace. This is evident across a trajectory of broken ceasefires, including with the Karen National Union. Fighting with junta-backed forces and the Karen National Liberation Army led to more displaced of thousands of civilians who remain in limbo – uncertain of their futures in Thailand where they face hostile policies and yet are unable to return to their homelands.
The path forward for 2022 is unfortunately grim as the situation on the ground is still in need of a timely and urgent response by the international community.