Across the month of February, the Human Rights Foundation of Monland (HURFOM) continued to witness and document ongoing human rights violations being unlawfully perpetrated against innocent civilians. The junta has shown no signs of easing their attacks against the people and has instead continued to spearhead their campaign of terror and illegal, inhumane actsincluding arbitrary arrests, indiscriminate firing and shelling, enforced disappearances, murder and many others. [Download in PDF]
Read more
REFLECTING ON 2021
HURFOM: One year has now passed since the Burma Army's attempted coup on 1 February 2021. The Human Rights Foundation of Monland (HURFOM) began documenting atrocities being perpetrated against civilians by the military junta in Mon State, Karen State and Tanintharyi region on 7 February 2021. The crimes that have been committed speak to the unrelenting horrors which continue to be forced upon innocent clusters of the population. The majority of the people in Burma strongly reject the military coup and have been collectively strengthened by a commitment to toppling the terrorist regime.
Read more
HURFOM: Throughout the month of December, documentation by HURFOM found an increase in the number of those arrested, detained and killed. The junta's violence has sparred no one as their onslaughts have trapped the most vulnerable and created new, worsening hardships for civilians. Predictions for 2022 estimate that millions more will be even deeper in poverty, including children. [Download the report in PDF Format]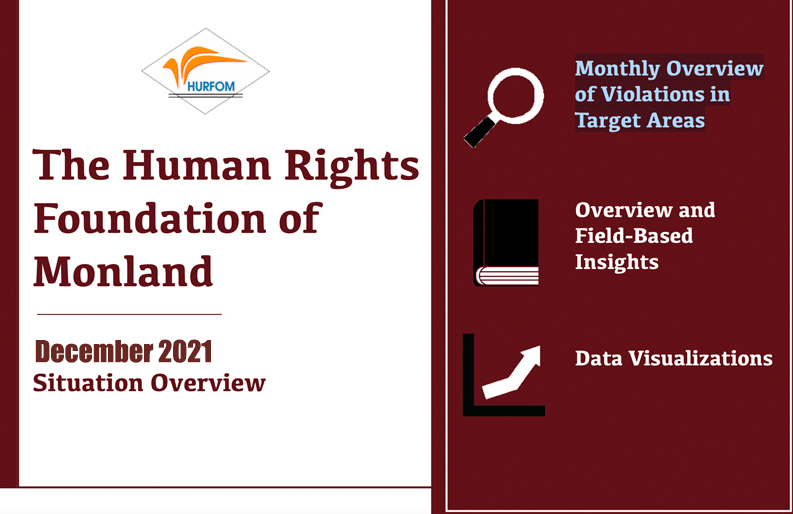 The arbitrary arrests of innocent civilians have not eased. Since November 5, the junta has arrested more than 60 individuals in Dawei alone. About 30 have been released by ransom. Approximately 30 are still detained, and some have been charged with Panel Code 505 A, B, and the Terrorist Act. In HURFOM's final briefing paper of 2021, "Trajectory of Terror," between February 7 and 6 December 2021, at least 2,184 civilians were arrested and detained, at least 303 injured and 60 killed.
The military junta has intensified fighting in Burma's ethnic states. With a dark history of over 70 years of warfare, the Burmese Army has never been sincere in their commitments to peace. This is evident across a trajectory of broken ceasefires, including with the Karen National Union. Fighting with junta-backed forces and the Karen National Liberation Army led to more displaced of thousands of civilians who remain in limbo – uncertain of their futures in Thailand where they face hostile policies and yet are unable to return to their homelands.
The path forward for 2022 is unfortunately grim as the situation on the ground is still in need of a timely and urgent response by the international community.
HURFOM: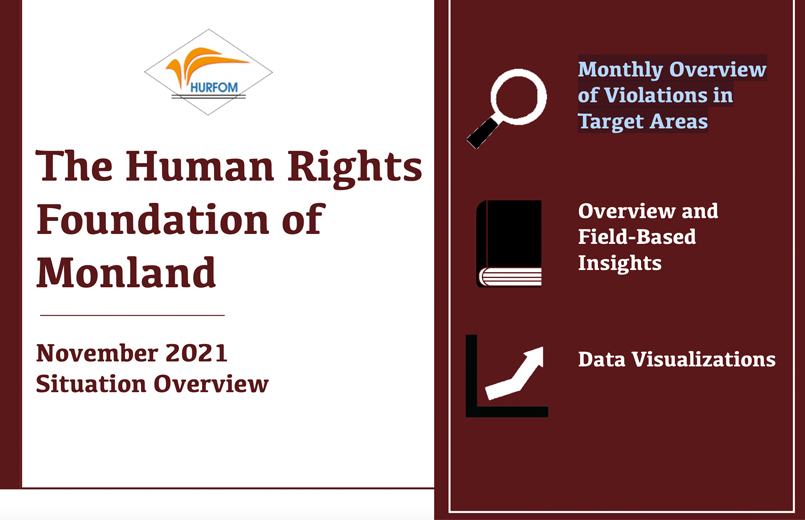 Across the month of November, the human rights situation continued to worsen. Mounting evidence of the military junta's war crimes, and crimes against humanity are evident across the country. In HURFOM areas of Mon State, Karen State and Tanintharyi region, more civilians are being forcibly displaced from their homes due to a growing presence of soldiers. [Download Report in PDF]
Read more
HURFOM: In September, the number of those arrested + detained in Mon State, Karen State & Dawei increased against the backdrop of systematic human rights violations, including #VAWG. Economic burdens and #COVID19 threaten local livelihoods. Sept overview in full: http://ow.ly/Nof050GjSkg
Read more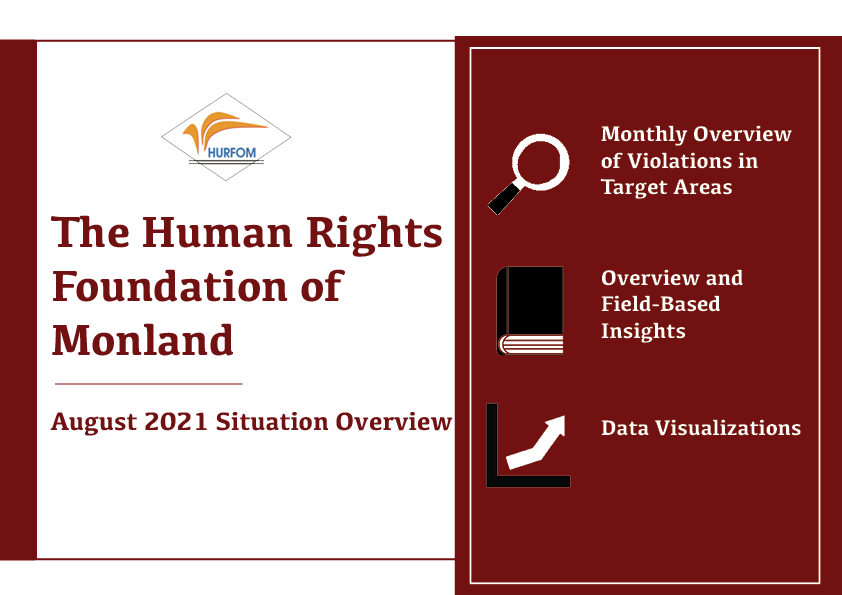 HURFOM, Mawlamyine: Across the month of August, civilians in Mon State, Karen State, and Dawei experienced mounting levels of widespread human rights violations. Alongside the grievances and burdens, civilian resistance is still ongoing. August overview in full: http://ow.ly/rxEn50G2KqX
HURFOM, Mawlamyine: Flooding, COVID-19 and widespread arrests threaten civilian safety in Mon State, Karen State, and Dawei. The junta's lawlessness and failure to protect the people has worsened the situation for the most vulnerable. Our monthly July breakdown spotlights these injustices, which are ongoing. Download here:
Read more
HURFOM, Mawlamyine: In May, the oppression faced by the people in HURFOM target areas increased. The junta is continuing to instill fear in the people by arresting and abducting innocent civilians. Since the army overthrew the democratically elected party on 1 February, the armed forces have killed eight people in Mon State, including an 11-year-old. Over 200 people have been charged, and evidence is being fabricated to justify the regime's harsh crackdown. Children are no exception – they too are being targeted and becoming political prisoners. Subsequently, rural people are seeking more secure places, but there is nowhere safe to go under this illegitimate regime. HURFOM recorded seven cases of disappearances in Hpa-An, Karen State, since March 2021. Most are young people. Parents have expressed fears as they have lost contact with their children. HURFOM received three cases of seven missing young protestors from Paung, Myeik, and Hpa-an. Many young protestors, who were listed on 'police wanted lists', are in also in hiding.
Read more
Introduction 
In October 2013, the Human Rights Foundation of Monland (HURFOM) released Disputed Territory, a report documenting the emerging trend of Mon farmers fighting for recognition of their land rights in the face of unjust land and property confiscations. The report analyzed specific barriers impeding their success, from weak land policy and inadequate dispute resolution mechanisms, to an absence of support from various sources. Read more
Introduction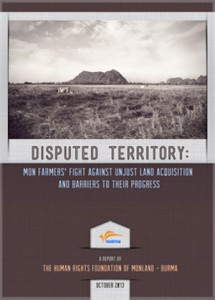 Over the years HURFOM has produced a number of accounts highlighting the hardships faced by Mon farmers who became victims of land confiscation or unjust land acquisition.[1] In this report HURFOM follows-up on previously documented abuses and concentrates on an emerging new trend: farmers' active and collective pursuits for rights to their land. For Full report, please view HERE. Read more