HURFOM: According to the Central Organizing Committee of the 72nd Mon National Day, there is currently a funding shortage affecting the preparations for the historic event.
The organizing committee held its 6th meeting in the Mon Public Hall in Mawlamyine on December 16th and the committee said plans to allocate approximately 120 million kyat (US $76,088.78) for the central celebration of the 72nd Mon National Day were currently experiencing a funding shortfall. Read more
HURFOM: Three people have been injured by landmines in Yebyu Township in a one-and-a-half-month period from October 15th to November 29th 2018. The blasts have taken place in Kyaung Shar Kwin area, A Lae Sakhan village, Yebyu Township, Tenasserim Division, which is a mixed-controlled area between the New Mon State Party (NMSP) and the Karen National Union (KNU).
According to Nai San Tin, the A Lae Sakhan administrator, a private from the NMSP, a 30-year-old Han Gam resident named Min Mon Chan, and a 33-year-old A Lae Sakhan resident were injured on October 15th, October 28th, and November 29th, respectively. Read more
HURFOM: According to locals, a Chinese-owned factory in Mudon Township has been operating without the official permission of the Mon State government and is badly damaging the local environment. The Pin Lae Pyar Swan Arr Company is running an elephant foot yam operation between Hmane Ga Name and Kyauk Ta Lone villages angering local residents due to the reported negative health effects experienced by a number of locals.
"We can't sleep well at night because of the factory. When they are processing the elephant foot yam in the factory, there are loud noises and we're awaken by the sound. The factory also produces dirty water and the runoff [into local paddy fields] make us itchy. The smoke emitted from the factory has a burning smell and we can't tolerate it. [Once], a child had difficulty breathing because of the smell and was admitted to hospital," said a villager from Kyauk Ta Lone village, Mudon Township. Read more
WCRP: In November, an 8-year-old girl from Htin Kone village, Mudon Township, Mon State, reported being raped five times by her maternal, 50-year-old grandfather, who she had lived with since she was 3 months old. The girl's parents had migrated to Thailand five years ago for work.
According to the young girl, the last incident took place on November 11th while she was watching TV in the afternoon. Her grandfather took her to his room and raped her. While he sexually abused the young girl, a 14-year-old girl from the neighbor's house passed by in front of the victim's grandparents' house and saw the incident taking place. She then informed the perpetrator's wife about what she saw. Read more
HURFOM: On November 16th 2018, according to a letter from the Myanmar National Human Rights Commission (MNHRC), Captain Aung Ko Ko Min from Light Infantry Battalion (LIB) #587, who shot and killed U Tin Soe Myint, a villager from Kalagoke Island, Lamine Town, Ye Township, Mon State, will be transferred to civic court to face further legal action. Read more
WCRP: Landowners in Ye Township, Mon State are upset with the Southern Myanmar Development Co. Ltd. over reported land grabbing and unfair compensation. The company is constructing a road to a seaport project between Nit Karen and Tha Pyay Thit villages, leaving many villagers unhappy.
"My brother saw that they have planted red flags on our farm and he told me about it. They should not do it. Even though we were in the farm, they did not tell us and measured our land. The next day, they told us about it and said that they will look into the price of the plantation. Nit Karen's village administrator, U Than Naing, threatened me, saying that my plantation is very close to the company's area and if I did not sell it and accept the compensation that they will pay me, the company might be able to confiscate my land. Then he told me that if the company confiscated my land, they [village administration] could do nothing for me," said Daw Kyin Hla, from Nit Karen village. Read more
WCRP: A 13-year-old boy's family is accusing police of torture to try to force a confession from a 13-year-old boy after he was taken into custody. Thirteen-year-old Mg A— is suspected of raping and killing his 8-year-old adoptive sister on November 18th in the Tar Yar Aye Quarter of Mawlamyine, Mon State. The perpetrator's family said that the boy is currently being held in a Youth Care Training Center, under the control of the Ministry of Social Welfare, Relief, and Resettlement.
On October 18th, around 10 am, the victim left for her aunt's house but never returned home. The family, worried, went to look for her but could not find her. The family reported her as missing to the police on November 19th, and her body was found around 2 pm in a brick-making pit near Hlaing Yadanar Street. Read more
HURFOM joined together with Pyar Taung Region Social Development Association to launch a new report and documentary—The Attran River to Pyar Taung—on November 15th 2018 at the Rehmonnya Hotel in Mawlamyine, Mon State. The event was attended by around 150 people, including community-based organizations (CBOs) and locals from Kyaikmayaw Township. The report highlights the voices of locals negatively impacted by Mawlamyine Cement Ltd.'s (MCL) coal-powered cement factory and the resulting effect on natural resources and the environment along through Attran River and throughout the Pyar Taung Region in Kyaikmayaw Township, Mon State. Read more
HURFOM: Villagers affected by coal mining in Karen State have been speaking out with concerns for their health. Sparked by new plans announced in October 2018 to convert the natural gas powered cement factories in Myine Kalay and Hlar Kar village tract into coal-fired ones, villagers say the trucks lack proper protection against scattering stones and powder. The factories are owned by Myanmar Economic Corporation (MEC) operated by the Burmese military. Read more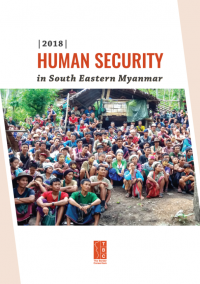 On 14 November 2018, The Border Consortium (TBC), which has been working with refugees from Burma/Myanmar since 1984, announced the launch of a research publication on human security in Southeastern Burma/Myanmar. This research shows at least 162,000 civilians remain internally displaced, while assessments found that 17 percent of children in communities affected by conflict are acutely malnourished.
[
Download PDF (4.15 MB)] Read more