HURFOM, Mawlamyine: Weekly update on the situation in Karen, Mon & Dawei since the military coup:
Movement restrictions against health workers were enforced by the junta in HURFOM target areas. Civilians continue to be extorted.
Read more
HURFOM, Mawlamyine: Flooding, particularly in Mon State, has compromised relief efforts, as have ongoing movement restrictions by the junta amid an increase in #COVID19 cases.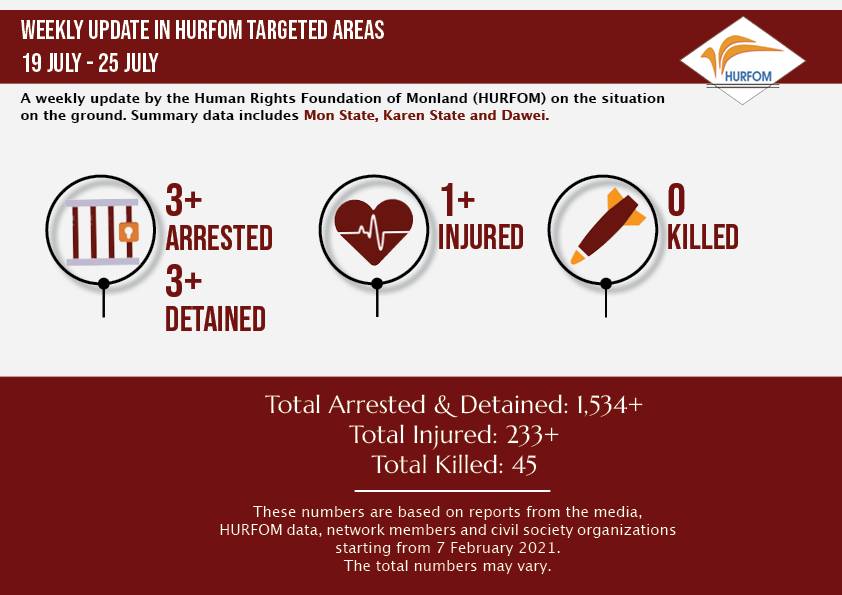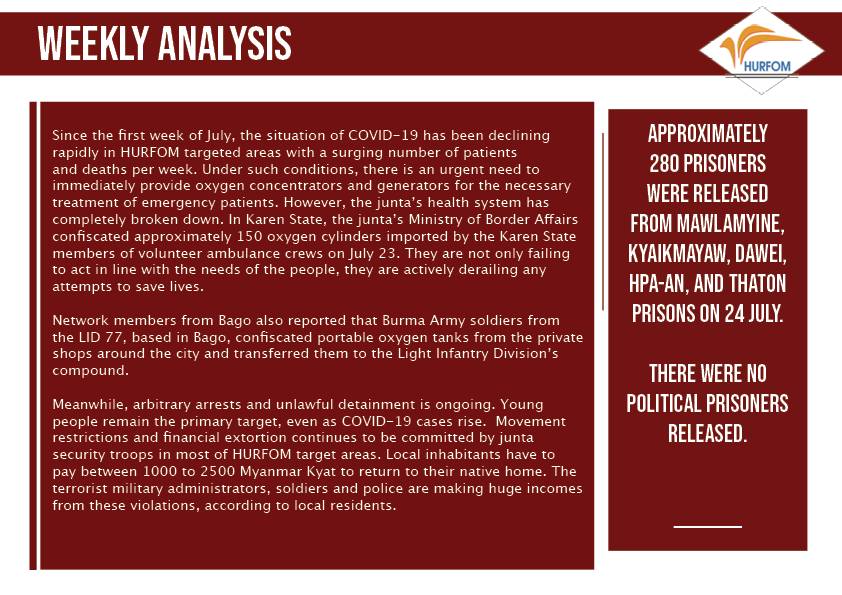 Our analysis in full:
Since the first week of July, the situation of COVID-19 has been declining rapidly in HURFOM targeted areas with a surging number of patients and deaths per week. Under such conditions, there is an urgent need to immediately provide oxygen concentrators and generators for the necessary treatment of emergency patients. However, the junta's health system has completely broken down. In Karen State, the junta's Ministry of Border Affairs confiscated approximately 150 oxygen cylinders imported by the Karen State members of volunteer ambulance crews on July 23. They are not only failing to act in line with the needs of the people, they are actively derailing any attempts to save lives.

Network members from Bago also reported that Burma Army soldiers from the LID 77, based in Bago, confiscated portable oxygen tanks from the private shops around the city and transferred them to the Light Infantry Division's compound.

Meanwhile, arbitrary arrests and unlawful detainment are ongoing. Young people remain the primary target, even as COVID-19 cases rise. Movement restrictions and financial extortion continue to be committed by junta security troops in most of HURFOM's target areas. Local inhabitants have to pay between 1000 to 2500 Myanmar Kyat to return to their native home. The terrorist military administrators, soldiers, and police are making huge incomes from these violations, according to local residents.
HURFOM, Mawlamyine: A new briefing paper by the Human Rights Foundation of Monland (HURFOM), "Running Out of Air: How the Junta in Burma is Abandoning Civilians in the COVID-19 Pandemic," finds that the Burma Army is ill-equipped to handle the response to COVID-19. Since the military seized power in a coup on 1 February, the lives of civilians have been under constant attack. Hundreds have been killed by state-sponsored forces and thousands remain imprisoned for their role in pro-democracy activities, include health care providers. With multiple crises unfolding nationwide, the junta's poor handling of the pandemic threatens to only worsen the already dire situation in the country. (Download in Eng)
Read more
HURFOM, Mawlamyine: COVID19 is being used as a weapon by the junta, and the people are paying the price. Daily deaths are rate rising in HURFOM areas + nationwide.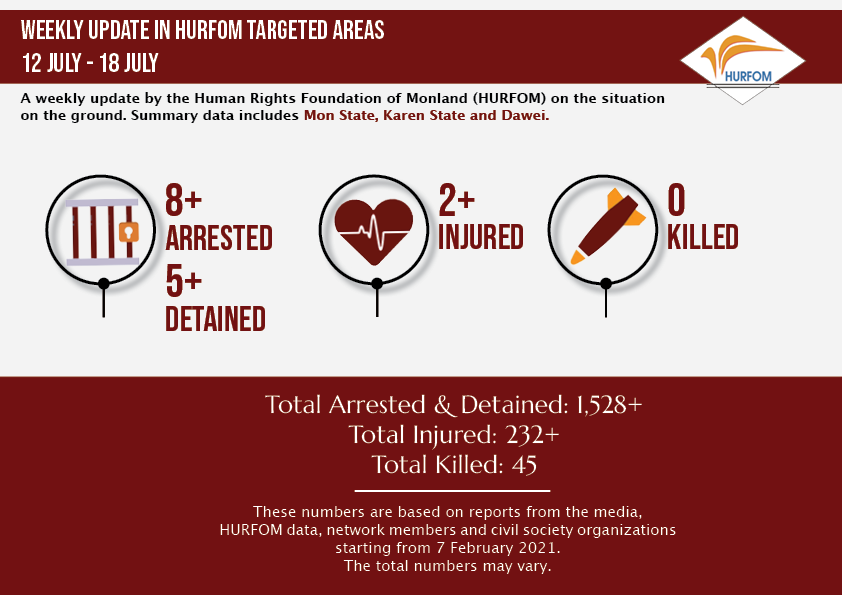 Read more
HURFOM, Mawlamyine
The human rights crisis in Burma is being compounded by the increasingly dire public health crisis as COVID-19 infects hundreds daily.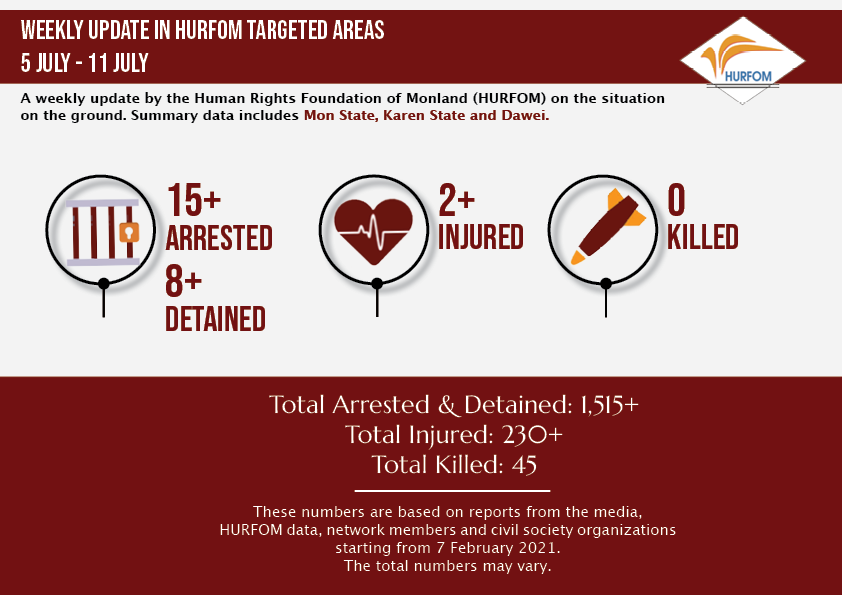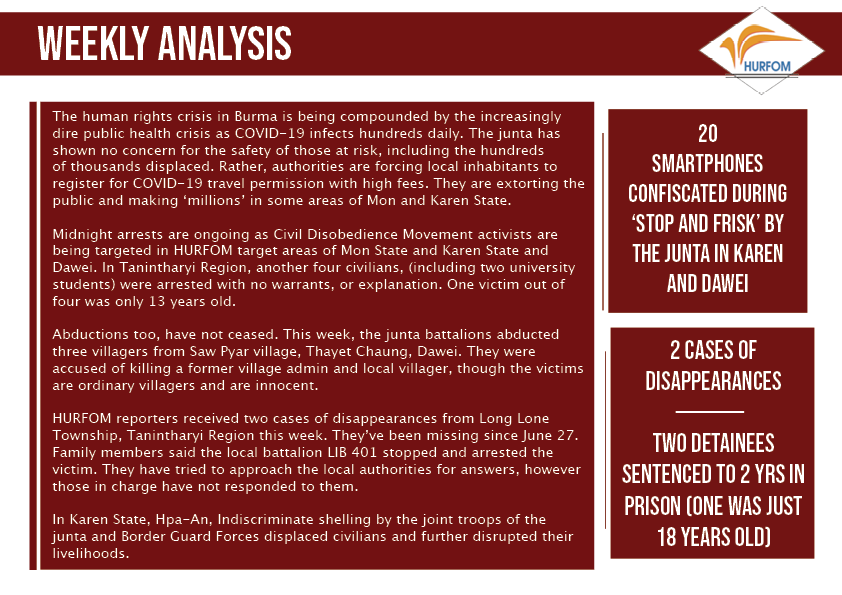 HURFOM Weekly Analysis: The junta has shown no concern for the safety of those at risk, including the hundreds of thousands displaced. Rather, authorities are forcing local inhabitants to register for COVID-19 travel permission with high fees. They are extorting the public and making 'millions' in some areas of Mon and Karen State.
Read more
A weekly update by the Human Rights Foundation of Monland (HURFOM) on the situation on the ground. Summary data includes Mon State, Karen State and Dawei Region.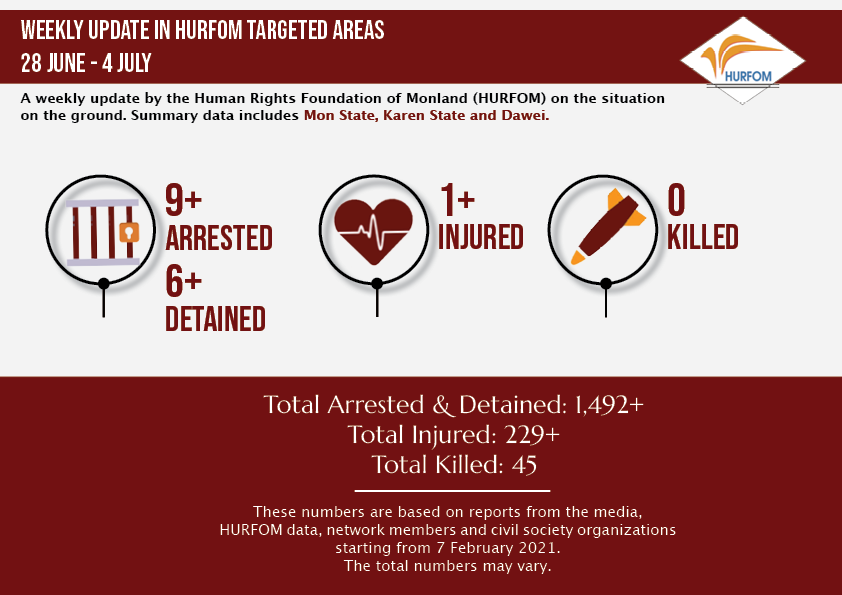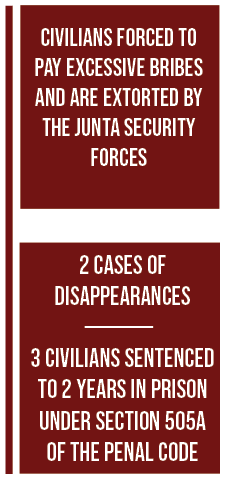 Weekly Analysis
As life under the junta's rule reaches another month, HURFOM is still reporting increasing numbers of civilians being arbitrarily arrested, detained and victimised by the regime. Most of those targeted are young people, especially those active in protesters. Of those arrested, two were from Mawlamyine, two from Mudon, two from Paung, two from Dawei, and one from Hpa-An.
Civilians from Dawei were forced to pay junta security at various tollgates for travel permission. The amount ranged from 3,000 to 10,000 kyat. The payments are bribes, especially for those who cannot provide their national identification cards. Meanwhile, movement restrictions are still rampant between Mon and Thanintharyi regions. Of additional concern is the military's Coastal Regional Command, based in Dawei, which deployed more troops with heavy artillery and ammunition to Yebyu township, and Dawei.
Villagers from four villages in Mudon, Mon State, were forced to support militia forces formed by the junta with each household being ordered to pay 1,000 Kyat for their activities.
Alongside the military's devastation is rising COVID-19 cases. The total number of cases increased to over 580 in Mon State, and the death toll rose to 17. Despite this, the junta-appointed Ministry of Education decided to open schools and universities regardless. The decision has been regarded as selfish.
The Mawlamyine University Student Union announced that in a release of political prisoners, no student leaders, protesters or activists were released on 30 June and 1 July.
Approximately 12 guerrilla strikes were organised this week by local youth in Paung, Mudon, northern Ye townships as well as Thayet Chaung, Yebyu, and Long Lone in Tanintharyi Region.
HURFOM, Mawlamyine: In June HURFOM observed pro-democracy activists targeted alongside increasing midnight arrests in Mon State, Karen State and Dawei. Our monthly breakdown spotlights these injustices, which are ongoing & continue to unjustly target civilians. See in full: http://ow.ly/Dmi650FnfAF
Read more
Mawlamyine: HURFOM is relieved that some political prisoners in our target areas of #Karen #Mon #Dawei were released yesterday. However, many more remain behind bars for their pro-democracy activities. Peaceful protest is not a crime and yet the junta locks up anyone who defies their rule.
Read more
HURFOM, Mawlamyine: A weekly update by the Human Rights Foundation of Monland (HURFOM) on the situation on the ground. Summary data includes Mon State, Karen State, and the northern Tanintharyi Region.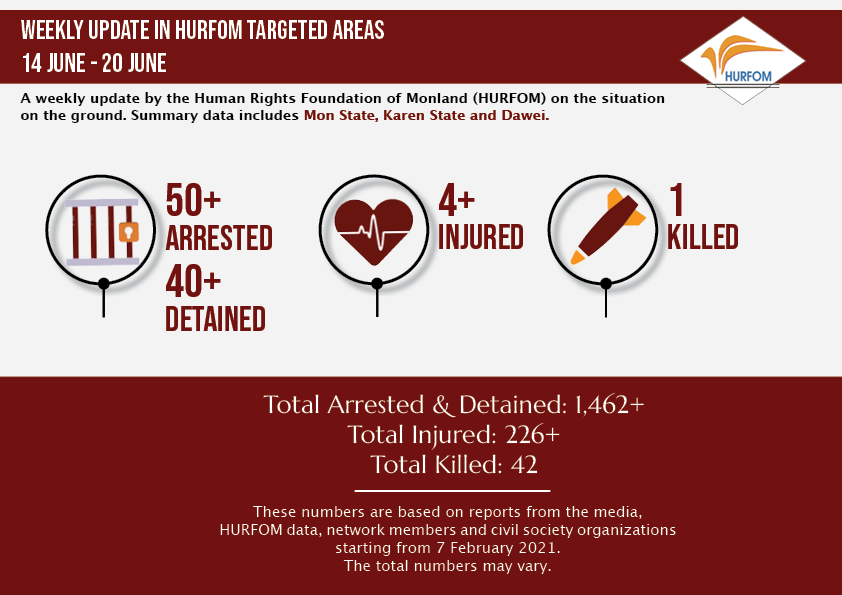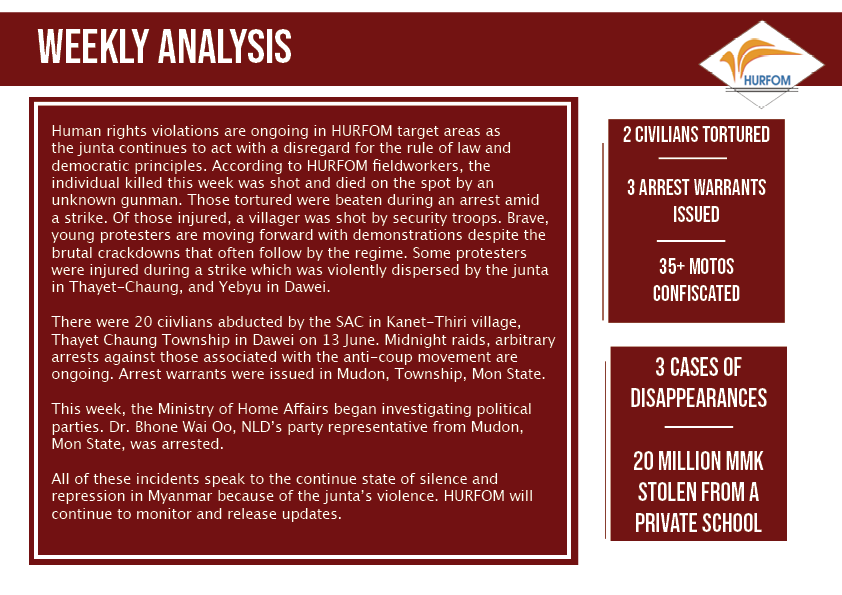 Weekly Analysis
Human rights violations are ongoing in HURFOM target areas as the junta continues to act with a disregard for the rule of law and democratic principles. According to HURFOM fieldworkers, the individual killed this week was shot and died on the spot by an unknown gunman. Those tortured were beaten during an arrest amid a strike. Of those injured, a villager was shot by security troops.

Brave, young protesters are moving forward with demonstrations despite the brutal crackdowns that often follow by the regime. Some protesters were injured during a strike which was violently dispersed by the junta in Thayet-Chaung, and Yebyu in Dawei.

There were 20 civilians abducted by the SAC in Kanet-Thiri village, Thayet Chaung Township in Dawei on 13 June. Midnight raids, arbitrary arrests against those associated with the anti-coup movement are ongoing. Arrest warrants were issued in Mudon Township, Mon State.

This week, the Ministry of Home Affairs began investigating political parties. Dr. Bhone Wai Oo, NLD's party representative from Mudon, Mon State, was arrested.

All of these incidents speak to the continued state of silence and repression in Myanmar because of the junta's violence. HURFOM will continue to monitor and release updates.
HURFOM, Mawlamyine: In HURFOM target areas, the human rights situation remains of great concern. Fieldworkers continue to document as best as they can, given the extreme risks and limitations faced. Confiscation and destruction of properties is ongoing. This week, in addition to monumental, historical statues being destroyed in Karen State, there were 15 mobile phones and five motorcycles also taken by the junta.
Read more