HURFOM: The 8th of August commemorates the anniversary of the 8-8-88 uprisings which took place 34 years ago. The historic day in Burma's history recognizes the sacrifices that the country's freedom fighters have been committed to for decades. Today, the struggle for peace and federalism continues.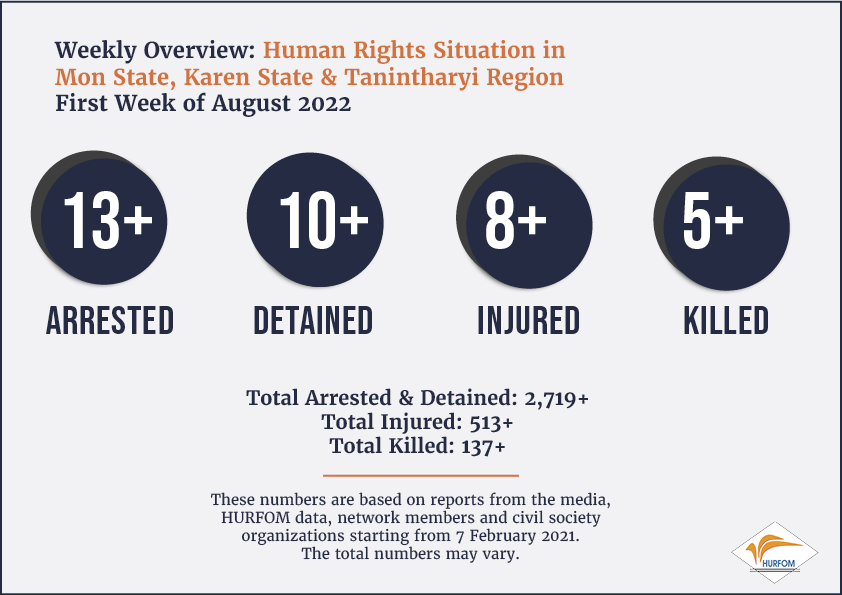 Read more
HURFOM: A weekly update by the Human Rights Foundation of Monland (HURFOM) on the situation on the ground. Summary data includes Mon State, Karen State and Tanintharyi region.
Analysis
As the end of July nears, human rights violations in target areas of the Human Rights Foundation of Monland (HURFOM) continued to be scaled up. Homes have been deliberately scorched by the junta as arbitrary arrests and ongoing raids spark fear in local communities. The international community's slow will to act has led civilians to fear the worst is still yet to come. Without concrete action and a response that makes clear that the junta is not above the rule of law, the Burma Army will continue to commit crimes with impunity.
Read more
HURFOM: A weekly update by the Human Rights Foundation of Monland (HURFOM) on the situation on the ground. Summary data includes Mon State, Karen State and Tanintharyi region.
Analysis
The Human Rights Foundation of Monland (HURFOM) is observing a downward spiral of normalcy across target areas of Mon State, Karen State and Tanintharyi region. The livelihoods of civilians are being threatened by the Burma Army whose increasing presence evokes fear and anxieties among local communities. The calls for international action have repeatedly called for targeted sanctions and accountability measures to be put in place to ensure the people of Burma have the peace that they have long craved.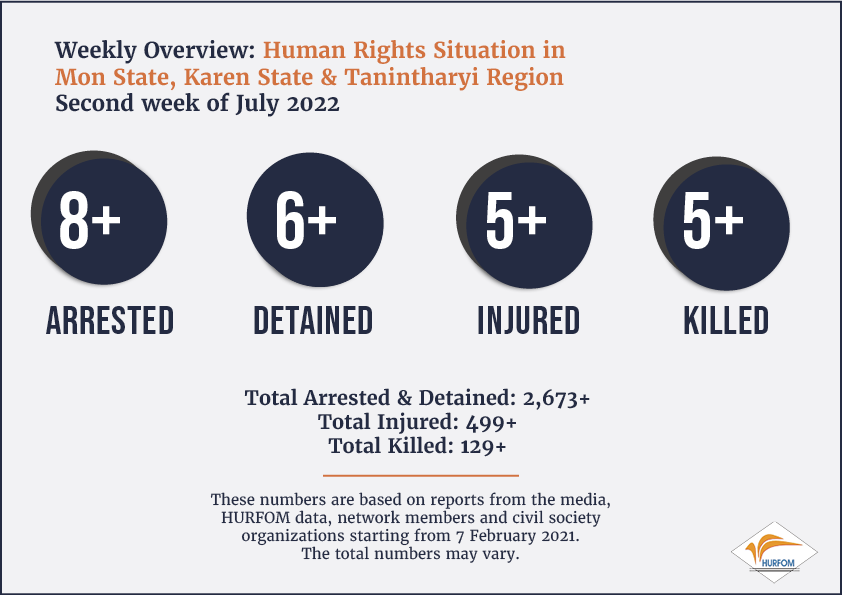 Over the last week, locals from Kyaung Shar Kwin area, Yebyu Township, Tanintharyi Region told HURFOM that they had to abandon their plantations due to landmines. "A landmine exploded near my plantation. After that, I have not gone back. Another explosion can take place any time." Between late 2019 and 2020, there have been 10 victims who suffered from landmine explosions in Yebyu Township. Five victims were from the Kyaung Shar Kwin area. Local plantation owners are frightened to go to their lands due to frequent explosions. "I've abandoned my plantation. I am afraid to go there. All landmine victims have been my neighbors. If I were injured, my family would be in trouble. That's why I've abandoned my betel nut plantation for three years now," said a plantation owner from Lae Sakan village.
Both ethnic armed organizations – the New Mon State Party (NMSP) and the Karen National Union (KNU) are active in this area, but no group has taken responsibility for the landmines. The Dawei District NMSP office released a statement on March 16, 2020 stating that both NMSP and KNU had responsibility for finding a solution. It is estimated that approximately 200 plantation owners work roughly 2,000-acre of land in the Kyaung Shar Kwin areas.
A rising number of destroyed religious sites has been documented by rights groups including HURFOM with dozens destroyed in our program areas. The junta, despite claiming to be Buddhist, has destroyed many monasteries, threatened, and imprisoned monks and refused to honor temples and churches as places of sanctuary, peace and relief for civilians.
On 10 July 2022, Kyauk-Hlay-Kar village in Thayet Chaung Township, Dawei was attacked and extinguished by the junta forces who killed five villagers accused of being members and supporters of the People's Defense Force (PDF). A 45-year-old Kyauk-Hlay-Kar villager said three local people were killed when about 70 Junta troops stormed the village:"They arrested two more villagers on suspicion of being PDFs. Then they shot and killed those villagers when the military columns arrived at Yaung Maw village, Thayet Chaung. A total of five villagers were killed as many locals were fleeing the village. It was estimated about 200 families are fleeing to safer areas. Names of the victims; the exact personal accounts, and locations are being examined by HURFOM.
Arbitrary arrests and warrantless raids are also ongoing. On the night of July 9, 2022, a group of junta forces and their sponsored-armed members stormed a civilian house in Wei-Kyun-Myothit Ward, Dawei, and abducted three young men. According to local sources, it was later confirmed that one of them was shot to death. The victim was Ko Paing Paing, age 21, and the son of the Pan-Chit-Thu family, located on the Wei-Kyun-Yay road.

Meanwhile, clashes continue to displace and devastate communities. Local villagers near No. 1023 Military base of the Border Guard Force (BGF) were afraid of being investigated, arrested, or tortured by the military, as well as possible armed clashes, so they fled from their homes.
Most villagers moved to Mudon Township, Mon State: "I've left my house and just come back once a week to check its condition. I'm worried that the soldiers will burn down my empty house now that I've moved to Mudon," said a villager.
A weekly update by the Human Rights Foundation of Monland (HURFOM) on the situation on the ground. Summary data includes Mon State, Karen State and Tanintharyi region.
Analysis
Across the last week in Mon State, Karen State and Tanintharyi region, pro-democracy members and supporters of the Spring Revolution continued to be ruthlessly targeted by the Burma Army, and junta-backed armed groups.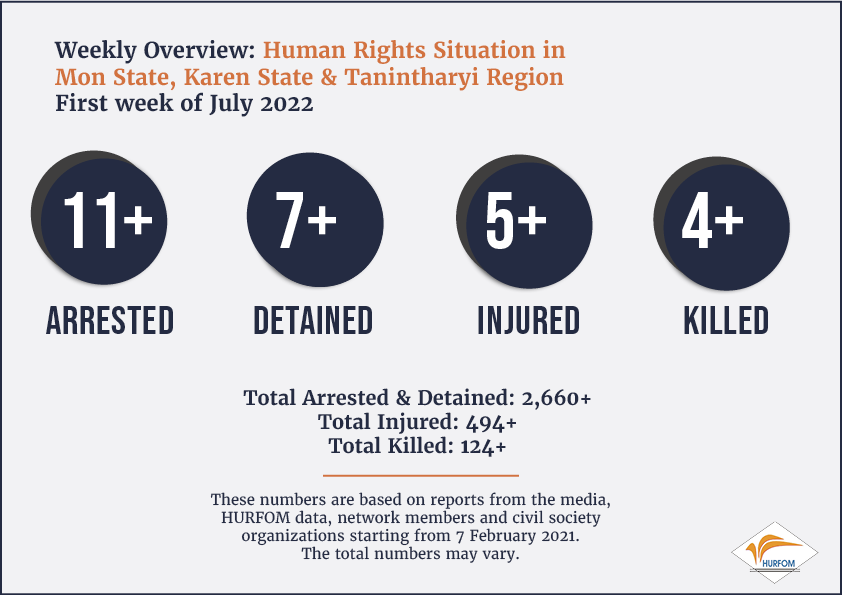 Read more
HURFOM: Junta forces in southeastern Dooplaya, Karen State, have been deploying relentless attacks against local villages with heavy shelling and airstrikes.
Full Analysis:
As June 2022 came to an end, the Human Rights Foundation of Monland (HURFOM) observed the ongoing volatile tactics and human rights violations continuing in target areas. An additional layer of worry is the growing presence of other armed and violent groups like the Pyu Saw Htee and Black Kite Brotherhood who are believed to be sponsored by the military junta. These militias have targeted innocent civilians, predominantly those affiliated with the pro-democracy movement.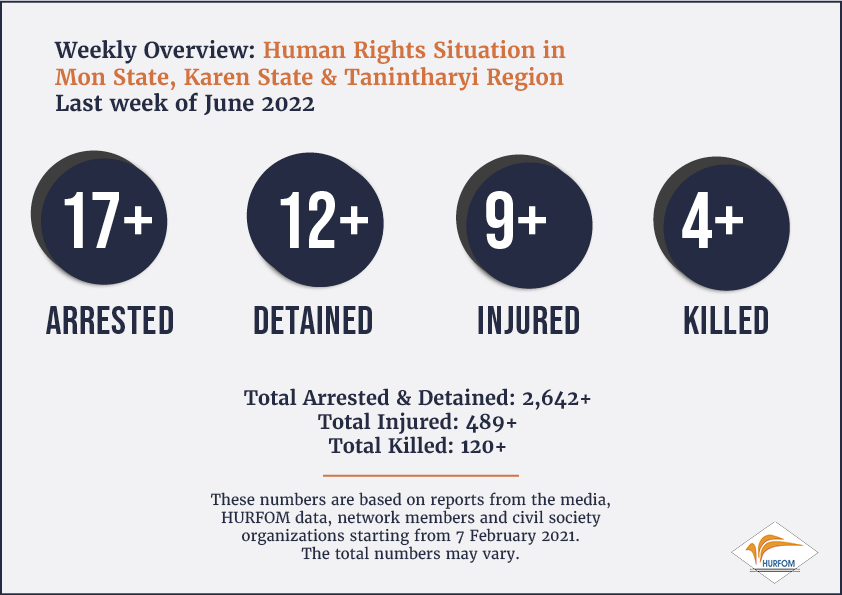 Over the last week, the Burma Army increased their attacks particularly in Karen State, promoting calls for Karen rights groups to call for urgent action including sanctioned aviation fuel, and a global arms embargo. Airstrikes on 1 July, in Thay Baw Boe village and Dooplaya district wounded five civilians, with three in critical condition. HURFOM has documented the growing numbers of internally displaced people (IDPs) in Karen State as the junta increases their presence, despite multiple orders from the Karen National Union (KNU) for the military to immediately retreat and withdraw all their forces.
The junta forces in southeastern Dooplaya have been deploying relentless attacks against local villages in the areas with heavy mortar shelling and with airstrikes. At least 7 airstrikes targeted 16 villages located in Dooplaya District. Throughout the month of June 2022 alone, HURFOM reported nearly 3,500 civilians newly displaced in Mon State, Karen State and Tanintharyi region.
Dawei has continued to be targeted by the junta as offensives worsen in the area. At 11:30 PM on 26 June 2022, joint troops of the junta sponsored militia forces and junta soldiers from Light Infantry Battalion (LIB) No.406 raided five houses in Kadak Gyi village, Long Lone Township. A 60-year-old couple was arrested and had tied their hands behind their backs. They were shot and killed at close-range. The victims were residents of Kadak Gyi village, U Thaung Win.
In a separate case, U San Win, a 50-year-old man from Goh-Inn village, Longlone, was also shot dead in front of his house. The Dawei District Strike Committee announced that the junta troops also looted a motorcycle with some gold jewelry. Homes in Kadagyi village were destroyed, and some valuables and banknotes were stolen. The military junta has been committing violence in LongLone Township actively between June 16 – 26, killing six in total.
In Mon State, homes are being scorched. Junta forces' Light Infantry Battalion No. 9 continued to burn remaining houses in the village since the morning of June 26, destroying more than 60 houses in 4 villages in Thaton township. More than 110 civilians' houses in 7 villages in Thaton township have been burned to the ground since June 26, 2022.

In addition, between June 25 and 26, villagers from Hpa-Paing, Kyauk-Taung, Kyauk-Taung-Kalay, Inn-Ywa, Saw-Ei-Poe, and Naught-Kadote (upper village) were attacked by indiscriminate shots fired by artillery (120 mm) from the 9th Battalion. Hundreds of locals have been fleeing their homes and seeking refuge in safer areas of the Karen National Liberation Army-controlled parts. "We have more than 150 houses in my native village. The junta opened fire with heavy artillery, forcing approximately 1,400 villagers to flee their residences," a villager originally from Kaw-Kyar-Tae village described. "We've received six cases of injuries and two deaths during the junta's invasion since the first week of June 2022," an emergency response team member told the HURFOM reporter.
The situation in Burma continues to unravel, the safety and security of civilians must take precedent. The grave human rights violations committed are ongoing, yet the military evades accountability. There must be concrete actions and steps forward which make clear that the military is not free to violate international laws.
HURFOM: The last week of June was met with more strife and hardships by communities across the Human Rights Foundation of Monland's (HURFOM) target areas. Cases of theft, extortion and raids by the military junta are rampant and continue due to the lack of accountability channels in place. Civilians have been forced to endure layer upon layer of uncertainty as their livelihoods remain in jeopardy due to the junta's growing presence.
Read more
HURFOM: In target areas of the Human Rights Foundation of Monland, including Mon State, Karen State and Tanintharyi region, torture has been perpetrated by the military junta on a regular basis. HURFOM field workers have documented rising levels of fear as the junta increases their presence in civilian areas. Torture is considered a human rights violation under international law. See in full: Burmese | English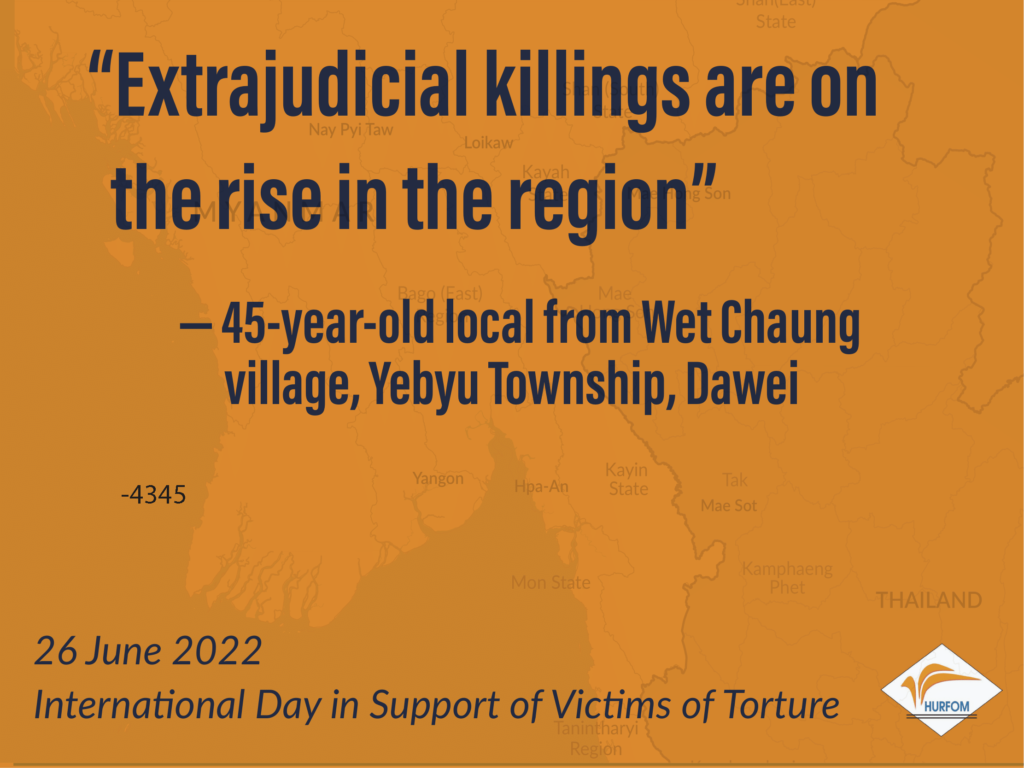 Torture in particular is a tactic which is deployed to scare and intimidate villagers. It is a way to force confessions and to exert power over unarmed, innocent populations. These acts have been committed with impunity. Villagers expressed to HURFOM that victims are denied their final death rights before they are killed. There are growing levels of frustration and uncertainty amid the current situation.
Across HURFOM areas, there have been reports of people being detained by the junta, and tortured to death in military run prisons. All political prisoners are subject to state-sponsored violence in the form of torture. Sexual violence is also considered a form of torture that robs civilians of their dignity. HURFOM has reported incidents of sexual violence against women while being interogated. Female inmates have also been deprived of food and water. Women in Burma are regularly denied their rights in military custody and are an increaed risk of being victims of sexual violence. Prison conditions are unsanitary and also deprive prisoners of their fundamental human rights.
HURFOM condemns the use of torture by any and all parties and calls for investigations to probe the unlawful deaths of civilians across the country who have been tortured to death, as well as those who have been forced to endure trauma and long term injuries as a result.
See in full: Burmese: https://rehmonnya.org/reports/TVSD-HURFOM-Bur.pdf
English: https://rehmonnya.org/reports/TVSD-HURFOM-Eng.pdf
HURFOM: Across the last week in Mon State, Karen State and Tanintharyi region, civilians were unjustly subjected to more horrors perpetrated by the military junta. The campaign of fear is emboldened by the reality that the Burma Army has never been held accountable for the crimes they commit, which are in blatant disregard of international laws. The people deserve protection, they are entitled to it as it is enshrined in their rights as civilians.
Read more
Across HURFOM target areas, cases of abductions and arbitrary arrest continued to rise. The ongoing human rights violations speak to the inhumanity of the Burma Army and their lack of compassion for civilians. Innocent villagers are targeted in a relentless, ongoing campaign of terror. Those who have shown their support and solidarity to pro-democracy campaigns have been deliberately targeted.
Read more
Weekly update on the situation in Karen, Mon & Dawei since the attempted coup:
13+ Arrested
8+ Detained
6+ Injured
3 killed
In May alone, HURFOM reported 52 medical workers were dismissed and 6 activists were sentenced to 2 to 5 years in prison.
Full Analysis:
As the month of May ended, the Human Rights Foundation of Monland (HURFOM) released findings which found evidence of a worsening humanitarian crisis with nearly 30,000 newly displaced people across target areas. In addition, extortion, bribery and ransoms demanded by the military junta have continued to wreak economic turmoil. Livelihoods have been stunted by the General's incompetency. Since 1 February 2021, peace has been denied to millions of civilians across the country as fighting occupies their villages. Many still dare not go home. Some have sought shelter and safety along the Thai-Burma border. However, they have largely been denied and deemed 'illegal' by Thai soldiers who refuse to allow them to cross. Humanitarian aid is urgently required to meet the growing needs of the sick, and vulnerable people trying to survive amid devastating circumstances.
Read more