HURFOM, Mawlamyine: A weekly update by the Human Rights Foundation of Monland (HURFOM) on the situation on the ground. Summary data includes Mon State, Karen State, and the northern Tanintharyi Region.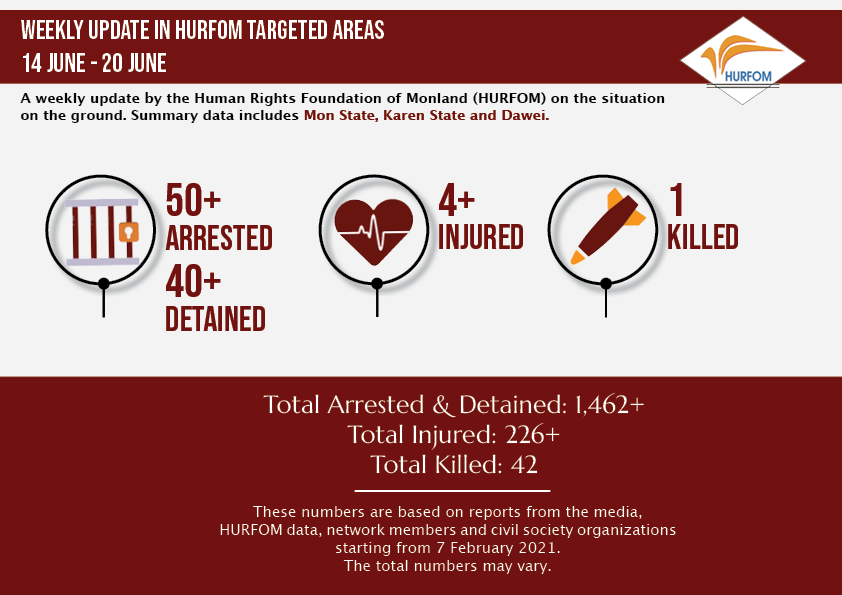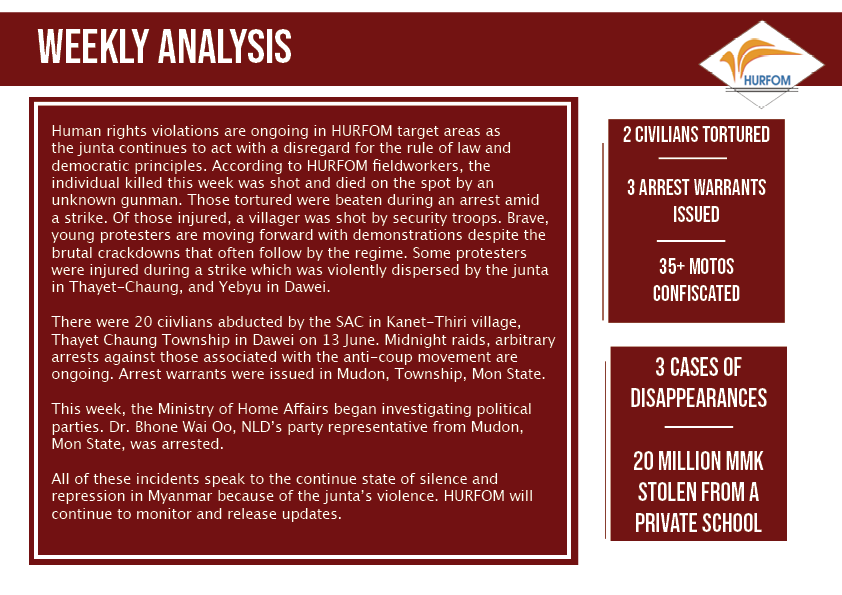 Weekly Analysis
Human rights violations are ongoing in HURFOM target areas as the junta continues to act with a disregard for the rule of law and democratic principles. According to HURFOM fieldworkers, the individual killed this week was shot and died on the spot by an unknown gunman. Those tortured were beaten during an arrest amid a strike. Of those injured, a villager was shot by security troops.

Brave, young protesters are moving forward with demonstrations despite the brutal crackdowns that often follow by the regime. Some protesters were injured during a strike which was violently dispersed by the junta in Thayet-Chaung, and Yebyu in Dawei.

There were 20 civilians abducted by the SAC in Kanet-Thiri village, Thayet Chaung Township in Dawei on 13 June. Midnight raids, arbitrary arrests against those associated with the anti-coup movement are ongoing. Arrest warrants were issued in Mudon Township, Mon State.

This week, the Ministry of Home Affairs began investigating political parties. Dr. Bhone Wai Oo, NLD's party representative from Mudon, Mon State, was arrested.

All of these incidents speak to the continued state of silence and repression in Myanmar because of the junta's violence. HURFOM will continue to monitor and release updates.
HURFOM, Mawlamyine: In HURFOM target areas, the human rights situation remains of great concern. Fieldworkers continue to document as best as they can, given the extreme risks and limitations faced. Confiscation and destruction of properties is ongoing. This week, in addition to monumental, historical statues being destroyed in Karen State, there were 15 mobile phones and five motorcycles also taken by the junta.
Read more
A weekly update by the Human Rights Foundation of Monland (HURFOM) on the situation on the ground. Summary data includes Mon State, Karen State, and Taninthayi Region.

24+ arrested
22+ detained
3+ injured
13+ motos were seized in Ye, Paung, Yebyu, and Hpa-an townships by the junta
12+ arrest warrants issued for civilians in hiding
Read more
HURFOM, Mawlamyine: In May, the oppression faced by the people in HURFOM target areas increased. The junta is continuing to instill fear in the people by arresting and abducting innocent civilians. Since the army overthrew the democratically elected party on 1 February, the armed forces have killed eight people in Mon State, including an 11-year-old. Over 200 people have been charged, and evidence is being fabricated to justify the regime's harsh crackdown. Children are no exception – they too are being targeted and becoming political prisoners. Subsequently, rural people are seeking more secure places, but there is nowhere safe to go under this illegitimate regime. HURFOM recorded seven cases of disappearances in Hpa-An, Karen State, since March 2021. Most are young people. Parents have expressed fears as they have lost contact with their children. HURFOM received three cases of seven missing young protestors from Paung, Myeik, and Hpa-an. Many young protestors, who were listed on 'police wanted lists', are in also in hiding.
Read more
HURFOM, Mawlamyine: Security forces continue to wage war against civilians with impunity. According to HURFOM data, there were 12 cases of looting, confiscation, and destruction of property and mobile devices, as well as an additional 30+ cases of motorcycles being stolen by military troops in Dawei. There was approximately six million Myanmar Kyat confiscated. Of those arrested, one includes a Myanmar Red Cross Society member and medical doctors. The youngest detainee arrested this week is 17 years old.
Read more
Mawlamyine, HURFOM: The Human Rights Foundation of Monland will be sharing a weekly update on the situation in our targeted areas in Mon and Karen States & Dawei, Tenasserim Region. Our documentation is based on reporting from the ground, though numbers may vary. HURFOM reinforces our calls for an end to the violence against protesters and for those arbitrarily arrested and detained to be immediately released.
Read more
(A review on NMSP's ceasefire agreement and political, social and ethnic rights in Mon area, southern Burma/Myanmar)
by Nai Kasauh Mon[1]
Introduction
The Mon self-determination movement is a long road to the journey's end. Mon armed resistance is the fundamental revolutionary spirit to the Mon people after the loss of the last Mon capital, Pegu (Hongsawatoi Dynasty) in 1757. New Mon State Party and its armed force, Mon National Liberation Army will be reaching it's the 25th anniversary of Cease-fire agreement – a search for peace and a unity of a national races in modern Myanmar. After long campaign and movement for liberty, freedom, democratic rights (social, cultural and political rights) in modern era, this essay is a reflection of personal and professional accounts to a Mon person who lives, work and remaining living in the Mon people's heartland.
Read more
HURFOM: Since 2016, there has been an increase of women's participation in Burma's peace process, however, there is evidence that this progress has not been sufficient.
Read more
By Nai Kasauh Mon
ASTRACT
Burma is in a democratic transition having been previously under seven years of semi-military leadership led by U Thein Sein. After the 2015 democratic elections, Burma's democratic leader Daw Aung San Suu Kyi has ruled the country. During U Thein Sein's government, he established the Myanmar (Burma) National Human Rights Commission (MNHRC) under his political authority. His government also signed the Nationwide Ceasefire Agreement (NCA) with several Ethnic Armed Organizations (EAOs) and Daw Aung San Suu Kyi's National League for Democracy (NLD) government continues the peace process. Read more

A new labor law known as the Pyidaungsu Hluttaw Labour Organization Law No.7/2011 was signed and put into effect by President Thein Sein on March 9, 2012. International labor groups cautiously welcomed this new law for its commitment to giving workers the right to strike and negotiate with employers. However, some community labor leaders and activists claim that the state must reinforce the document's promises by putting the law into practice. Other labor advocates and law experts highlight that the new law formalizes severe limitations intended to keep the country's labor unions as weak as possible. Read more