HURFOM:
Tensions in HURFOM target areas are growing. The escalation of violence by the junta, combined with their exertion of control by intimidating and threatening civilians has isolated communities. The threats to everyday safety are growing exponentially. Young people in particular are at risk.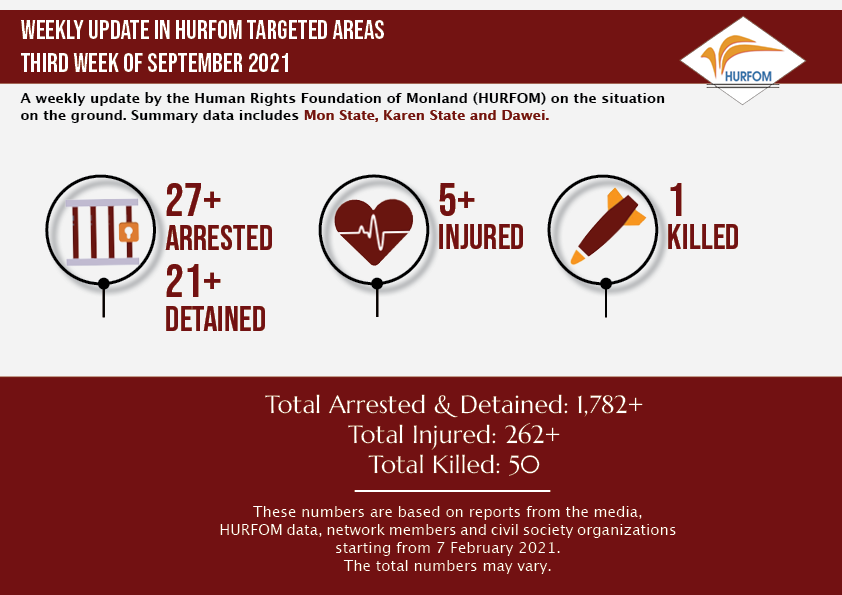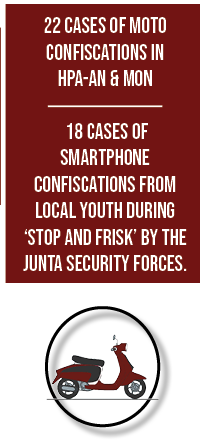 Maung Yin Min Khant, a 16-year-old boy living in Kadat Nge Htein Village in Loung lone Township in Tanintharyi Region, was shot to death by the junta security forces, who set up a camp at the village monastery, on the evening of September 17th. The targeting has forced many into hiding, but even then, their safety cannot be guaranteed. Two young civilians were abducted by junta Security Forces from their hiding places in Hpa-an this week. According to a witness, the two were affiliated with the Civil Disobedience Movement from a government department and had been in hiding since May. The soldiers and police brought them from Ward #6 to Taung Kalay prison. On September 17 at 1 PM, Ma Cho Cho Phyo, a 3rd-year student from Dawei University was arrested according to Dawei Students Union. The junta and security forces came to her house in Akani Village, Yebyu Township to arrest her brother. But he already escaped. The troops abducted her instead. Six students have been abducted, including a tutor from Dawei University, within this week, according to Dawei University students' Union. The junta also abducted five youth from Shwe Myaing Thiri ward, Mawlamyine, Mon State on September 18th. The reason for the arrest remains unknown.
The recent armed conflicts between the Junta Forces and PDF created approximately 1,200 IDPs in Tanintharyi Region. Residents have been forced to flee from Kyae-Zu-Daw, Sar-Khae, and Pane-Nae-Taung villages since last month. According to a source who works for a food aid group in Dawei Region, most of them are still terrified to return home: "In some areas, like eastern Palaw Township, people have started to face starvation," said a source. "We heard that some aid groups are trying to reach out to us to help, but the Burma Tatmadaw battalions are blocking them," a Karen National Union member said.
Locals fear returning home because the tactics by the Burmese Army, which include arresting and conscripting villagers are prevalent as military tensions increase in Mon State. HURFOM has documented dozens of cases of civilians being arbitrarily detained and taken to unknown locations. According to residents, the military has occupied more and more troops in most wards and quarters in Hpa-an, Karen State as more troops are deployed with armed ex-military servants and militia forces in nearly every quarter in town, one local source said: "The Karen State Junta Administrators said they want to provide 'Security' for residents. However, we feel more unsafe living with them. the more they are deploying in the areas, the more chance of human rights abuses will occur," A 38-year-old ethnic Karen from Hpa-an expressed.
Read more
HURFOM: A new briefing paper by the Human Rights Foundation of Monland (HURFOM), "We have lost our private sphere:" the infringement of privacy rights under the military junta in Mon State, Karen State and Tanintharyi region, finds civilian rights to privacy have been eroded by the power-seeking junta. Since the attempted coup on 1 February, the regime has taken steps to extend their authority into civilian homes and their personal devices. Through premeditated amendments to Burma's legal framework, the junta has endeavored to justify their assault on fundamental privacy rights.
Read more
HURFOM, Mawlamyine: A weekly update by the Human Rights Foundation of Monland (HURFOM) on the situation on the ground. Summary data includes Mon State, Karen State, and Northern Tanintharyi Region.
The numbers of those arrested & detained more than doubled in HURFOM areas in the last week. Violence by the junta has increased as young ppl are targeted.
Full Analysis: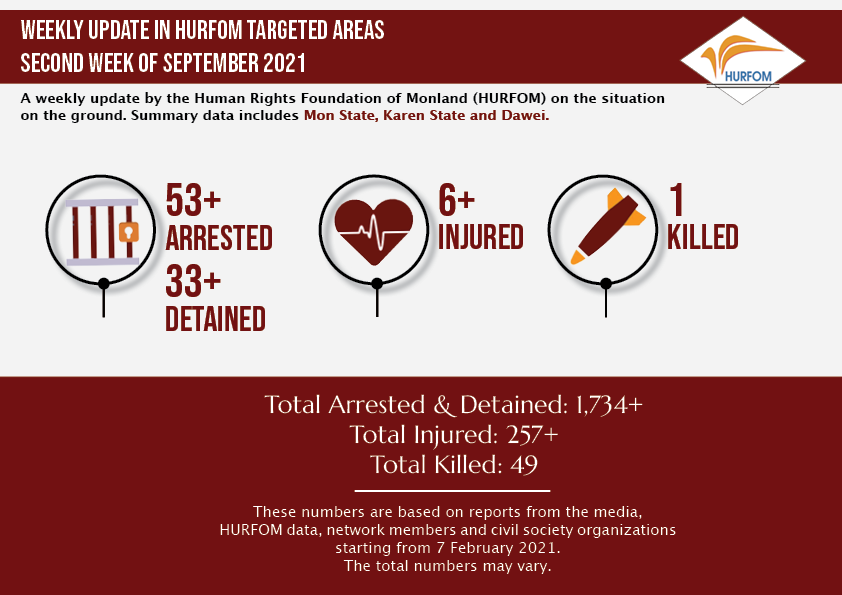 Numbers in HURFOM areas of arrest and detainment more than doubled since last week. Eight civilians were arrested in Mon State, eleven in Karen and thirty-four from Dawei region. Of those injured, most of the victims were from Dawei and Mawlamyine. A pregnant woman, and mother of a young child was shot by the junta while coming home with her husband, who was also shot and severely injured in Ka-Dike village, Paung township on 1 September. Property also continued to be looted by state-backed forces under the unlawful 'stop and frisk' tactics. Some civilians were forced to pay fines to have their belongings returned.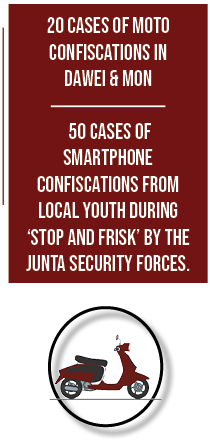 Door to door inspections of suspected People's Defense Forces (PDF) continue in Dawei region and in Hpa-an, Karen State. Three young people who the Junta forces suspected as the network members of PDF were abducted, according to one of the victims' neighbors reported. National League for Democracy member houses were also targeted.
On 5 September, the Light Infantry Battalion No. 583, operating under the Military Operation Management Command No. 19, arrested a villager from Wae Bai village for unknown reasons. About 50 Junta troops with full ammunition entered into the village (Wae Bai, Eastern Ye, the New Mon State Party controlled areas) at 2 PM local time and arrested a 44-year-old man. Witnesses suspect that the junta was on alert for conflict as they entered NMSP controlled areas without permission.
Even aid workers are being targeted. Four young men volunteering with their village to provide health and social support were abducted by Light Infantry Battalion No. 401 army soldiers. The village is known as, Maw-Shae-Gone Village, Thayet Chaung Township, Dawei. 2 Army Trucks carried full of soldiers came and searched door-to-door. Then they arrested four men and brought them to unknown places, according to local sources.
In most cities in Mon State, the junta deployed more troops to tighten up security after the National Unity Government declared war on them. 'We face difficulties traveling. They have full power to stop and frisk, to search our handphones, and to rob us,' said a young man who had his phone confiscated.
The recent armed clashes between Junta troops and PDF have forced an estimated 1,000 civilians into the jungle, according to HURFOM network members in Palaw Township, southern Tanintharyi Region. After the military began launching indiscriminate attacks and shelling on Pein-Nae-Taung, Sar-Khae and Du-Yin-Pin-Yaung villages, everyone fled to the jungle. Some villagers ran with only the clothes on their back. "Targeting civilians is one of the oldest tactics of the military, especially when they have conflicts with Karen armed forces, or their opponents. The locals experienced these situations a lot, and they know that the military does not have humanity. The emergency relief and humanitarian aid providers should come and immediately respond to these people." a former Karen National Union Brigade 4 commander said. The majority of civilians from these three villages are ethnic Karen.
Meanwhile, the Southeast Command, based in Mawlamyine, deployed many troops to tighten up the security checks in Mon and Karen State. Many of those informing on civilians are plain clothed police who are conducting more surveillance of civilians.

First Week of September 2021
HURFOM, Mawlamyine: A 27yr old pregnant woman was killed by the junta and a journalist from Dawei was arrested. 'Stop & frisk' tactics are ongoing as youth are targeted.
Read more
HURFOM, Mawlamyine: The junta is continuing with their disregard of civilian rights and protections. Extortion, arbitrary arrest remain widespread across HURFOM target areas.
Full Analysis:
Read more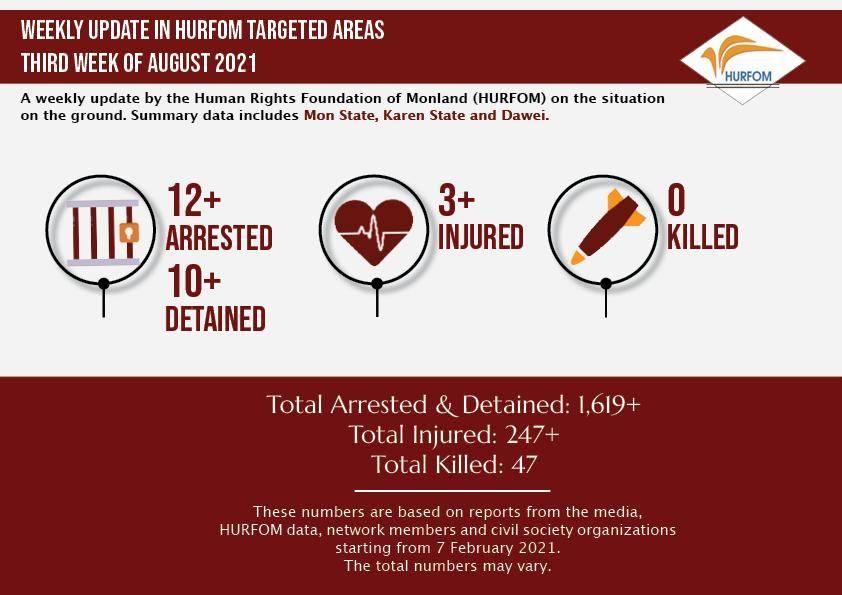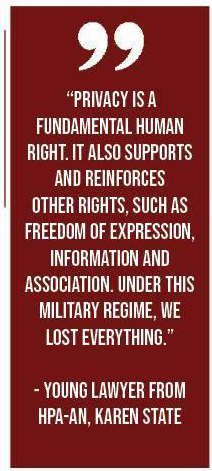 HURFOM, Mawlamyine: Privacy laws continue to be breached in HURFOM target areas. The assault by the Burmese junta on the rights and freedoms of innocent civilians have made everyday tasks one filled with worry. Traveling by bus has been met with soldiers coming through highway bus terminals and train stations to check everything on the mobile phones of civilians, including photo galleries and recent contacts, in addition to Facebook and various social media applications. If they find something released to the Spring Revolution, they can be arrested immediately or asked to pay a random anywhere from 5000 to 500 000 Myanmar Kyat or more.
Plain clothes police officers are arresting people in broad daylight. On 21 August, a witness reported the arrest of a woman at 3:30 PM in Mawlamyine for reasons suspected to be linked to her organising efforts of a student protest in March with her University. On 19 August, a group of young villagers were also adducted by junta security forces late at night based on accusations from a military informer.
Despite the distressing situation, bike strikes are ongoing in HURFOM target areas. A resident from Long Lone Township, Dawei commanded the bravery of those continue to protest the junta saying: "We can't praise them enough—they did a brilliant job. We need these young people to continue breaking our silence."
HURFOM, Mawlamyine: Arbitrary arrests continue to target local youth, largely with suspicions that they are linked with local People's Defence Forces in Mawlamyine, Mon State. In some cases, civilians are even being kidnapped. On August 13th, six plain-clothed police officers abducted a civilian in Kyat Sar Pyin, Dawei, at 7 AM when they could not find the targeted individual who was involved in a recent motorcycle strike.
Read more
HURFOM, Mawlamyine: It was another devastating week for civilians who are working tirelessly to prevail from the junta's hardships.
One of the many examples of lies and deceit comes as authorities are increasingly lying about how loved ones died in detention. Officials at Kyaikmayaw Prison informed families that Ko Pyay Thein, 29, passed away with diabetes. However, the family could not accept this because the victim never had diabetes. Ko Pyay Thein was arrested in Ye on March 22nd.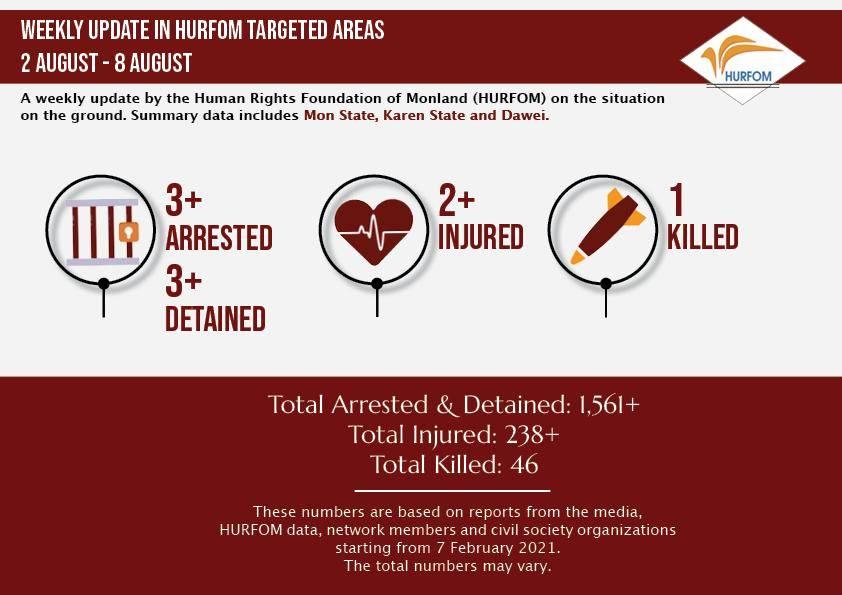 Read more
HURFOM, Mawlamyine: Weekly update on the situation in Karen, Mon & Dawei since the military coup:
Movement restrictions against health workers were enforced by the junta in HURFOM target areas. Civilians continue to be extorted.
Read more
HURFOM, Mawlamyine: Flooding, particularly in Mon State, has compromised relief efforts, as have ongoing movement restrictions by the junta amid an increase in #COVID19 cases.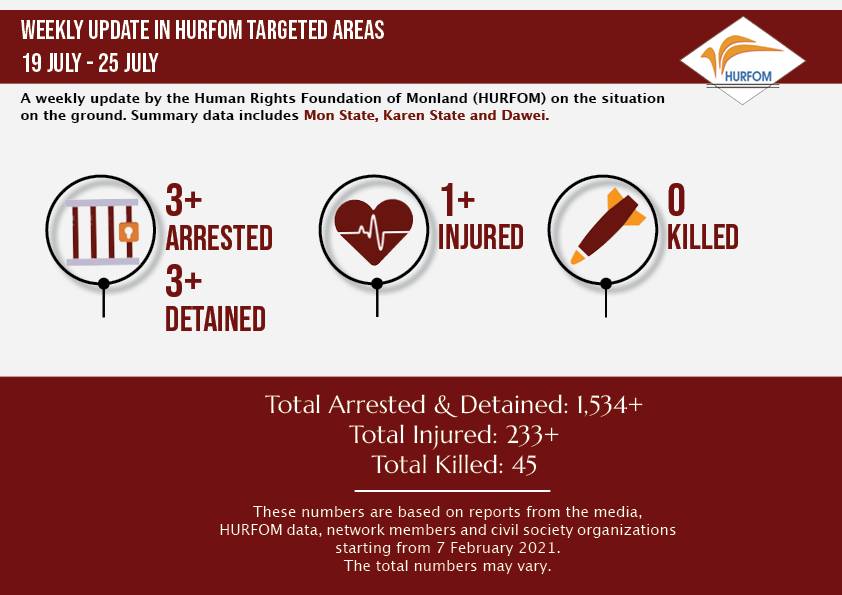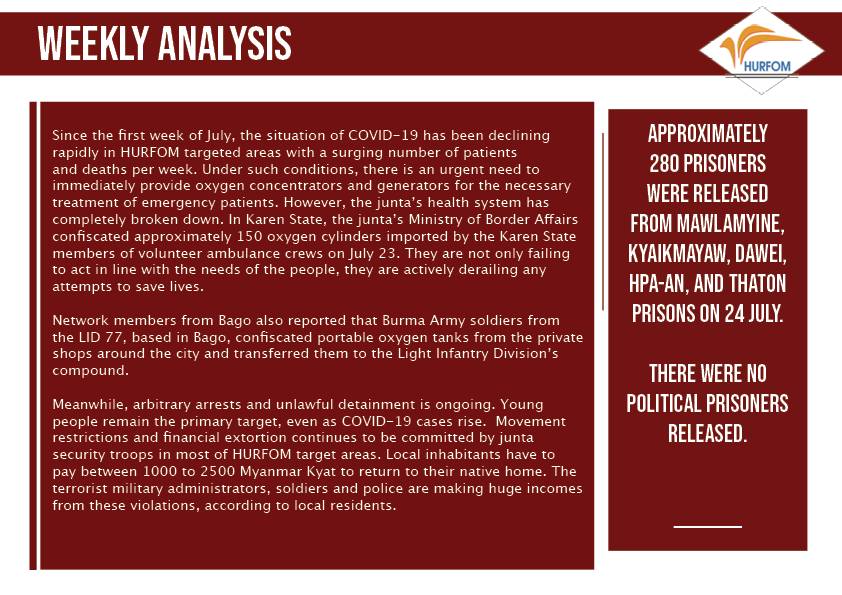 Our analysis in full:
Since the first week of July, the situation of COVID-19 has been declining rapidly in HURFOM targeted areas with a surging number of patients and deaths per week. Under such conditions, there is an urgent need to immediately provide oxygen concentrators and generators for the necessary treatment of emergency patients. However, the junta's health system has completely broken down. In Karen State, the junta's Ministry of Border Affairs confiscated approximately 150 oxygen cylinders imported by the Karen State members of volunteer ambulance crews on July 23. They are not only failing to act in line with the needs of the people, they are actively derailing any attempts to save lives.

Network members from Bago also reported that Burma Army soldiers from the LID 77, based in Bago, confiscated portable oxygen tanks from the private shops around the city and transferred them to the Light Infantry Division's compound.

Meanwhile, arbitrary arrests and unlawful detainment are ongoing. Young people remain the primary target, even as COVID-19 cases rise. Movement restrictions and financial extortion continue to be committed by junta security troops in most of HURFOM's target areas. Local inhabitants have to pay between 1000 to 2500 Myanmar Kyat to return to their native home. The terrorist military administrators, soldiers, and police are making huge incomes from these violations, according to local residents.