HURFOM: Although event organizers provided chairs and food for over 500 people at the International Human Rights Day venue in Kaw Panor village, Kyaikmayaw Township, Mon State, over 1,000 people showed up to actively participate in the first such event in their area. Read more
Briefing Papers, ND-Burma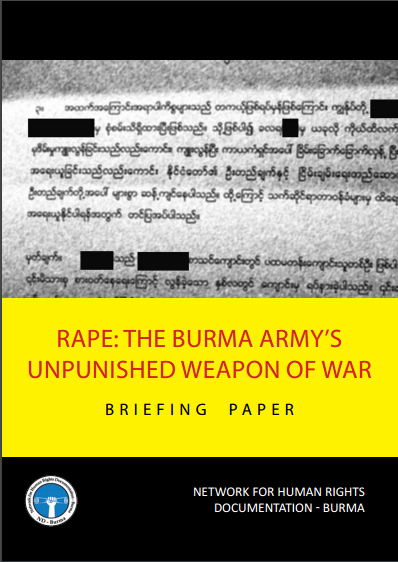 In October 2016, amid renewed violence in Rakhine state, it was reported that "dozens" of women had been raped by Burma/Myanmar army soldiers. The story shocked international media and the United Nations Special Representative on Sexual Violence in Conflict called on the Government to conduct an investigation into the alleged incidents.
However, the Burma/Myanmar army has long used rape as a weapon of war, especially against Burma's/Myanmar's ethnic nationalities. Despite the hundreds of rapes that have been recorded by Burma's/Myanmar's NGOs and civil society organizations (CSOs), no member of Burma's/Myanmar's government forces has ever been punished for committing rape or sexual violence. This is because under Burma's/Myanmar's 2008 Constitution the army gifted itself immunity from the country's laws, meaning allegations of rape are only investigated internally by the army, if at all. [Download PDF | 389.28 KB] Read more
In October, 2016, 56 rubber plantation owners from various villages near Wae Gali, southern Thanbyuzayat Township, Mon State have launched an appeal to the Burma Second Vice President Henry Van Thio who is the chairman of the Central Review Committee on Confiscated Farmlands and Other Lands claiming that Burma Artillery Regiment (AR) No. 315 had confiscated their rubber plantations and that they want their land back. Read more
WCRP: On September 11, 2016, it has been revealed that a 8 year-old-girl has been raped by her brother-in-law in San Mya Thidar Ward, Mawlamyine, Mon State.
According to a neighbor, the young girl was raped at 9 am on September 11, when her mother left the house in order to do her laundry. The neighbor, who was nearby when the incident occurred, retold the story to the victim's mother and when asking the girl, she also confirmed that she was raped by her brother-in-law. Read more
On October 17, 2016, nine villagers from Duyar Village, Ye Township, Mon State have suffered from food poisoning after eating seafood bought from the local market.
According to a local resident, U Tin Shine, nine villagers had eaten locally-sold fried prawns from the village market of Asin Village on October 17. They suffered from diarrhea and vomiting on October 18. Three villagers had been treated in Mya Myint Muo Clinic in Ye and the rest were treated at the village clinic. Read more
WCRP: On September 6, 2016, a Kindergarten student from Thiri Myine Ward, Mawlamyine, was severely beaten by his teacher as she accused him of stealing a pencil from his classmate.
According to the student's grandmother, who held a press conference after the incident, she found the child's eyes bleeding, found bruises, and other marks on his skin. The grandmother believes her grandson was brutally beaten. When she asked him what had happened, the child responded that he was beaten by his teacher. The grandmother immediately went to the school to investigate what happened with her grandson. When asked, the teacher denied the allegations; however, when the child started crying, she admitted that she beat the child because he stole his classmate's pencil. The child specified, "I didn't steal the pencil. I found a pencil under my desk and just picked it up." Read more
On April 21, 2016, Mg Ko Lay, a young man from Ka Lot Thot Village, Mudon Township, Mon State, had forcefully pressured his girlfriend to marry him without her consent. The case was brought to the New Mon State Party (NMSP) representatives; however, the 24-year-old man said in a press conference in early October 2016 that he was not satisfied with the NMSP's decision on the case. Read more
U Khin Zaw, from Nat Hmaw village tract in Chaungsone Township, Mon State, says he has been dealing with land disputes for over a decade.
In 1989, U Khin Zaw bought 10.05 acres of land from U Aung Thein and Daw Pu legally, with witnesses, at the administrators' house, U Maung Kyine's.
Administration accountant, Daw Pan Win, who is the sister of U Maung Kyine, said that she will keep the contract in place. At the time, U Khin Zaw was 28-years-old and assumed that Daw Pan Win will respect the contract.   Read more
On October 12, 2016, Asian Development Bank (ADB) held a meeting named "Country Partnership Strategy Consultation" with Mon State Civil Society Organizations (CSOs) at Shwe Myint Mo Tun Hotel in Mawlamyine, Mon State.
ADB introduced their future projects that will take place in Mon State and looked for consultation from Mon State CSOs. Their goal is to achieve sustainable and inclusive economic growth and job creation for poverty reduction. Read more
On September 14, 2016, a girl between the age of 16 or 17 from Kyun Kone village in Kyaikmayaw Township disappeared at 4 am in the morning.
According to reports, the girl usually goes to the Karina village market to sell flowers at 4 am but on the morning of September 14, a strange car stopped on the road and the driver started conversation with her by asking where the nearest petrol station is. After she showed him the petrol station, he did not go there, instead he told her that he would like to bring her to the market.  When she refused, he forced her into the car. The child reported that on the drive, the man raped her. Read more