Junta prepares to crack down on civil society sector in Mawlamyine
HURFOM: Civil society organizations are preparing for a crackdown in the coming weeks  by the military  junta who will be looking to see if they have a  valid registration.
"Our registration has expired. The officials called us to extend the registration. But we have some difficulties and haven't done it yet. Now we dare not do anything," said an official from Mawlamyine based, youth empowerment organization.
The authorities have been applying pressure on the CSO sector to file for their new registration permits, but many organizations are unwilling to register under the military junta. Some organizations have stopped their activities outright and some are adopting a "wait and see" approach.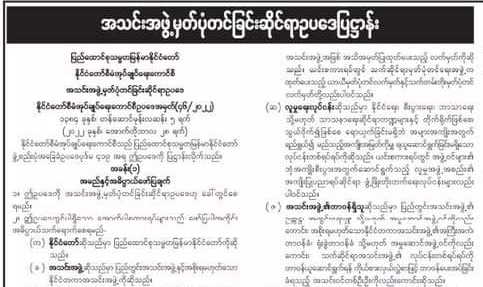 "If we have registration, we can run our activities officially but we have to report our activities monthly to them. That isn't okay for us," added one CSO official.
The military council approved a new organizational registration law on October 28, 2022. The law states that CSO organizations who operate without an official registration will face a three-year imprisonment sentence and a one million Kyat fine.
Comments