Weekly Update in HURFOM Targeted Areas (Third Week of November 2021)
A weekly update by the Human Rights Foundation of Monland (HURFOM) on the situation on the ground. Summary data includes Mon State, Karen State, and Dawei Region.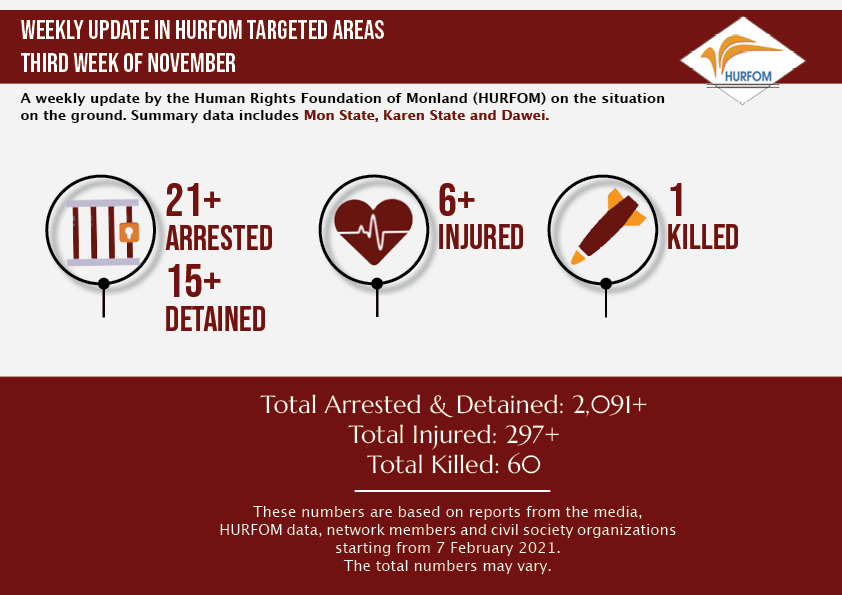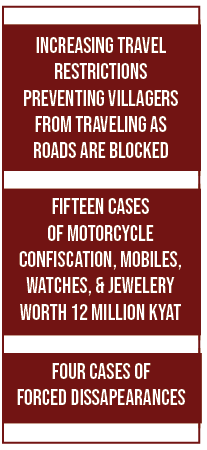 Food insecurity is a worsening threat to the survival of residents across the country. HURFOM has observed ongoing road blockages and travel restrictions, combined with the increased presence of junta soldiers in the streets is making it impossible for daily food needs to be met. The crisis is exacerbated by routine blockages of aid by the military junta.

Travelers that manage to pass the toll gates are regularly extorted for money and possessions including jewelry by the junta. Ransoms are frequently forced to be paid in Mon State while traveling between Thanbyuzayat to Three Pagodas Pass. One of the notorious junta battalions, Light Infantry Battalion No.283 based in Anankwin,has been committing illegal activities daily, according to three travelers interviewed by HURFOM. 

"It seems they have a license to commit these crimes against us. Gangsters are ruling the country. Don't use this route if not necessary," a social worker from Three Pagodas Pass said.

A woman was shot and killed at Maw-Kanin junta's security tollgate (Ye Township, Mon State) at 8:25 PM on November 19. The victim's name is Daw Yi Yi Cho, 48, originally from Maubin Irrawaddy delta. "The soldiers said they ordered to stop us; however, our driver did not hear the order. Shots were fired, and my mother was bleeding from her waist" recalled the son of the victim.

Meanwhile, state-wide abductions of innocent civilians are adding peril and grief to the multitude of crises plaguing the nation. On 14 November, Ko Linn Maung Aye, a father of a three-year-old son was taken away by plain clothes soldiers and is still missing. His wife, who is pregnant, and family and friends are all very worried. The reason for his abrupt arrest remains unknown.

In the evening when junta soldiers arrive to various neighbourhoods, men are searched unlawfully door-by-door where civilians are taken away by military intelligence and special branches forces. These tactics are being deployed to weaken morale of the growing resistance movement and discourage those from joining People's Defence Forces.
Comments