Weekly Update in HURFOM Targeted Areas (First Week of December 2021)
A weekly update by the Human Rights Foundation of Monland (HURFOM) on the situation on the ground. Summary data includes Mon State, Karen State, and Dawei Region.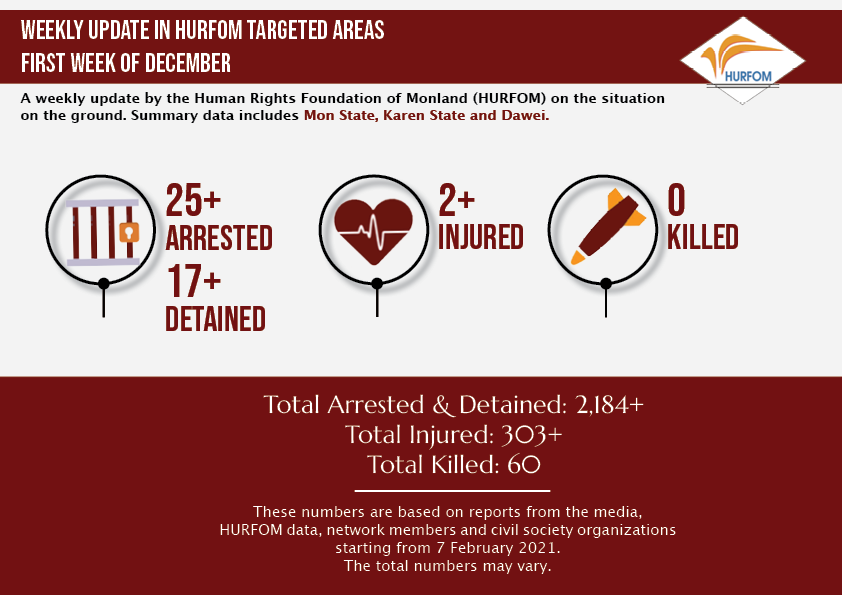 ANALYSIS
Over the last week, more students were targeted by the military junta. The Dawei University Students Union (DUSU) announced that another three of the Union's members were arrested from their residences on November 30. A source from the university suspected they were arrested for having ties to the pro-democracy protests. The parents Ma Theint Zin Phu, who is in her fifth year of Electrical Power Engineering, confirmed she was arrested by junta troops and remains missing. Her friends and family believe she has been detained and interrogated at a military intelligence center in Dawei. Seven students from the DUSU have been arrested by Dawei-based junta troops.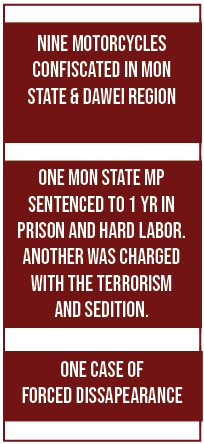 Bombs and attacks in urban areas are threatening civilian safety. At least 17 people were arrested after a bomb blast near a restaurant in Thaton, Mon State on 4 December. Junta soldiers began indiscriminately arresting every youth that they saw. Many of those arrested were staff near the restaurant of the explosion. The junta forces abducted the Manager of the restaurant and the well-being and location of those taken away remains unknown.
Destruction of properties during ongoing arrests remains an ongoing threat to civilians. In this early morning of December 5, the military coup troops abducted a man named Ko Ko Phyo, from his home in Daung Ngu Ward, Dawei. The troops destroyed the door, searched the entire house, and seized some properties as well. Two informers guided the troops.
Ousted politicians also are being increasingly targeted. On 1 December, the junta court in Thaton Mon State sentenced a former Lower House Member of Parliament, Daw Mar Mar Khine, to one year with hard labor, according to one of her colleagues. She and her husband, U Nyan Htun were charged under section 505A of the Penal Code for their participation in the anti-coup movement.
Daw Nwe Nwe Aung, a Mon State member of Parliament, detained in junta's operated Kyaikmayaw Prison, was charged with terrorism and sedition. She was detained on November 27 at 11 PM.
Comments