Military must implement a "PR system", says MUP secretary
HURFOM: The military council that canceled the 2020 election results must implement a Proportional Representation (PR) system in the coming elections, said Nai San Tin, the Joint Secretary of the Mon Unity Party (MUP).
On November 5 and 6, 2021, the Union Election Commission (UEC) , which is controlled by the military, invited recognized political parties to discuss the potential of adopting a PR system in Myanmar.
Of the 93 registered political parties in Burma, 50 joined the event titled "Discussion with political parties about the election system" which was held in the offices of Rangoon Division Government. However, the National League for Democracy Party (NLD), the Shan Nationalities League for Democracy (SNLD) and the Arakan National Party (ANP) did not join the event.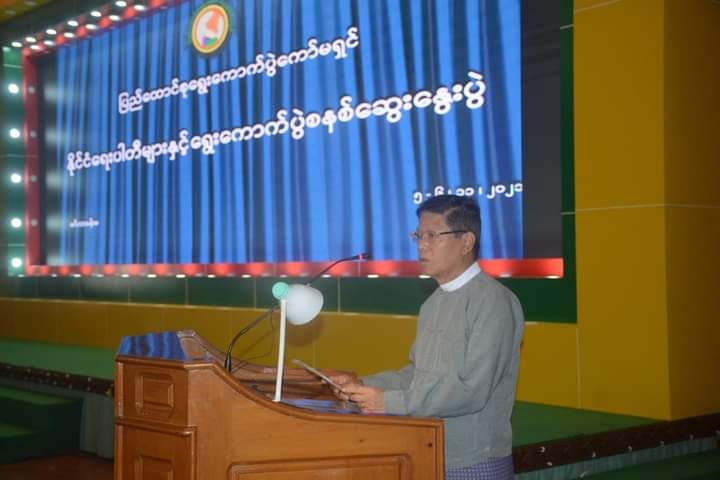 "It looked like they (the military controlled UEC and political parties) might use a PR system," said Nai San Tin who joined the discussion.
The Joint Secretary Nai San Tin and Central Executive Committee (CEC) member Nai Tala Nyi both attended the meeting.
"We just listened to what they presented. We did not share our research paper on this issue, nor did we show our opinion related to use of a PR system," continued Nai San Tin.
There has been criticism of the military who hold 25% seats in the Union Parliament, due to the 2008 Constitution they drafted was put into force. Political observers fear the military wants to fully control parliament by appearing to cooperate with political parties, particularly those parties that are under their influence.
MUP CEC Nai Layi Tama said the CEC must seek out the opinions of other ethnic political parties on PR systems. It is widely believed that most ethnic political parties do not agree with adapting a PR system introduced by the military controlled UEC.
Following the adoption of the 2008 Constitution, the 2010, 2015 and 2020 national elections used the First past the Post electoral system, meaning the party that receives more than 50% of the vote is able to form a government.
Comments