UEC continues to try and extend military's power by implementing a PR system
HURFOM: The Union Election Commission (UEC), which is controlled by the military junta, has met three times with select political parties to discuss the possible implementation of a proportionally representation (PR) system for the next general election.  A fourth meeting has now been scheduled to take place from December 24 to 26, 2021.
The 2008 constitution, which was drafted by the military ensures they hold 25% of the seats in parliament, along with a number of senior level positions within government. The UEC's rush to advance any PR system is seen as nothing more than an attempt to brazenly legitimize the military's power, say some Mon politicians.
"The military had lost their control of the parliament during the term of the NLD government so that is why the coup happened. Since then the military has tried to extend their power. The push to implement any type of PR system reveals their motives," said a CEC member of the Mon Unity Party (MUP).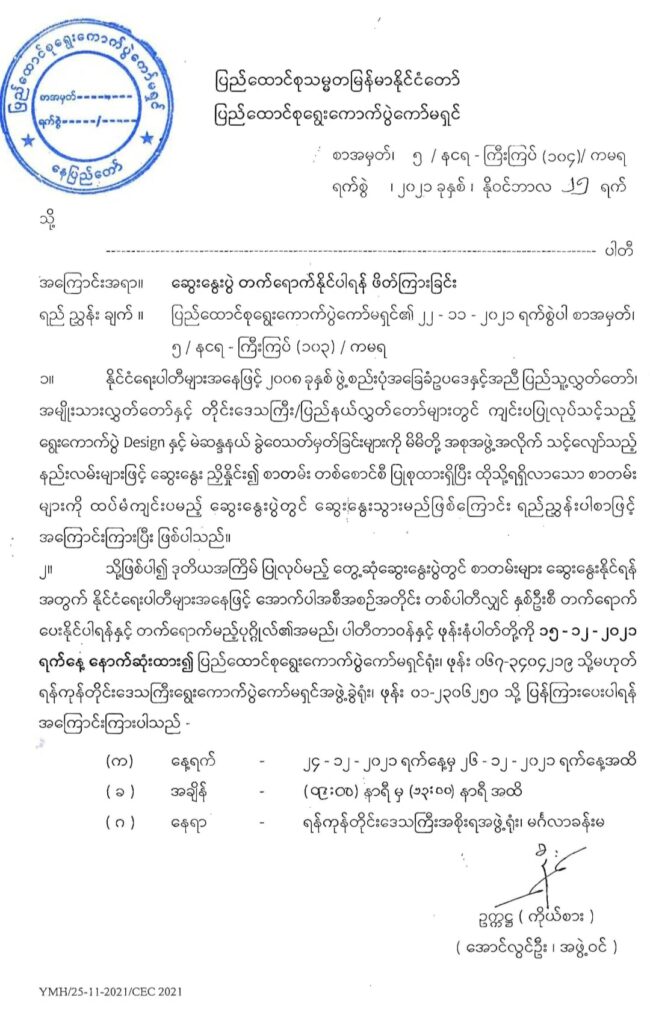 On November 5, 2021, more than 40 political parties joined a meeting with the UEC in Rangoon, however most of the parties in attendance were from the military controlled Union Solidarity and Development Party (USDP) or their alliances.
"They did not even bother to frame the discussion as 'should we change to a PR system?' They went straight to discuss how to implement a PR system. This means they plan to use a PR system in the coming elections and we are a foil to provide advice on how to make their process smooth," said Nai Tala Nyi, a CEC member of the Mon Unity Party.
After the approval of the 2008 constitution, Burma has held three general elections, all of which used a First Past The Post – FPTP system to determine which party forms the government. The military controlled USDP was only successful in the 2010 election while the National League for Democracy (NLD) had landslide victories in 2015 and 2020 elections.
Comments