Migrant workers cheated by labour brokers encouraged to report their cases to NMSP
HURFOM: The New Mon State Party (NMSP) is taking steps to support migrant labourers who have been cheated by labour brokers.  The NMSP in Three Pagodas Pass, Kyarinnseikyi Township, Karen State, has announced that workers who may have been cheated are encouraged to report their problems to them. 
"The giant labour brokers are living in Thailand. Those who are active at the (Thai-Burma) border are just (lower level functionaries). If you have been cheated by one of them, please report your case to us with detailed information. We'll do our best to help," said a NMSP official in Three Pagodas Pass.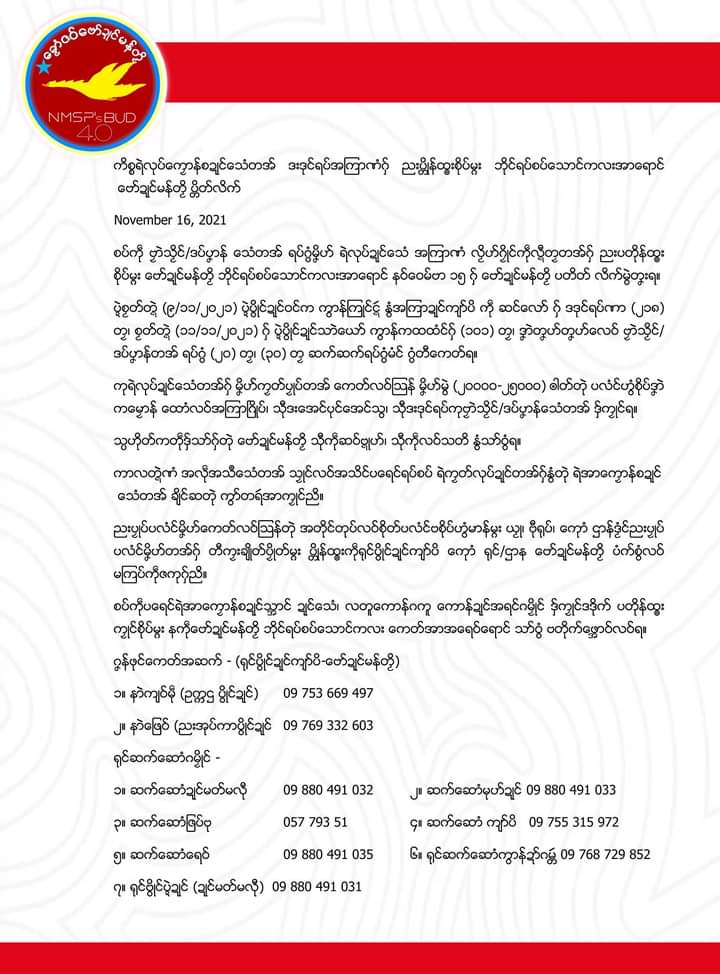 Both COVID-19 and the military coup, Burma have created extreme economic hardship with many workers losing their jobs. Thousands have been migrating to Thailand for work, often crossing the border without proper documentation despite tough security by the Thai police.
According to a report by the Thai police, more than 5,000 undocumented migrant workers from Burma were arrested just within the last two months.
These migrant workers had to pay 20,000 to 25,000 Thai Baht (more than 1 million Kyat) to labour brokers and many have been cheated with false promises of employment.
Labour brokers take the money but do not send the workers to an employer, instead individuals have been abandoned in the forest. Workers have faced starvation, and are often arrested by Thai police.
If labour brokers break their promises after taking the money, migrant workers can now report their case to the NMSP's Three Pagodas Pass Office with detailed information including their names, photos and addresses. The NMSP promises they will punish the brokers found to be cheating workers.
The NMSP is urging individuals to use legally recognized employment pathways and not resort to entering Thailand without proper documentation.
"If you're arrested for undocumented entry, the Thai police can punish you by any means. This is very dangerous. So we've urged everyone to use a legal route," said one NMSP official.
Comments