WCRP: Overlapping authority is likely to blame for the poor handling of a recent rape case in the Thai-Burma Border Sub-Township of Three Pagodas Pass. While multiple authorities have been alerted to the case, as of yet no action has been taken to pursue justice for the victim. Read more
U Aung Min, vice-chairman of the Union Peace-making Working Committee (UPWC) and key peace negotiator for the Burmese government, visited senior New Mon State Party (NMSP) officials last weekend, in a last minute bid to convince the Mon armed group to sign the imminent Nationwide Ceasefire Agreement (NCA). Read more
WCRP: Reports have emerged that over 100 students in Karen State have been hospitalized     after drinking contaminated water from a local river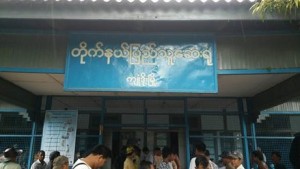 On September 23, over 100 students from Ta Yat Taw school in Karen State's Kawkareik Township, became sick after drinking water from the nearby Jaine river. Reportedly, local teenagers had contaminated the water with poison in order to kill nearby fish and birds, hoping to sell the dead animals at market. However, with students at the school drinking directly from the river, this move quickly led to a sudden outbreak of ill health.
Before school started on Wednesday, 100 of a total 300 students began complaining of severe dizziness and nausea. Teachers in the school acted quickly, immediately transferring students to the nearest hospital for treatment.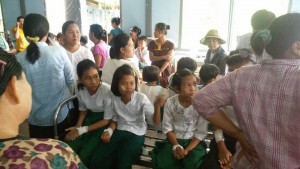 Nai Aie Non, a health worker in Ta Yat Taw village, explained, "The students started drinking the water at around 8 a.m. By around 9 a.m. they started to get sick and the teacher decided to send them to hospital […] This is the first time that something like this has happened in this village".
While the outbreak was severe, it is reported that many of the students have recovered quickly and will soon be able to leave hospital. Nai Aie Non continued, "Now, the situation is better, but the doctors are still checking on the students".
A parent of a Grade 9 student elaborated, "After [my son] drank the water at school he felt dizzy and had stomach pain. His teacher took him to hospital and after we heard about this we went to hospital to see him […] His condition is improving. We are waiting to go back home".
WCRP: This Monday, CBO workers celebrated International Peace Day place at a Buddhist monastery in Moulmein, Mon State's capital city. In particular, the International Peace Day event foregrounded calls for a wider role for women in Burma's nationwide peace process. Read more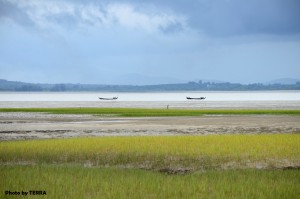 Villagers from Parlain region, located in Mon State's Ye Township, have conducted research into the importance of local ecosystems and natural resources, aiming to use this study to combat plans to build a coal-fired power plant in their area. Amongst other concerns, the study highlights how the coal-fired plant would significantly disrupt the local fishing industry, which plays a key role in Parlain's economy. Read more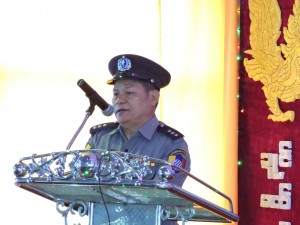 A section leader from a Moulmein anti-drugs task force has pointed to high drug use among students at Moulmein University. Read more
WCRP: As November's nationwide polls approach, promising developments indicate a widening space for women's participation in Mon region politics. In particular, more female candidates than ever will compete under Mon political parties in this year's general election, according to information released by the Union Election Commission (UEC).  Read more
An employee working at Mawlamyine Cement Limited's (MCL) cement plant in Kawpanaw Village spoke to HURFOM about day-to-day life at the Kyaikmayaw Township plant. Read more
Mon State residents have expressed concerns over recently unveiled plans to use coal-generated power to run a new cement plant in Kyaikmayaw Township. In particular, locals from Kawpanaw Village – where the plant is located – are concerned about possible health and environmental impacts if these plans go ahead. Read more
WCRP, Mudon: A Village Administrator in Mudon Township has ordered a 30-year-old man to pay compensation to his 17-year-old niece, after her parents reported to village authorities that her uncle had raped her. Read more