Mon women's participation high on the agenda in run-up to national elections
WCRP: As November's nationwide polls approach, promising developments indicate a widening space for women's participation in Mon region politics. In particular, more female candidates than ever will compete under Mon political parties in this year's general election, according to information released by the Union Election Commission (UEC).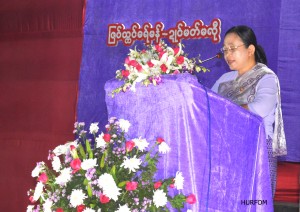 In total, 19 female politicians have been registered as candidates for the three major Mon political parties. Four women will stand as candidates for the Women's Party (Mon), five for the All Mon Regions Democracy Party (AMDP) and 10 for the Mon National Party (MNP). These candidates will compete for election in areas across Mon and Karen States, and in Tenasserim Division.
According to UEC figures, female Mon political party candidates will compete for five seats in the Pyithu Hluttaw (House of Representatives), 11 seats in the Amyotha Hluttaw (House of Nationalities) and 3 seats in Mon State Parliament.
These positive moves mirror a broader trend towards greater political participation for women in the region, whereby almost 20 per cent of all confirmed candidates in Mon State – across 18 parties standing for election – are women.
Mi Nyunt Ye (also known as Mi Jondell Non), a female MNP candidate competing in Kyaikmayaw Township, explained her party's targeted efforts to field a significant number of female candidates. According to Mi Nyunt Ye, "[The MNP] supports women's involvement [in politics]. Therefore, when they organised the candidate list they made a special attempt to include female candidates".
Mi Nyunt Ye explained that her personal goals in standing for election are to encourage women to become involved in politics, to increase the number of female candidates and to fight for equal rights for women. She detailed, "I think women should be involved in politics, so I decided to compete in the election".
Mi Lawi Han, a female AMDP candidate competing in No. 2 Constituency of Ye Township, described similar motivations. She explained, "In my opinion, even though there are many women involved in Mon community based organizations, [Mon] women's involvement in politics is not satisfactory. So I have decided to compete in the election, in order to urge and encourage Mon women to become involved in politics."
As the potential for female participation in Mon region politics rises, Mon community-based organisations (CBOs) have taken action to ensure that an increased number of female candidates is mirrored by high voter turnout among Mon women.
Together, the Mon Women's Organization (MWO), Women's Empowerment Project (WEP), Mon Youth Educator Organization (MYEO), Mon Youth Progressive Organization (MYPO) and Mon Area Social Development Network (MSDN) hope to organize around 20 voter education trainings, to be targeted mainly towards Mon women.
Mi Ah More Chan, Training Coordinator for WEP, explained, "Our trainings are specifically targeted at female populations in rural areas. We educate them about how to cast their votes. We mostly focus on [the difference between] invalid and valid ballots. We tell them how to stamp their ballots to make them valid. We also explain to them why they must vote in the election".
Burma's national elections will be held on November 8 of this year. In Mon State alone 18 political parties are set to stand, fielding 286 candidates.
Comments