Moulmein International Peace Day celebrations call for greater inclusion of women in Burma's peace process
WCRP: This Monday, CBO workers celebrated International Peace Day place at a Buddhist monastery in Moulmein, Mon State's capital city. In particular, the International Peace Day event foregrounded calls for a wider role for women in Burma's nationwide peace process.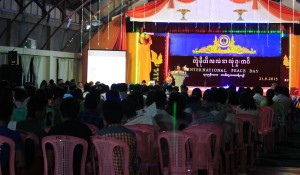 The event, which took place in Zay Kyo quarter, was hosted by the Mon Women's Network (MWN), in partnership with the Mon Youth Progressive Organization (MYPO), Women's Empowerment Program (WEP), Mon Women's Organization (MWO), Population Service International (PSI), Zaytanar, and the Mon National Education Committee (MNEC). In total, over 250 people from CBOs in and around Moulmein attended.
The event specifically focused on the place of women in the country's ongoing peace process. Discussions advocated for a wider role for women in the peace process and in politics more widely.
Mi Cherry Soe from MWN explained, "I believe that peace is very important. If we have peace, we can achieve development and a sense of security. People living in this country cannot live life in peace, especially women in countryside. They suffer from physical and mental violence. That is why I think women should be included in the peace process".
According to Norwegian People's Aid Surveyor, Mi Non Bloy, "People all around the world want peace. In our country, wars often break out. By marking peace day like this,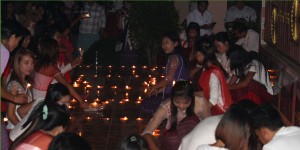 we hope that it can remind people about those who are still involved in war and send a message about the meaning of peace".
International Peace Day is celebrated on September 21 each year. However, this year is the first time an event of this scale has been organised in Moulmein to celebrate the occasion.
Comments