Mon State locals concerned about plans to use coal power in Kyaikmayaw Township cement plant
Mon State residents have expressed concerns over recently unveiled plans to use coal-generated power to run a new cement plant in Kyaikmayaw Township. In particular, locals from Kawpanaw Village – where the plant is located – are concerned about possible health and environmental impacts if these plans go ahead.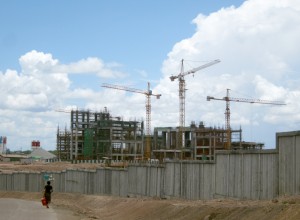 The cement plant in Kawpanaw Village is managed by Mawlamyine Cement Limited (MCL) and has been under construction since 2009. It is reportedly due to begin production next month. According to Nai Soe Nwe, member of the Moulmein District Working Committee, employees were only recently informed by an unnamed MCL official that the plant would be using coal to generate power. Until then, the company had kept quiet about this aspect of their plans.
According to local resident Nai Ong, recent anti-coal protests in nearby Ye Township have set a precedent for locals to oppose coal use. In May this year, over 5,000 residents gathered to protest against a proposed coal power plant in An Din Village, Ye Township.
Nai Ong explained, "Village monks are discussing the matter. If this factory will be run with coal power, then they already know about the An Din coal power plant case. They are discussing how to oppose this plant and how to take action against it".
Concerns over coal power are just the latest in a long list of worries about MCL's Kawpanaw Village cement plant. Reportedly, locals are already suffering from noise pollution, due to the use of dynamite to extract raw materials from nearby mountains. Explosions can be heard every morning from 4 a.m. to 7 a.m, with residents awoken by loud blasts. Locals have also complained that construction on the plant has ruined the brick fence of their local monastery.
Nai Soe Nwe concluded, "What is certain is that, whatever they do, local people will suffer from the factory".
Comments