72nd Mon National Day experiencing a funding shortage
HURFOM: According to the Central Organizing Committee of the 72nd Mon National Day, there is currently a funding shortage affecting the preparations for the historic event.
The organizing committee held its 6th meeting in the Mon Public Hall in Mawlamyine on December 16th and the committee said plans to allocate approximately 120 million kyat (US $76,088.78) for the central celebration of the 72nd Mon National Day were currently experiencing a funding shortfall.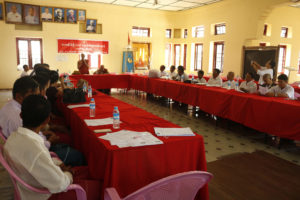 The central celebrations for the 72nd Anniversary of Mon National Day are scheduled to be held in Pegu (Bago) City, Pegu Division on February 20th 2019. Pegu was previously known as the "Hongsawatoi Kingdom"—one of the largest ancient kingdoms of the Mon people.
"We've not gotten any financial support from the Mon State government yet. The Pegu Division government said they would decide how to support the event after they know the [amount of] support from the Mon State government. We've also decided to stop selling raffle tickets [for fundraising] this year as it doesn't make too much profit. Now, we have no cash in hand and it's difficult for us to start [planning] the big activities," said Nai Bnyair San, the Head of the Finance and Fundraising Sub-Committee for the central 72nd Mon National Day celebrations.
The 71st Mon National Day in Htaw Ha Plan (Zar Tha Byin), Karen State, allocated approximately 80 million kyat (US $50,729.35), but the 72nd anniversary is budgeting an estimated 120 million kyat due to new planned activities.
"As we don't have cash in hand, we can't finish our activities in time…There are lots of challenges in our work," said Mi Jondal Non from the sub-committee responsible for producing souvenirs for the 72nd Mon National Day.
The organizing committee has hoped that the Mon State and Pegu Division governments will support the 72nd anniversary with 50 and 20 million kyat (US $31,704.35 and $12,681.74), respectively, and the committee expects to receive 18 million kyat (US $11,413.57) from fundraising activities.
"We need 120 million kyat to organize the event smoothly. We've organized the event in Pegu this year, so we need more funds…But it is a burden for us to get 120 million kyat," said Nai Bnyair San.
The Mon State government allocated 100 million kyat (US $63,411.21) to support Mon affairs activities in this year's budget, but the amount does not cover all Mon affair activities, and the government has experienced difficulties in allocating the allotted budget.
Comments