Villagers raise concerns about health impacts of coal mining pollution in Karen State
HURFOM: Villagers affected by coal mining in Karen State have been speaking out with concerns for their health. Sparked by new plans announced in October 2018 to convert the natural gas powered cement factories in Myine Kalay and Hlar Kar village tract into coal-fired ones, villagers say the trucks lack proper protection against scattering stones and powder. The factories are owned by Myanmar Economic Corporation (MEC) operated by the Burmese military.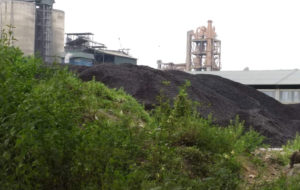 Coal stones will be crushed into powder by the trucks on route to the 4,000 tonne producing cement factory, the loose powder can spread into the air on the road affecting homes and people commuting on motorbike. "Students attending school beside the road and local villagers who pass by everyday, we dare not think of the negative health consequences impacting us" said U Pan Hline a villager from Myine Kalay. Moreover, when it rains coal residue can be passed into nearby waterways causing pollution.
"Some children in the village have already suffered from cough, asthma and lung problems. We are concerned that inhaling coal particles will worsen these health problems." said Saw Myat Kyaw San from Hlar Kar village. Farmers are also concerned whether they can safely eat vegetables if contaminated by coal powder. Villagers want to know who will take responsibility for addressing the many potential health risks.
Local villagers are worried not only for their health but their livelihoods as well. "We"re farmers and we catch fish and frogs in the waterways. The fishes and frogs may be extinct in the future and our livelihood will be in trouble," said a local from Hlar Kar village.
If the careless transport of coal continues, the locals say they take action to stop the transportation. When the factory announced they would use coal-fired power in 2016, locals opposed the decision and they thought the decision was finalised. However, in early October 2018, the factory has been preparing to use coal-fired power has commenced mining coal. Villagers have not been consulted and suspicious that the company has not been granted permission from the government to use coal-fired power.
"Their action showed that they do not care about the local people. They have neglected us and they do as they like. We are not satisfied by their action and we will oppose it," said Daw Soe Soe Htay, a community leader of Hlar Kar village.
The Karen State government said they did not grant permission (to transport coal). However they also have no power to stop the action. This has not swayed the villagers, who have decided to continue their fight against using coal-fired power.
Local villagers are firm in demanding their right to Free Prior Informed Consent (FPIC). The local villagers said that before starting a project, the benefits and consequences of the projects must clearly be explained to them and the project could go ahead only after getting consent of the local people. Their demands include a better transportation and storage system for coal, and systemic reduction of negative impacts on locals and environment. If the government fails to do so, the local will take action to stop the project.
In a statement released by the local villagers said that the 4000-ton cement factory has not provided benefits to the locals but brought impact on both the health and environment. Moreover, there is no job opportunities and the local development, the education system and the social issues have still been underdeveloped.
Comments