Human Security Fragile in South Eastern Burma/Myanmar According to New Research Findings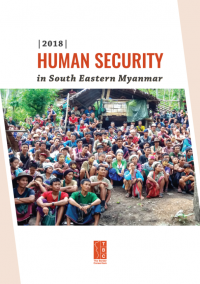 On 14 November 2018, The Border Consortium (TBC), which has been working with refugees from Burma/Myanmar since 1984, announced the launch of a research publication on human security in Southeastern Burma/Myanmar. This research shows at least 162,000 civilians remain internally displaced, while assessments found that 17 percent of children in communities affected by conflict are acutely malnourished.
[
Download PDF (4.15 MB)]
This research has been prepared by TBC, who collaborated with sixteen civil society organizations including the Human Rights Foundation of Monland. The main purpose of this research was to compile food security assessments, internal displacement estimates, civil society perspectives, and refugee returnees' experiences of resettlement in southeastern parts of the country.
"
Given that another 87,000 refugees are still spread across nine camps in Thailand, it means that one-quarter of a million people remain displaced by decades of conflict. in many cases, communities are too afraid to return because the same troops they fled from have now established outposts near their villages
", commented Sally Thompson, TBC's Executive Director.
Interviews with returnees suggest that factors pushing refugees to leave the camps ,such as the gradual withdrawal of assistance, are the most prominent reason for return to Burma/Myanmar. Obtaining citizenship cards and household registration documents to re-establish a legal identity is highlighted as key to successful reintegration. However, securing land tenure and re-establishing livelihoods appear to be the main challenge.
"The peace process has not begun to address the causes of displacement", reflected Ms Thompson.
Analysis from civil society organizations underscores the importance of building on local capacities in designing policy and delivering services to respond to this protracted emergency. Local civil society organizations have the trust of conflict-affected communities after providing life-saving support for decades. As Ms Thompson notes, "If we want to leave no one behind, then ethnic service providers need to be embraced rather than marginalized during this interim period between war and peace".
Comments