Over a Thousand People Attend the First International Human Rights Day in Kyaikmayaw Township, Mon State
HURFOM: Although event organizers provided chairs and food for over 500 people at the International Human Rights Day venue in Kaw Panor village, Kyaikmayaw Township, Mon State, over 1,000 people showed up to actively participate in the first such event in their area.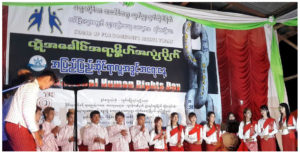 The International Human Rights Day held in Mon State had been organized through the cooperation of many civil society organizations (CSOs), including Human Rights Foundation of Monland (HURFOM), Mon Women's Organization (MWO), Mon Youth Educator Organization (MYEO), among others. These CSOs are based in Mawlamyine, the capital of Mon State, and they have been working closely with local organizations, such as village-level youth groups, which are traditionally led by Buddhist monks, and women's groups.
Through the close cooperation between CSOs and the local communities, over 1,000 people showed up to the event causing the supply of chairs and food packs for the participants to run out. Participants from over 15 villages arrived to learn about what human rights are and how this applies to them.
One event organizer said, "we regret that we could not supply more chairs and food for this event, because we thought only 500-600 people would show up. We have to apologize to them for creating difficulties."
A senior monk encouraged the participants to build and strengthen their solidarity in order to fight for their and their communities' rights. He also referred to how people in the area will be affected by the planned coal-fired power plant which will be built by Mawlamyine Cement Limited (MCL). Hence, he urged them to fight for rights.
A human rights discussion panel was organized for the important occasion and the Deputy Speaker of Mon State Parliament Dr. Aung Naing Oo led the panel. He pointed out the restrictive laws which limit human rights and the need for them to be changed and implemented effectively. A local politician, Nai Ye Zaw, also pointed out the human rights violations which are systematically committed by companies in the area and the need for people to be united in their fight against such problems.
The Director of HURFOM also raised the issue of 'transitional justice' and asked the National League for Democracy (NLD) government to respect human rights and lay the ground work for implementing transitional justice. He said, "without addressing the human rights problems in the past, there will be no improvement in the future."
Mi Jalon Htaw, a female village administrator in the area, spoke about domestic violence in Mon communities and how all people, including men, need to protect women from violence in their communities. She also raised the issue of sexual abuse involving children in Mon State. She noted that she knows of roughly 26 cases in 2016 involving underage sexual abuse and that the Mon State government has paid little attention. Accorder to her, women's groups and CSOs are cooperating to bring these cases to attention in Mon State Parliament and to change the law to increase the punishment for perpetrators of sexual abuse committed against minors.
The International Human Rights Day event also included games, a human rights photo competition, and other entertainment.
The communities joined together for International Human Rights Day in order to learn more about their community, environmental, and resource ownership rights. MCL, a joint Thai-Myanmar venture, has been implicated in the destruction of local natural resources, including mountains and rivers, and now the company is planning to build a 40-megawatt coal-fired power plant to supply electricity to their cement factory. This new project has raised concerns amongst local residents regarding environmental destruction and health issues that may subsequently occur.
Comments