HURFOM: June Cement Industry Limited held a meeting with local villagers in the monastery of Mae Garow village in Kyeikmayaw Township on 18 November 2019 as part of a required Environmental Impact Assessment (EIA) for its  planned cement industry building.
Read more
HURFOM: On October 3, 2019, the Union Election Commission approved an amendment to the election by-laws. Migrant workers who have resided in their workplace constituency for 90 days, will now be able to vote in that constituency.
Read more
HURFOM: On October 3, 2019 in the Pyithu Hluttaw (House of Representatives) a Union Election Commission (UEC) led amendment was passed to the Election Law. In the upcoming 2020 general election,  there will be no military polling stations.
Read more
HURFOM: The Ye-based Mon Area Community Development Organization (MACDO) and the Ye Mon Youth Network organized an anti-drug campaign in Ye Town, Southern Mon State recently.
Both organizations collaborated with local residents to speak out against illegal drug use, however, local authorities from the General Administration Department (GAD) and the Ye Police Force did not made a contribution to the campaign, according to a Ye resident.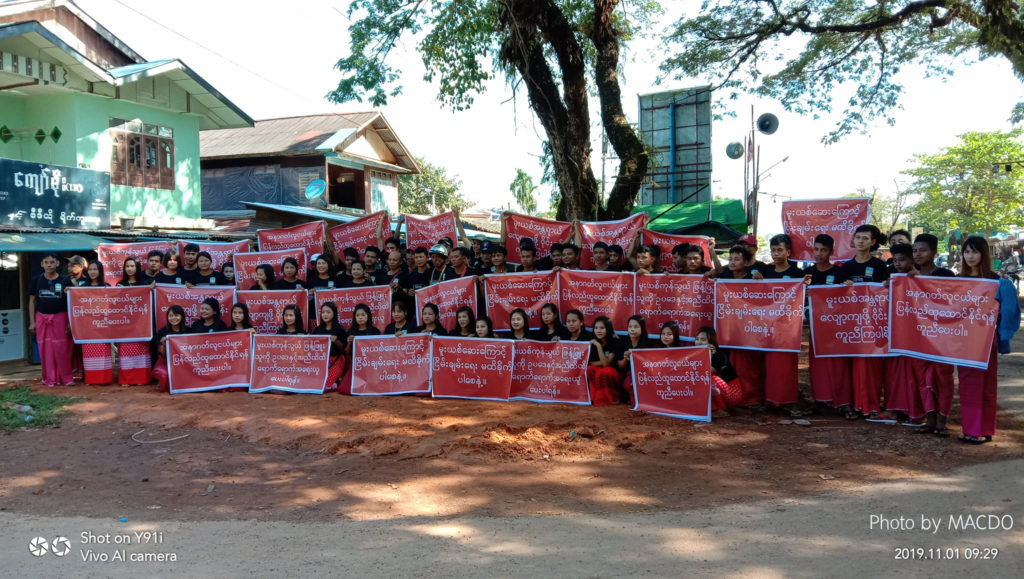 "In order to organize this campaign systematically [and peacefully], we already applied [for permission in accordance with] the Peaceful Assembly and Peaceful Procession Law. As we're officially allowed by the law, the Myanmar Police Force must protect us. They must direct the road traffic. We hoped they would cooperate with us. But there was no contribution from them," said the resident.
On the morning of November 1st, more than 100 young people from Ye campaigned throughout the town with anti-drug posters by motorbike.
In the evening, there was a debate about the harmful impacts of drugs followed by Mon traditional dances.
The organizers had invited officials from the Township GAD and the Anti-Narcotic Task Force to speak at the event, but they did not participate.
"Their absence means they don't want to make a contribution, I think," said the Ye resident.
The Program Coordinator of MACDO said their campaign wants to make more people aware of the harmful impacts of drugs.
Organizers are calling for three actions, i) To provide more rehabilitation support for drugs victims. ii) To hold drugs dealer accountable under the laws. iii) To prevent the peace process from being destroyed due to drugs and iv) To provide more educational programs that expose the harm caused by drugs.
Since 2017, MACDO has delivered anti-drug campaigns in the Basic Education High Schools in Southern Burma.
HURFOM: Rubber farmers and traders in Mon State have been hoping that the price for rubber would rise during harvest season. This is not happening. Meanwhile, other commodity prices are rising, leaving rubber farmers with a financial imbalance.
Read more
HURFOM: According to a survey by the People's Alliance for Credible Elections (PACE), people are less interested in casting their vote in the upcoming 2020 largely because they are not satisfied with the performance of the National League for Democracy's government.
Read more
HURFOM: In order to find a solution to resolve recent armed clashes,  the two parties, the New Mon State Party (NMSP) and the Karen National Union (KNU) held a meeting at the KNU liaison office in Three Pagodas Pass, Kyarinnseikyi Township, Karen State on October 23, 2019. 
Read more
HURFOM: According to the organization Mitta Zone Zee, a 13-year-old girl from Htan Pin Chaung village, Paung Township in Mon State was raped in three separate incidents within two months.
Read more
HURFOM: In the third week of October, 2019, there were 3 armed clashes between the New Mon State Party (NMSP) and the Karen National Union (KNU).
On October 17, 2019, two clashes took place in the early morning. One was at the NMSP base nearby Ma Yan Chaung, Ye Chaung Phyar Region, Ye Township, Mon State, and the other at the NMSP base nearby Phalae Don Phike village, Three Pagodas Pass, Kyarinnseikyi Township, Karen State. On October 23, the KNU battled with the NMSP nearby Ngar Kalay Chaung village, Kyaung Ywar village track, Ye Township.
Read more
HURFOM: On October 22, 2019, a Karen armed group entered Mae Tarow village, in Kyaikmayaw Township, Mon State around 3 pm.  The group tied long pieces of red cloth to trees and villagers' homes. Local residents feared the armed group has plans to take over the village and are worried about their safety and livelihoods.
Read more