Mon State government plans to build deep seaport at Kalagoke island
HURFOM: The Surbana Jurong Group from Singapore launched their "Mon State Investment Affair 2019" at the Strand Hotel in Mawlamyine on the 29th and 30th of November, with the support of the Mon state government.
The topics of discussion included investment potential in , agriculture, fishery, deep-seaport, oil and natural gas, eco-tourism, real estate and construction as part of the "The Mon State Vision Master Plan 2035".
The Chief Minister of Mon State, Dr. Aye Zan told the media that a deep-seaport is part of the strategic project plan and will be built in Kalagote island in La Mein sub-township, Ye township, Mon state.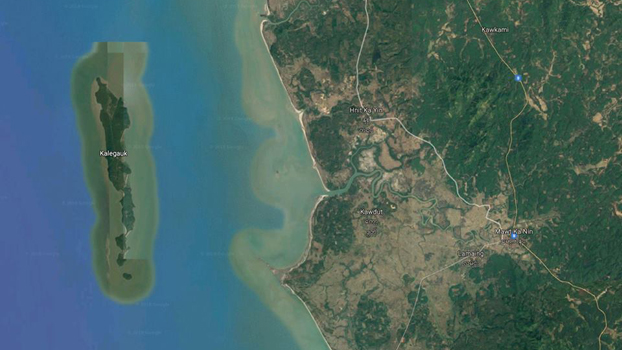 "Kyaik Kha Mi waters are 8-meters in depth. Ships carrying between 10,000 and 15,000 tons can sail in 8-meters. There is less [depth of water] in Yangon. The water depth is 18 meters to 23 meters in Kalagote island. Our country will [benefit from this] development if we could build the deep-seaport there. Whether it is for rice or other things, Kalagote island is the main place for any trade, " said Dr. Aye Zan.
Information presented at the investment affair showed that the strategic plan is designed to address the needs and policies of Mon State and has been drafted with inputs from local organizations and Mon State authorities.
"The state and local governments are inviting new investments to achieve state policies and missions. For local development, Mon state needs to invite the investment in local areas," continued the Chief Minister.
According to one young person, local people of Kalagote island are not well informed of the deep-seaport plans.
"We saw some people did a land survey last year. But we didn't know who they were. Some people said it is for a deep-seaport. There will be a huge hardship for the fishing community if a deep-seaport is built. Some villagers (who don't understand the impact) think there are benefits when the company comes," said the youth.
According to the Chief Minister, In Mon State, there have been 80 investment grants made up to November 2019 and the USD dollar value totals $5,743.980.
Comments