Fighting between NMSP and Burmese army forces 500+ villagers to flee homes
HURFOM: At 9:30 am on November 27, 2019, the Burmese army and the Karen Border Guard Force (BGF) invaded the New Mon State Party (NMSP) base near Japanese Well village, Three Pagodas Pass (TPP), Kyarinnseikyi Township, Karen State. There was an armed clash between the two parties. More than 500 villagers had to flee their homes and took shelter at a Mon monastery in Thailand, according to the local sources.
"When the fighting took place, I and my children were hiding at home. We dare not run outside. A lot of bullets [were shot] in front of my house. They (the soldiers forcefully) knocked on the doors of houses that raised the Mon flags. I don't know if they are Burmese or Karen soldiers. They ordered us to come outside but we did not. I have a two-month-old child and all of my children were crying. We fled (because) we are afraid of (the soldiers)," said a local woman who witnessed the clash.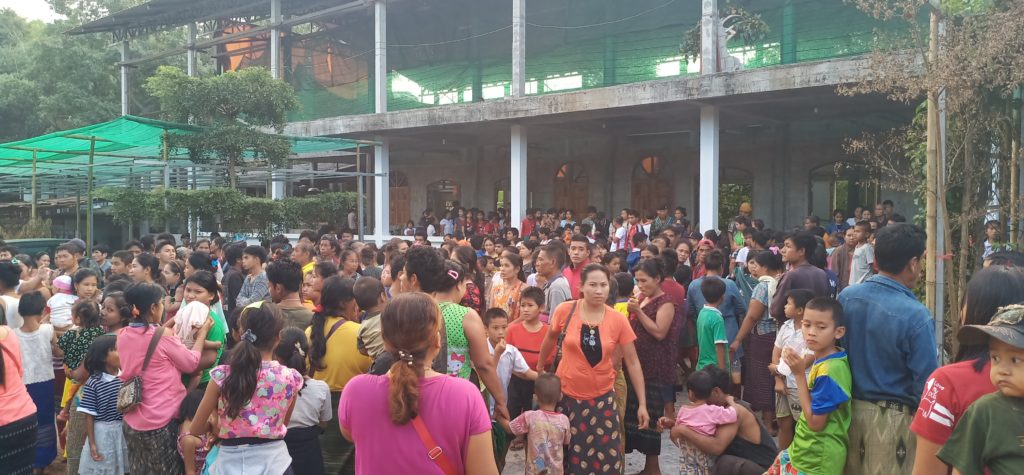 More than 500 Mon villagers have taken shelter at Gok Cha monastery in Thailand and Thai authorities are providing assistance.
According to a video clip posted by a local woman, empty houses were invaded by both the Burmese army and the Karen BGF. Individuals who were forced to flee were robbed of various housing materials, commodities and other valuables.
The NMSP said that the actions of the Burmese army and the Karen BGF constitute a breach of the National Ceasefire Agreement (NCA).
"There was an attack at 9 am and another at 10 am. Each attack lasted for only five minutes. The Burmese army and Karen BGF informed us they want to observe the Thai-Burma border. We replied that they can do that but as they have to pass through our base, they must wear civilian dresses. But I don't know if they want to make a conflict as they came in military uniform. As they came in military uniform, (followed by) fighting," said a Central Executive Committee member of the NMSP.
It has been reported that two military officials from the Burmese army and the Karen BGF were killed during the armed clash but no casualties have been reported by the NMSP.
Currently the Burmese army and the Karen BGF have taken control of the NMSP base nearby Japanese Well village and Burmese and Karen soldiers occupy the village monastery and the football field.
Comments