Amendment to election laws — undemocratic says MUP
HURFOM: On October 3, 2019, the Union Election Commission approved an amendment to the election by-laws. Migrant workers who have resided in their workplace constituency for 90 days, will now be able to vote in that constituency.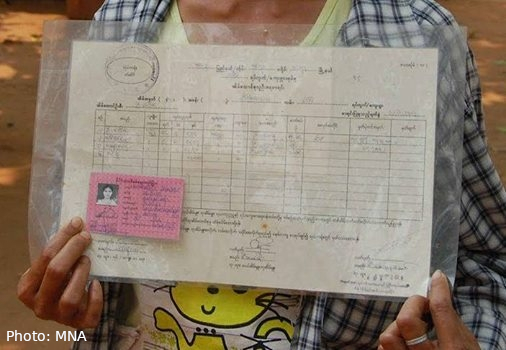 Nai Laye Tama, the Joint Secretary (1) of the Mon Unity Party (MUP) disagrees with this change.
"Migrant workers are here temporarily. When their work is done, they will go back to their native places. They should not have the right to vote in the place where they temporarily work. If migrant workers have the right to vote in the place where they work, it's undemocratic (unfair) for the ethnic (political) parties," argued Nai Laye Tama.
Prior to the recent UEC approved amendment, migrant workers had to reside at least 180 days in the constituency where they worked, in order to be eligible to vote.
"We also opposed the voting process of migrant workers in the 2015 election. The authority (to amend the laws) is in the hands of the government and the Union Election Commission. We pointed out the (weakness of electoral laws). Amendments to electoral laws can't be done only in accordance with the will of the ruling party. The Commission must listen to the voice of people and (non-Burmese) ethnic political parties to get a fair electoral laws," continued Nai Laye Tama.
The MUP filed a written report voicing their concerns on this issue to the Union Election Commission twice.
"Amendment of "90 days" is totally unacceptable. In fact, migrant workers understand only about their (native) place. So how they can know the candidate here?" said a Mon political analyst.
The political analyst continued the amendment of "90 days" will impact both (non-Burmese) ethnic political parties and small political parties. Furthermore, if migrant workers have transportation challenges to cast their votes in their native places, the government and the UEC should arrange "early voting" for them.
On July 8th, the MUP also requested the UEC to adopt a plan to help Mon migrant workers who have been working abroad.
In 2015 election, there were 10 seats for the Amyotha Hluttaw (House of Nationalities) and Mon ethnicity candidates won only one seat. Similarly, the Mon State parliament has 21 seats and two Mon political parties won only two seats.
According to the 2014 census, Mon State had a population of 2 million and there were 340,000 registered migrant workers.
Comments