Villagers point to Mawlamyine Cement Limited as concerns over environmental degradation and climate change grow
HURFOM: Increasing temperatures have prompted residents of Kaw Pa Naw village, Kyaikmayaw Township, Mon State to voice their concerns about climate change, with some linking local environmental changes to Mawlamyine Cement Limited's (MCL) nearby operations.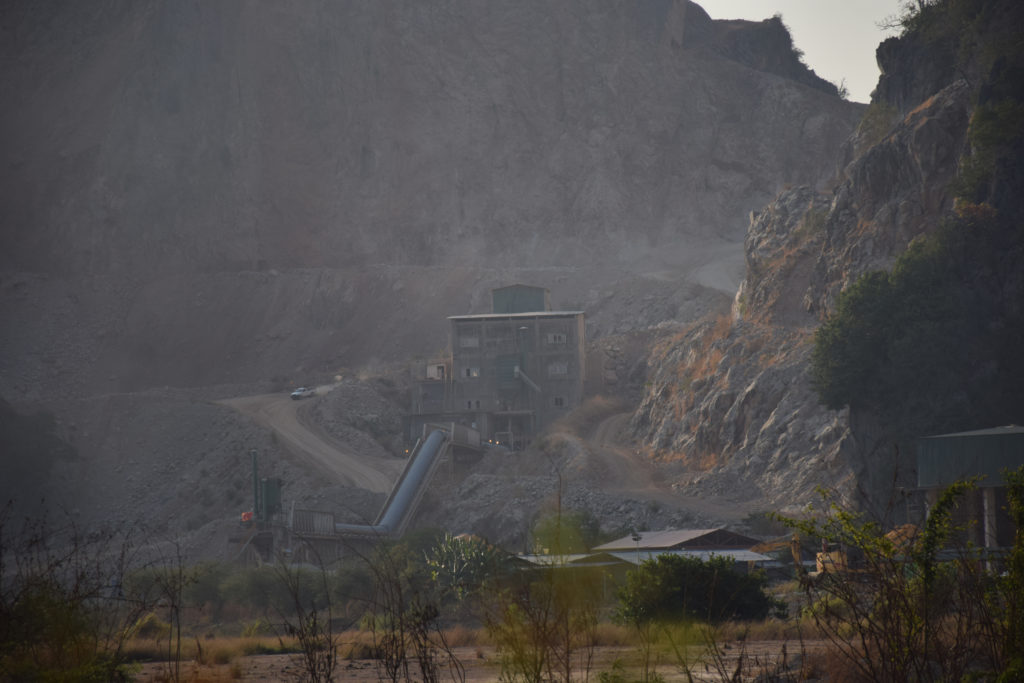 One such individual is the Abbot of the Tu Ma Na Monastery in Kaw Pa Naw village, who believes increased temperatures in both the cool and hot season are the result of MCL's activities.
"In the past, it was cool during the cool season, and temperatures were as expected during the hot season. Now, it's no longer like this. It's hot during the cool season, and even hotter in the summer. The water levels in our wells and streams have also decreased," said the Abbot.
"At this time in previous years, it was hot, but the heat was tolerable. This year, the heat is unbearable. Mount Pyar Taung has also been stripped of all its trees. The cement factory operates every day, and we think this contributes to the rise in temperatures. To prove that there is a connection, we'll have to invite experts who can conduct research," the Abbot continued.
In keeping with the views of the Abbot, residents affirm that temperatures continue to rise with each passing year, and though they suspect that MCL's operations have contributed to these changes, they do not have evidence that directly ties MCL to the temperature increases.
"The weather is incredibly hot. In the past, Mount Pyar Taung and the surrounding areas were green, but now nothing is left," said Nai Tun Kyi, a local activist.
Continuing, Nai Tun Kyi stated that in response to sustained opposition from locals who live near MCL's factory, MCL has reduced the intensity and frequency of limestone blasting on Mount Pyar Taung and has agreed to no longer conduct blasts during the Uposatha (Buddhist day of observance). Even so, a reduction in the frequency and intensity of blasting is little consolation to villagers who have been subject to all manner of environmental degradation in recent years.
Although indisputable evidence linking MCL's operations to rising temperatures may be difficult to provide, villagers throughout Kyaikmayaw Township point to MCL as responsible for the recent decline in biodiversity and fish stocks in the Attran River, soil erosion, and increasing difficulty in accessing clean water, forest products, and natural construction materials.
Given the negative impact that MCL's operations have had on local livelihoods and the environment, villagers, the monastic community, and some members of parliament have been in open opposition to MCL's presence in the region from 2015 onward. Despite these efforts, Nai Tun Kyi alleges there is a growing sense of defeat among residents who have yet to see authorities hold MCL to account for the destruction it has caused.
"Locals have grown tired of protesting MCL's operations because years of opposition have not brought about any change. Today, the villagers have gone silent," says Nai Tun Kyi.
Mawlamyine Cement Limited is a joint-venture between Siam Cement Group (SCG) and Pacific Link Cement Industries (PLCI). The factory operates a 40-megawatt coal-fired power plant to maintain production, and currently produces 5,000 tons of cement per day.
Linking MCL's activities to rising temperatures in the region may not be possible, but the above reports of extreme heat and the decreasing availability of fresh water do mirror concerns raised in a report on climate change in Burma published by The Guardian in late 2018, and further establishes that those who rely on the natural environment for their livelihood and well-being are acutely aware of how the climate is changing in real time.
Comments