Government imposes unpopular rule aiming to reverse declining fish stocks, villagers say Mawlamyine Cement Limited to blame
HURFOM: Fisherfolk in Kyaikmayaw Township, Mon State, say that a ban on small-gauge fishing nets, which the government claims have contributed to declining fish stocks and biodiversity in the Attran River, are misdirected and will lead to increased financial hardship. In response to the ban, fisherfolk say they will continue to use these nets despite the risk of penalty and have placed responsibility for the decline on Mawlamyine Cement Limited (MCL).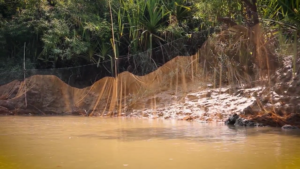 On March 28th 2019, Daw Khin Myo Myint, member of Mon State Parliament from Kyaikmayaw Township, met with fisherfolk at the Shwe Hin Thar Hall in Kyaikmayaw City. At the meeting, Daw Khin Myo Myint explained that the ban had been implemented as a measure to protect the number and variety of fish in the Attran, and that those who failed to comply with the ban would be subject to penalties as prescribed in The Freshwater Fisheries Law.
"If a fisherman is caught using a small-gauge fishing net [mesh with a diameter of less than 25.4 mm], all fishing materials will be seized, and he or she will be sentenced up to 3 years imprisonment and fined 30,000 kyat (US $19.94)," said Daw Khin Myo Myint.

"Daw Khin Myo Myint shouldn't say that the decline of fish species is related to using small [gauge] nets. The number of fish declined immediately after MCL began operations, but she said nothing about MCL and blamed the fishermen. There must be a bias. We are the ones who have to suffer," said a local fisherman.
Prior to the construction of MCL's cement factory in 2015, fisherfolk are reported to have caught some 700 peittha (1,155 kilograms) of fish per year. Since 2015, when construction was completed and the factory went into operation, the overall catch is said to have declined by 80% to just 140 peittha (231 kilograms) per year. From 2015 onward, villagers, the monastic community, and some members of parliament have been in open opposition to MCL's presence in the region on account of the negative impact that MCL's operations have had on local livelihoods and the environment.
"We don't agree with the ban, but we can't oppose the government. We have to obey the law. If they arrest us, we will suffer a great loss [fishing materials seized; costly legal proceedings]. If we want to maintain our livelihoods, we have to use the large nets [mesh with a diameter of at least 76.2 mm]," continued the local fisherman.
According to government sources, the ban has been introduced to protect juvenile fish and thus safeguard biodiversity and replenish fish stocks. However, fisherfolk along the Attran say the need to use small-gauge nets to catch small prawn, and that using these nets saves time as they are easier to clean than wider-gauged nets.
Some fisherfolk have vowed to openly defy the ban.
"Large nets can injure our hands. It also takes time to clean them, and it isn't easy to do. We can't catch fish during the rise and fall of the tide with them either, so we will continue catching fish with the small nets. If they want to arrest us, they can go ahead and arrest us," said U K—, a fisherman from Nidon village.

"I never heard about the ban on small fishing nets. All fishermen use them. By banning these nets, they've smashed our rice pot [destroyed our livelihoods]. The money we get from fishing is how we make our living. We only farm our land after we've made money from fishing. None of us support the ban. All of us [all fisherfolk] will go down to the river together and fish at the same time. If they come to arrest us, we'll let them arrest us," said U H—, another fisherman from Nidon village.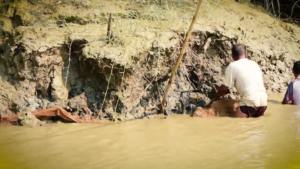 According to U H—, most local fisherfolk wanted to voice their opposition to the ban at the March 28th meeting convened by Daw Khin Myo Myint, but the expected Mon-Burmese language barrier between themselves and the lawmaker discouraged many from attending. Now, U H— worries that the absence of vocal opposition at the meeting has been interpreted by the lawmaker as tacit approval of the ban. Nevertheless, those who did attend the meeting are now organizing fisherfolk throughout Kyaikmayaw Township to collectively oppose the ban.
Mawlamyine Cement Limited is a joint-venture between Siam Cement Group (SCG) and Pacific Link Cement Industries (PLCI). Beyond contributing to the sharp decline in biodiversity and fish stocks in the Attran River in recent years, soil erosion, damage to homes along the banks of the Attran, damage to fishing nets, and difficulties in accessing clean water, forest products, and natural construction materials have all been attributed to MCL's operations. In 2018, tragedy struck when one of the many vessels hired to transport coal to MCL's factory hit and killed Ma Pae Pae, a local fisherwoman.
Together with declining fish stocks, fishing nets repeatedly damaged by MCL-hired vessels, and costly home repairs due to river bank erosion, the ban on small-gauge nets will likely compound the livelihood challenges that fisherfolk in Kyaikmayaw Township face. Protecting the number and variety of fish in the Attran is crucial if the river is to be relied upon by fisherfolk as a source of food and income. Yet, if lawmakers continue to sanction those who want nothing more than to see the river protected while overlooking the impact that MCL's operations have had on the environment, they may soon find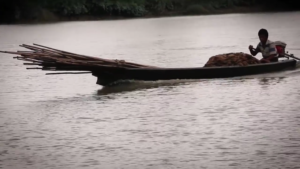 that there are no fish in the Attran left to protect.
Comments