Mon parliamentarian vows to stand with Mon activists in fight against MCL cement factory
HURFOM: Mon National Party (MNP) parliamentarian Nai Soi Ha has announced his commitment to standing alongside Mon community members, as theyfight a planned coal-fired cement factory in Mon State's Kyiakmayaw Township.
The cement factory, planned by Mawlamyine Cement Limited (MCL) is set to be located between Kaw Don and Kaw Panor villages in Kyiakmayaw Township, Mon State. MCL, a subsidiary of the well-established Siam Cement Group, say that the factory is due to open in mid 2016.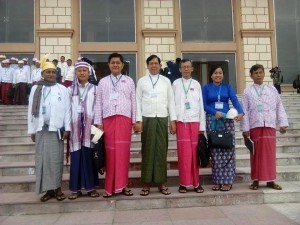 In recent weeks local residents joined together to oppose the project, after news surfaced that it would be operated using electricity generated from an on-site coal power plant.
Mi Ni Ni, from Kaw Don village, expressed, "We [the villagers] didn't know that the factory would include a coal plant to produce electricity. The company didn't tell us anything like that. That is why there was no opposition to the company [at first]. However, after we heard the news that the factory would use a coal-fired power plant, we decided that we didn't want the factory in our village."
Mon and Burmese media exposed plans for the coal plant earlier this month, which had been kept hidden from local villagers in a bid to prevent opposition to the project. According to locals, MCL also used other tactics in their attempts to keep villagerson side, includingproviding support to local development projects.
MNP parliamentarian Nai Soi Ha, who sits in the House of Nationalities, expressed his support for local groups opposing the project, explaining, "There are now [plans for] two coal-fired power plants in our Mon region, in An Din [village], Ye Township, and in Kyiakmayaw Township. If the people don't support these factories, we will stand with our people and work together to fight the projects. We will bring this issue to discussions in the coming session of parliament."
The dispute in Kyiakmayaw Township represents the second time in recent years that local community members have rallied against foreign investors planning to introduce coal-fired power to rural parts of Mon State. In January of this year Toyo-Thai paused their plans to build a coal plant in An Din village, Ye Township, following a year of vocal opposition from local activists.
Comments