Infrastructure brings hope and fears to Eastern Burma
In the past few months, two remarkable infrastructure projects have been planned for the areas extending north and west of the town of Three Pagodas Pass on the Thai-Burmese border. The first entails rejuvenating a road that has been used as little more than a hunter's footpath for over 60 years and connects the border crossing to Kyainnseikyi, a town 53 miles north. The other project is part of a high-profile proposal announced by Railway Minister U Aung Min on May 15 to reconstruct a more than 60-mile section of the "Death Railway," a World War II-era rail line stretching 170 miles from Thanbyuzayat in Burma to Ratchaburi Province, Thailand. Read more
HURFOM: The use of Ya Ba, or methamphetamine, has been steadily gaining influence with young people in Mon State. While many adults share in the market for recreational stimulants, particularly manual laborers and migrant workers seeking to endure long hours on the job, the increase among students and teenagers is causing mounting alarm as communities witness rising health and social risks for younger generations.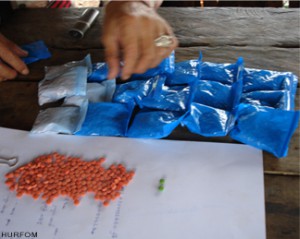 Ya Ba, meaning "madness drug" in Thai, is typically manufactured as tablets containing a mixture of methamphetamine and caffeine. The drug had a surge of popularity in Thailand starting in the 1980s, but is less common there now following the government's crackdown on drug trafficking in 2003. Today, Ya Ba still enjoys a wide consumer base throughout Southeast Asia. The pills are small, easy to transport, readily available, and highly addictive. However, the prolonged intake of methamphetamine can result in fatal kidney and lung disorders, brain or liver damage, and other mental and physical complications.
Burma's drug problem has received intensifying scrutiny by regional and international press agencies over the past few months. Last week, Agence France-Presse (AFP) reported that Myanmar authorities were acknowledging the country's "deepening drug crisis," while a Bangkok Post article described Burma as the largest producer of methamphetamine in the world, and named certain armed ethnic groups and Burmese military units as being complicit in production and trade.
A monk from Warkyi Village in Apoung Township, Mon State, said, "Young people and adults who use [Ya Ba] come mostly from areas around Moulmein, Apoung Township, and Zin Kyait Township, although it was only discovered in Zin Kyait this year." The drug's prevalence has also been identified along the Thai-Burmese border, including Three Pagodas Pass in Karen State.
Interviews with 30 students, monks, and community members revealed that, currently, young people are often exposed to Ya Ba between their 10th grade and university-level studies, at ages ranging from 16 to 21 years of age. According to a 20-year-old university student in Ba-an Township, Mon State, "I started hearing about the drug when I was in grade ten. I began using in my first year of university, now I am in my second. It is easy to buy drugs from other students, but harder to buy from people outside the university."
One young man from Thanbyuzayat estimated that 80 percent of the youth and university students in his township are using Ya Ba. "Drugs are very easy to buy in some areas, although I don't know where they come from. The local drug users have good relationships with each other and know where to buy drugs on any given day."
In Burma, one tablet of Ya Ba typically costs around 5,000 kyat (US$5), although students reported that heightened demand during the school year may inflate the price to 6,000 or 7,000 kyat.
Young people who can only afford small amounts of Ya Ba mix the drug into a drink with opium leaves and coffee. "This drink provides a light-headed feeling, the same as opium, and is cheaper. After people use the drug, their faces look strange and they feel no fear," explained a youth from Thanbyuzyat.
A monk from Mudon Township described how people become careless and forgetful after taking Ya Ba, and expressed concern for students who exhibit reduced interest in their studies. He said many parents send money to their children for school costs, but it may be spent on drugs instead. "Students at university, people from Ye Township, and people from Mudon Township are using Ya Ba. If our young generation cannot be productive and work for their [Mon] nation, no one will protect our literature and culture. We seem to be losing [ourselves]. I think drugs are very bad for students because they cause a lack of interest in education and are dangerous for their health. It can affect their futures."
A student from Ba-an University explained, "In the villages, young people are using Ya Ba for their jobs. They work very hard and if they take drugs, they don't feel tired. Some students, like me, use drugs because a friend tells them to use it, so [they] try it. When the drugged feeling leaves us, we don't remember what we learned or memorized. Even though students know the effects of drug use, they can't control themselves and are still using it." He added that, previously, drug users rarely talked about their habit in public, but now it is not uncommon to hear it discussed.
It is illegal to consume, sell, or purchase recreational drugs in Burma, but community members allege that the laws go largely unenforced. A former Ya Ba user stated, "Even though the government made selling drugs illegal, they just put signs up around town, and do nothing else to administer the law."
According to a youth from Thanbyuzayat Township, "If we want to protect people from taking the drug, it will depend on state authorities as well as local authorities. They have to join together because some local police do not arrest drug traffickers. People who give money to the [local] police can do whatever they want, like selling drugs or [operating] gambling centers. State authorities sometimes order [the police] to arrest drug users, but they just arrest one or two to prove [their compliance] to state officials, and then take bribes and release the detainees."
A university student from Mudon Township said, "There are so many kinds of drugs [available], such as Ya Ba, opium, and marijuana. The police ignore people using Ya Ba and focus on opium users instead. If they catch someone using Ya Ba, they will just take a bribe and let the person go."
Some village-level authorities are also suspected of reacting slowly to criminalize drugs due to financial gain or conflicting interests. A resident of BaLuKyine Township stated that her village leaders do not apprehend dealers because they are being furnished with a cut of the drug proceeds. "This is the biggest problem among the youth, and I want the New Mon State Party (NMSP) to come and solve it. Of course, if they arrest the drug dealers, the result would hit them in the rice pot because they benefit from drug trafficking."
According to a monk from MawKaNin village in Ye Township, "Before, when boys reached their teen years, they wanted to drink alcohol. Now, they try drugs first."
WCRP: One month ago, Thai Labor Minister Padermchai Sasomsap proposed a plan to send pregnant migrant workers in Thailand back to their home countries to give birth[i]. The Minister introduced the initiative as an effort to curb child trafficking, but migrant and human rights organizations quickly came out in opposition to what they consider to be dangerous discrimination. In addition, the news touched on the long-standing issue of illegal abortions in Thailand, which, while not completely understood, are alleged to be prevalent among the migrant community. In Mahachai, Thailand, a booming industrial city with hundreds of factories and an estimated 400,000 Burmese migrants, the staff members at local medical clinics describe the frequency, motives, and dangers behind the hidden trade in illegal abortions. Read more
HURFOM: Recent kidnappings committed by unidentified armed groups have caused a sharp increase in uncertainty and fear experienced by residents living around Three Pagodas Sub-township, Kyainnseikyi Township in Karen State. In the face of eight cases of kidnapping since April and demands for exorbitant amounts of ransom, local authorities have yet to adequately address the threats, leaving residents to feel abandoned by local government and security forces. Read more
Summary
In Burma, after the civilian-led government was installed, some real steps of change was taking place, such as dialogue with pro-democracy leader Daw Aung San Suu Kyi and the allowance of her party, the National League for Democracy (NLD), to contest in the by-election, and relaxing some restrictions on the press and media. However, human rights abuses committed by government troops continue unabated in the ethnic minority areas.Download report as PDF [979 KB] Read more
Series of The Mon Forum, November – December, 2011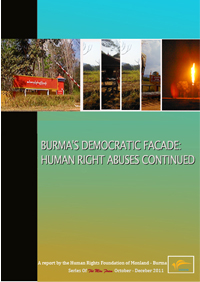 In Burma (also known as Myanmar), the new President Thein Sein (former Gen. Thein Sein) has attempted to move towards democratization or a democratic transition, by establishing a dialogue with pro-democracy leader Daw Aung San Suu Kyi and allowed her party, the National League for Democracy (NLD), to participate in the general elections.  In order to show a positive change, the government also released a small number of political prisoners.
However, the Burmese Army still operates military offensives against ethnic rebel groups in Karen State, Shan State and Kachin State whilst the government has conducted ceasefire talks. Human rights violations have continued in these areas and thousands of ethnic civilians continue to suffer from abuses committed by troops of the Burmese Army. [Download Report in PDF format] | [Map] Read more
Summary
Rice is the staple food of Burma and an essential part of Mon agriculture. It is what feeds the majority of people in Lower Burma and is one of Mon State's primary exports. But this year rice is in short supply due to a treacherous trinity of problems that have attacked Mon farmers from all sides.
First, unusually heavy and continuous rains since late May have inundated fields and by the end of August, many fields are still flooded. Some farmers, such as Nai Both in Sein Taung Ward, Ka-mar-wet village, estimate they have lost over half of their rice crop to flooding. In past years, farmers could re-cultivate their paddies after a flood. But as this year's flooding has persisted unusually long, some farmers say there is neither time nor enough resources to re-cultivate. Making matters worse, a state-owned dam, the Win Pa-noon dam, is at full capacity. Needing repairs and on the verge of collapse, officials have opened the sluice gates, releasing water into farmers' fields. Farmers say the dam is the biggest obstacle in reducing the water levels.Download report as PDF [2.8MB] Read more
Summary
From late June to mid-July 2011, HURFOM field reporters gathered human rights violation cases through conducting interviews with native residents of the villages under the administration of Kyon-doo Township, Kawkareik Township, and Kyarinnseikkyi Township. These villages include those that are located in western and southern Kawkareik Township, and some in the southern part of Kyarinnseikkyi Township, Karen State. Of native residents interviewed, 95% of them reported that they are being arbitrarily taxed by multiple armed groups. They experience immense hardship from trying to make a living while supporting all these groups, and they fear the prospect of having to maintain this arrangement long-term. The remaining 5 % of those interviewed reported that they are continuously being threatened, unfairly oppressed, and used as porters and human shields.Download report as PDF [168KB] Read more
An Account on Land Confiscation and Human Rights Violations on Kywe Thone Nyi Ma Island, Yebyu Township, Tenasserim Division
EXECUTIVE SUMMARY
Fact finding conducted in this report took place after significant political developments in Burma. On the 31st of January, the newly-instated parliament convened for the first time in the country since the Burmese regime officially dissolved the State Peace and Development Council (SPDC). The transfer of State power from the old government to the new was finalized on the Read more
On the morning of January 13, 2011, the Burmese Army's Light Infantry Battalions (LIB) No. 562 and 563 entered Dauk Phalan village in Kawkareik Township, Karen State. Unbeknownst to the LIB troops, Karen National Union[1](KNU)'s Brigade 6, battalion No.18, was present in the village. Coming upon each other, both sides opened fire. During the fighting, sections of the LIB battalions scavenged the village for residents they believed to be linked with the KNU. LIB troops then conducted arbitrary arrests of accused rebel supporters, inflicted physical punishment upon villagers, forcibly took villagers to work as porters, and destroyed the properties and livelihoods of villagers in order to insure armed ethnic groups were unable to survive in those areas. Download report as PDF [217KB] Read more