Abductions and Arbitrary Arrest on the Rise in Southeastern Burma, Unrest Continues to Threaten Civilian Security & Well-being
HURFOM: Worrying increases of civilian abductions and unlawful detentions throughout the month of October in areas of southeastern Burma including Mon State, Karen State and Tanintharyi region, have sparked fears among local communities. The military junta is expanding their operations throughout various townships and villages and have not hesitated to act violently upon anyone they perceive to be a threat. Tensions are high, residents are hesitant to leave their homes and risk encounters with the Burma Army. Many of which have resulted in questioning, extortion and bribery for the release of items or loved ones detained. Civilians are being wrongfully incriminated and charged on baseless, fabricated charges which the junta has no evidence of. The legal system has been weaponized by the junta, making prospects for true and meaningful justice impossible.
Read more
Human Rights Violations Remain Rampant in Mon State, Karen State and Tanintharyi Region
Inflation is Contributing to Rising Levels of Poverty in Southeastern Burma as Civilians Struggle to Cope Amid Worsening Uncertainty
Throughout the month of September, the Human Rights Foundation of Monland (HURFOM) reported on the challenges being faced by civilians in Southeastern Burma. Amid increasing clashes and worsening conflict, the military junta has also weaponized the law to work in their favor. Despite being an international human right, those abducted, detained and charged by the Burma Army are being denied their right to a free and fair trial. The regime continues to deny family members any information about loved ones and has continued to fabricate charges in sham trials.
Read more
HURFOM: Throughout the month of August 2022, the Human Rights Foundation of Monland (HURFOM) documented increasing attacks on civilians and human rights defenders. Many of these assaults amount to crimes against humanity and war crimes. Across target areas of Mon State, Karen State and Tanintharyi region, the Burma Army has continued to commit widespread human rights violations with impunity. 
Civilians have routinely been caught in the crossfire of the junta's offensives, which are expanding and are subsequently fueling the worsening humanitarian crisis on the ground. Children are among those targeted in a series of raids and flyover attacks by the military who are using various tools of terror to isolate and intimidate ciivlian populations.
Read more
Summary Overview & Analysis
The Military Junta is Continuing to Perpetrate Human Rights Violation with Impunity in Southeastern Myanmar
It has now been nearly a year and a half since the military junta attempted their unlawful coup. The regime has failed to honor the wishes of the people who overwhelmingly showed their support for the National League for Democracy (NLD) in a landslide victory. Despite earning less than 10% of the vote, the junta claimed electoral fraud without evidence and has since continued to make decisions which have devastated the country's economy and social, political order. In addition, a humanitarian crisis has plunged one-million civilians into deep poverty as they are forcibly displaced from their homes. Their behavior in the days and months which have passed since 1 February 2021 have been increasingly violent. Download the report in PDF format
Read more
Across the month of February, the Human Rights Foundation of Monland (HURFOM) continued to witness and document ongoing human rights violations being unlawfully perpetrated against innocent civilians. The junta has shown no signs of easing their attacks against the people and has instead continued to spearhead their campaign of terror and illegal, inhumane actsincluding arbitrary arrests, indiscriminate firing and shelling, enforced disappearances, murder and many others. [Download in PDF]
Read more
REFLECTING ON 2021
HURFOM: One year has now passed since the Burma Army's attempted coup on 1 February 2021. The Human Rights Foundation of Monland (HURFOM) began documenting atrocities being perpetrated against civilians by the military junta in Mon State, Karen State and Tanintharyi region on 7 February 2021. The crimes that have been committed speak to the unrelenting horrors which continue to be forced upon innocent clusters of the population. The majority of the people in Burma strongly reject the military coup and have been collectively strengthened by a commitment to toppling the terrorist regime.
Read more
HURFOM: Throughout the month of December, documentation by HURFOM found an increase in the number of those arrested, detained and killed. The junta's violence has sparred no one as their onslaughts have trapped the most vulnerable and created new, worsening hardships for civilians. Predictions for 2022 estimate that millions more will be even deeper in poverty, including children. [Download the report in PDF Format]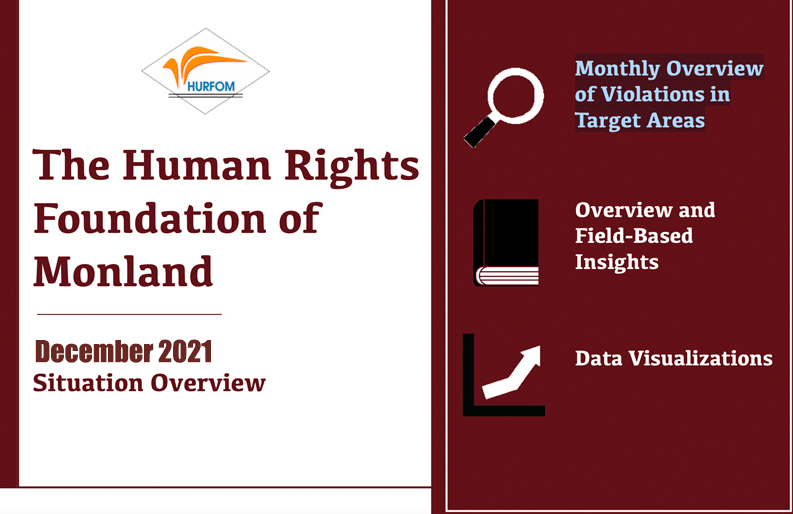 The arbitrary arrests of innocent civilians have not eased. Since November 5, the junta has arrested more than 60 individuals in Dawei alone. About 30 have been released by ransom. Approximately 30 are still detained, and some have been charged with Panel Code 505 A, B, and the Terrorist Act. In HURFOM's final briefing paper of 2021, "Trajectory of Terror," between February 7 and 6 December 2021, at least 2,184 civilians were arrested and detained, at least 303 injured and 60 killed.
The military junta has intensified fighting in Burma's ethnic states. With a dark history of over 70 years of warfare, the Burmese Army has never been sincere in their commitments to peace. This is evident across a trajectory of broken ceasefires, including with the Karen National Union. Fighting with junta-backed forces and the Karen National Liberation Army led to more displaced of thousands of civilians who remain in limbo – uncertain of their futures in Thailand where they face hostile policies and yet are unable to return to their homelands.
The path forward for 2022 is unfortunately grim as the situation on the ground is still in need of a timely and urgent response by the international community.
HURFOM: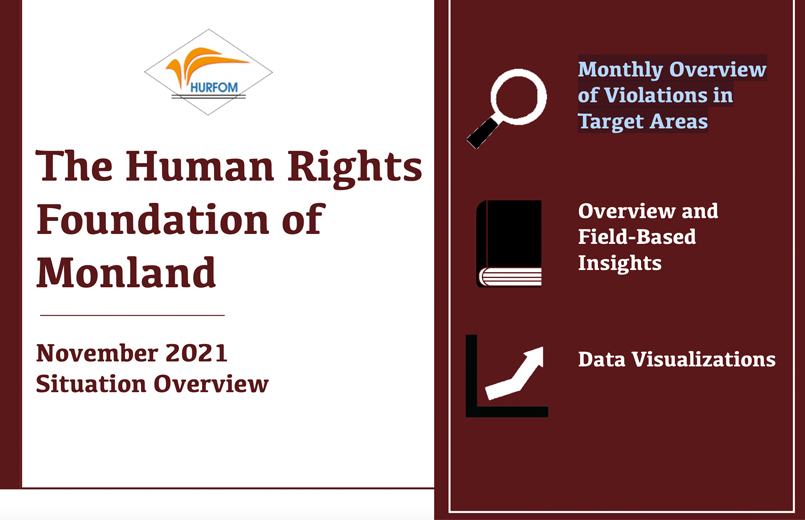 Across the month of November, the human rights situation continued to worsen. Mounting evidence of the military junta's war crimes, and crimes against humanity are evident across the country. In HURFOM areas of Mon State, Karen State and Tanintharyi region, more civilians are being forcibly displaced from their homes due to a growing presence of soldiers. [Download Report in PDF]
Read more
HURFOM: In September, the number of those arrested + detained in Mon State, Karen State & Dawei increased against the backdrop of systematic human rights violations, including #VAWG. Economic burdens and #COVID19 threaten local livelihoods. Sept overview in full: http://ow.ly/Nof050GjSkg
Read more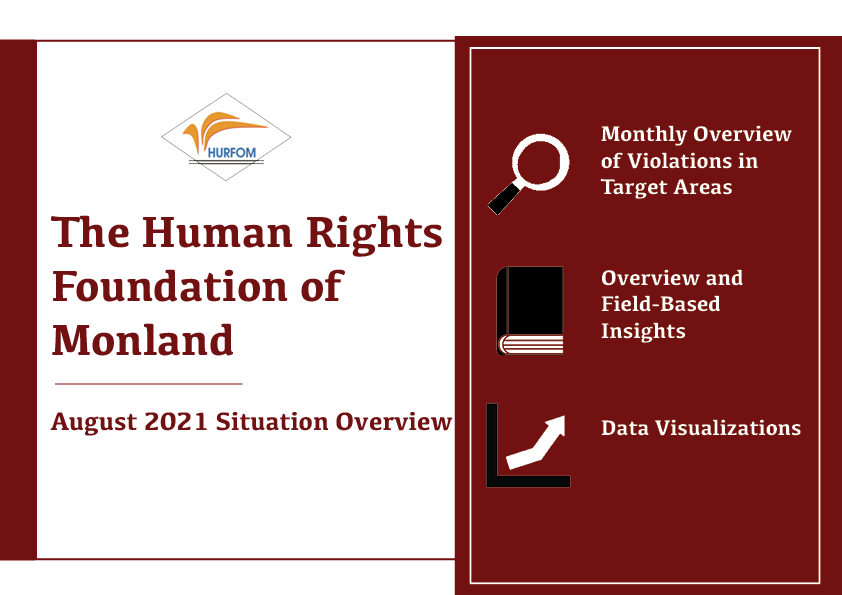 HURFOM, Mawlamyine: Across the month of August, civilians in Mon State, Karen State, and Dawei experienced mounting levels of widespread human rights violations. Alongside the grievances and burdens, civilian resistance is still ongoing. August overview in full: http://ow.ly/rxEn50G2KqX