HURFOM's Women and Child Rights Project (WCRP) releases: '"A Girl's Life was Destroyed": Sexual violence against children continues to rise in Mon State and Mon areas of southern Burma'. The report documents 14 cases of sexual violence against children, including 11 cases of child rape, which have occurred since June 2017 in Mon State and Mon areas of southern Burma.." [Download Full Report] Read more
In commemoration of International Human Rights Day, the Human Rights Foundation of Monland (HURFOM) releases "'I Still Remember': Desires for acknowledgment and justice for human rights violations in Mon areas of southern Burma." [Download Full Report | Brief Report | Brief in Burmese] Read more
Today HURFOM's Women and Child Rights Project (WCRP) releases their latest report, "Cracks in the Silence: Sexual violence against children and challenges to accessing justice in Mon State and Mon areas of southeast Burma."Report in English | Burmese Read more
Today the Human Rights Foundation of Monland (HURFOM) releases 'Examining Foreign Direct Investment in Mon State, Burma', a report focusing on the effects from the recent surge of Foreign Direct Investment (FDI) coming into Mon State, Burma. Report in English | Burmese Read more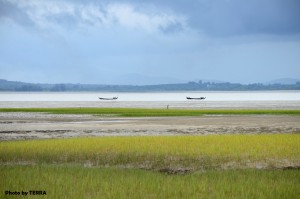 Villagers from Parlain region, located in Mon State's Ye Township, have conducted research into the importance of local ecosystems and natural resources, aiming to use this study to combat plans to build a coal-fired power plant in their area. Amongst other concerns, the study highlights how the coal-fired plant would significantly disrupt the local fishing industry, which plays a key role in Parlain's economy. Read more
Introduction 
In October 2013, the Human Rights Foundation of Monland (HURFOM) released Disputed Territory, a report documenting the emerging trend of Mon farmers fighting for recognition of their land rights in the face of unjust land and property confiscations. The report analyzed specific barriers impeding their success, from weak land policy and inadequate dispute resolution mechanisms, to an absence of support from various sources. Read more
A.  Introduction
Over the years HURFOM has produced a number of accounts highlighting the hardships faced by Mon farmers who became victims of land confiscation or unjust land acquisition.[1] In this report HURFOM follows-up on previously documented abuses and concentrates on an emerging new trend: farmers' active and collective pursuits for rights to their land.HERE Read more
I.    INTRODUCTION
In late 2012 the New Mon State Party (NMSP) initiated a vigorous anti-drugs campaign throughout various Mon communities in Burma.1  Arrests of numerous drug smugglers were made, drug-using youth were sent to NMSP rehabilitation centres, and signs were erected in villages calling on residents to resist and combat drug use. This wave of action brought an issue to the table that had thus far been surrounded by silence from relevant authorities. Prior to this, domestic and international discussions of Burma's drug problems had largely been restricted to regions in Upper Burma, in particular Shan State. However, NMSP action highlighted that drugs were also prevalent in Mon communities and were being abused by Mon youth.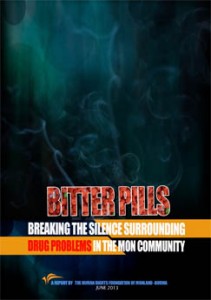 Read more
I.     Executive Summary
The growing optimism surrounding Burma's political and social transitions has begun to be accompanied by ambitions to resettle displaced communities along the country's border with Thailand. As the notion and its attendant proposals continue to proliferate, it seems timely to assess how the communities directly affected by this prospect feel about resettlement. Interviews were conducted with 61 Mon internally displaced people (IDPs) who expressed an array of views ranging from excitement for better jobs in new locations to utter refusal for fear of renewed conflict. Read more
Series of The Mon Forum, November – December, 2011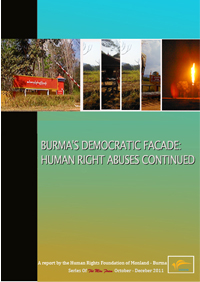 In Burma (also known as Myanmar), the new President Thein Sein (former Gen. Thein Sein) has attempted to move towards democratization or a democratic transition, by establishing a dialogue with pro-democracy leader Daw Aung San Suu Kyi and allowed her party, the National League for Democracy (NLD), to participate in the general elections.  In order to show a positive change, the government also released a small number of political prisoners.
However, the Burmese Army still operates military offensives against ethnic rebel groups in Karen State, Shan State and Kachin State whilst the government has conducted ceasefire talks. Human rights violations have continued in these areas and thousands of ethnic civilians continue to suffer from abuses committed by troops of the Burmese Army. [Download Report in PDF format] | [Map] Read more