Villagers reluctant to voice true concerns in public consultation meeting with June Cement Ltd.
HURFOM: On June 15th 2019, June Cement Industry Ltd. hosted a public consultation meeting in Mae Ga Row village, Kyaikmayaw Township, Mon State. The meeting was held to inform villagers living near June Cement's operations of the company's proposed work plan, and to solicit feedback from villagers. The company's operations are located in the Mount Pyar Taung region of Kyaikmayaw Township, home to the controversial Mawlamyine Cement Limited (MCL) factory.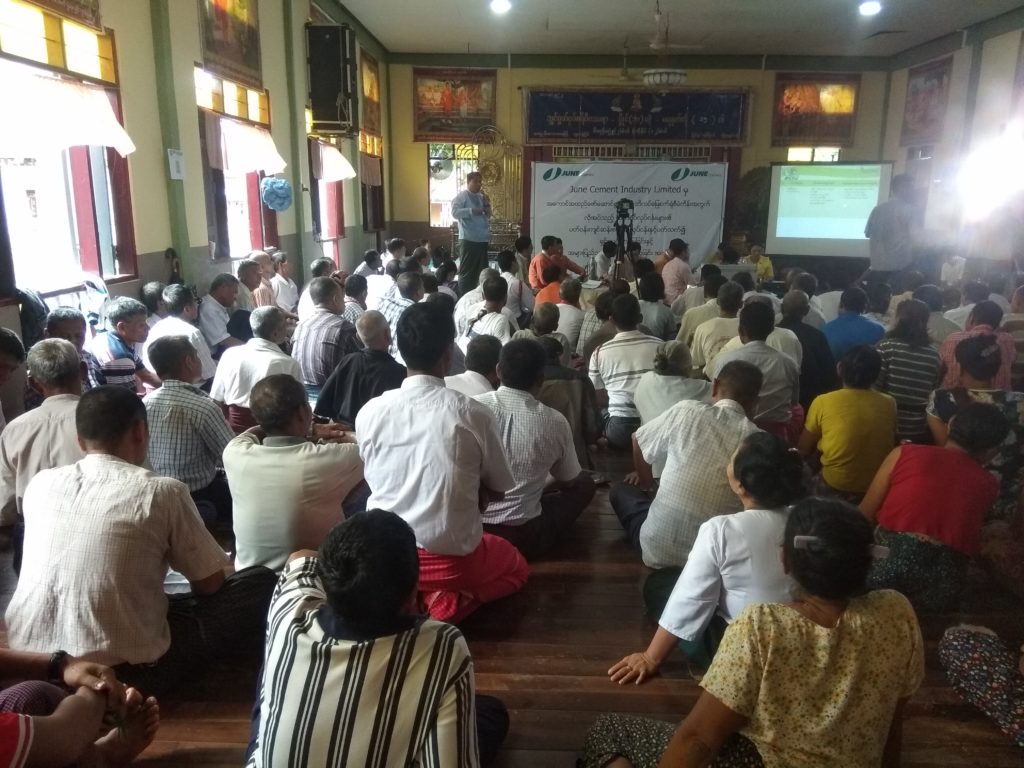 Apart from villagers, those in attendance included Mon State lawmakers, officials from the Kyaikmayaw Township General Administration Department, and officials from the Department of Agriculture Land Management and Statistics.
"Today, [June Cement] organized a public consultation meeting in the common hall of the Mae Ga Row monastery. They provided information about their cement factory, and their plans to level some of the land they've purchased so they can build a jetty and an artificial canal. After this, they asked villagers if they had any questions or feedback," said Nai Tun Kyi, member of a civilian committee responsible for monitoring all large-scale investment projects in the Mount Pyar Taung region.
"The company already has permission from above [the Union government], so villagers only asked who will take responsibility for any negative impacts from the project, how the company will power the project, and if stone mining will destroy religious sites on the mountain," Nai Tun Kyi continued.
As stated by officials from June Cement, there are no immediate plans to complete construction of the cement factory, but they hope to soon complete the construction of a jetty and a canal. Company officials also pledged to minimize the intensity of blasting when mining for limestone, and revealed that the factory will be powered by a coal-fired power station. To assuage concerns about the potential impact that a coal-fired power plant could have on the local environment, officials told the audience they had a plan in place to minimize any negative effects, but did not provide any details.
Though villagers may have legitimate concerns about the potential health and environmental impacts of a coal-fired power plant, as evidenced by HURFOM in 2017, attendees are reported not to have voiced opposition to the project. Given that June Cement has already secured permission to proceed with operations, and that villagers were in the presence of authorities, there are fears that opposition may discourage authorities from pursuing future development projects in the Mount Pyar Taung region.
"The cement project was already agreed upon by the authorities and the company. If we oppose the project, the authorities may misunderstand us…they may think we are against development. We only asked questions based on the information they gave us," said Nai Tun Kyi.
According to local reports, threats of land confiscation have forced villagers to sell some 800 acres of farmland to June Cement since 2010. In addition to forced land sales, locals have also reported having their land sold to June Cement without their knowledge.
With an investment of US $471 million, June Cement will produce 5,000 tons of cement per day once its factory has entered full operation. The Myanmar Investment Commission gave June Cement permission to operate in March 2015.
Currently, the Myanmar-Korea Cement Group (Zaykabar Company Ltd.), Mawlamwyine Cement Ltd., and June Cement Industry Ltd. operate mining activities on the limestone-rich Mount Pyar Taung. When considering the impact of MCL's operations on the environment, further environmental degradation resulting from the transport of more cement and the operation of a second coal-fired power station in the region will only compound the difficulties already encountered by villagers in the region.
Comments