HURFOM: Southern Myanmar Development Co. Ltd., is an authorized distributor of electricity in Northern Ye Township, Mon State, and currently the company has been arguing with local villagers about the electricity fee. In the contract, the company promised not to collect a service fee and for the cost of the street lights; however, in reality, the villagers have to pay a 500 kyat (US $0.32) service fee and each household has to pay at least 5,000 kyat (US $3.16) for street lights. Read more
HURFOM: On September 3rd, two Reuters journalists were sentenced to seven years in jail for breaching the "Official Secrets Act". Despite journalistic protection under the 2014 "News Media Law, the two journalists were charged under the colonial era "Official Secret Act" and sentenced to long-term imprisonment.
Journalists and civil society organizations (CSOs) in Mon and Karen states have seen the imprisonment of the two journalists as an attack on media freedom, and organized a street protest on September 7th 2018. Read more
HURFOM: Frequent street robberies in Mon State's capital, Mawlamyine, have locals feeling unsafe, particularly university students who have private classes at night, according to local residents.
"I haven't been robbed yet, but I've read news about robberies very often and I do not dare to go out [at night]. When I have to go out alone for something, I'm really afraid. I feel insecure. I don't like this situation. We must improve the rule of law in this city," said Ma May Q Thet Htar, a university student. Read more
HURFOM: According to an official from the Mon National Education Committee (MNEC), the committee has given up on requesting education funding from the Mon State government.
"More than a month ago we requested 50 million kyat (US $32,446) for the Mon education system. We hoped to repair about 50 damaged schools with that money. But our proposal doesn't match the budget policy of the Mon State government. So the government replied that we must change the goal of our proposal to get funding. They advised us to plan an organizing event or a kind of competition to get funding. We informed the committee [MNEC] about their suggestion and the committee decided to stop requesting funds from the government," said Nai Rot Ga Kao, an official of the MNEC. Read more
Farmers in Mon State are facing livelihood difficulties following recent flooding that has left their farmlands submerged.
"Almost all of our plants were destroyed because of the flooding. We can't even replant the paddy as there is still flooding and the water level has not dropped yet. If we wait until there is no water, it may take until around October, which is too late to start growing. The rainy season is over at that time, which means paddy fields must use water from the sea in order to survive," said Nai Kyat, a farmer from Ni Don village, Kyaikmayaw Township.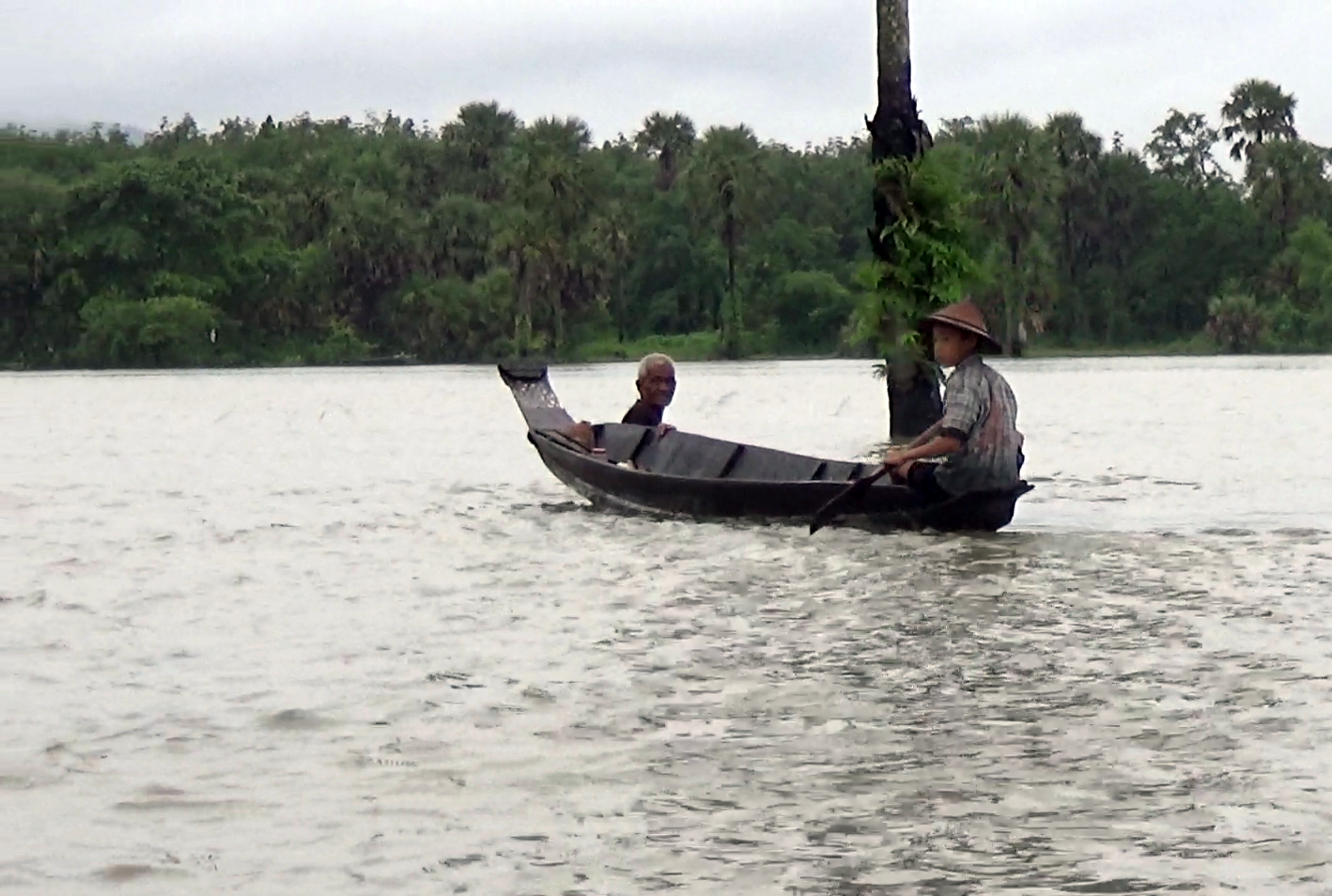 In addition to water shortages after the rainy season has ended, farmers must access sufficient water via pipes connected to the sea, which increases the cost of replanting the paddy.
Daw Sein Than, a Ni Don village resident explained, "Our career is agriculture. We may face large [livelihood] difficulties if the paddy production is low. Therefore, we would still work on that even if the costs are high to grow. We have no choice. It is importance for us to get the rice. It is very difficult for the farmers who have no money."
Affected farmers are concerned that they will not see the benefit of replanting as the costs are too high, even though the Mon State government has announced plans to provide one basket of paddy seeds and 8,500 kyat (US $5.50) per acre to farmers.
"We have provided paddy seeds and money to farmers in some areas [already]. To offer the remaining areas [aid], we have already requested 100 million kyat [US $64,788] from the Mon State Chief Minister, and once we receive it, we will disperse it," said U Kyi Soe, an officer at the Mon State Department of Agriculture.
Similarly, on August 14th, the Thaton District Agriculture Department provided 100 million kyat to flooded areas in the 24 village tracts in Bilin Township in order to help farmers replant their paddy fields.
"We have not received the aid yet. We are not fine to replant the paddy because it is too late for us. We don't have any dam to get water from. We have many challenges. Moreover, currently we also face difficulties in buying paddy seeds. We won't grow the plants this year." said U Hla Aung from Mae Nit Kaung village, Bilin Township.
U Nay Myo Thu, an assistant officer of the Thaton District Agriculture Department explained, "In order to get the paddy seeds needed to replant the paddy on time, we have collaborated with a company to try to get it for the farmers. Additionally, we will provide the needed technical education to the farmers as well."
According to Mon State Department of Agriculture, approximately 66,685 acres of farmland in Mon State have been submerged by flooding and 26,492 acres have been completely destroyed this year.
Locals in Ah Hlat village, Paung Township, Mon State are upset after authorities denied their requests to rebuild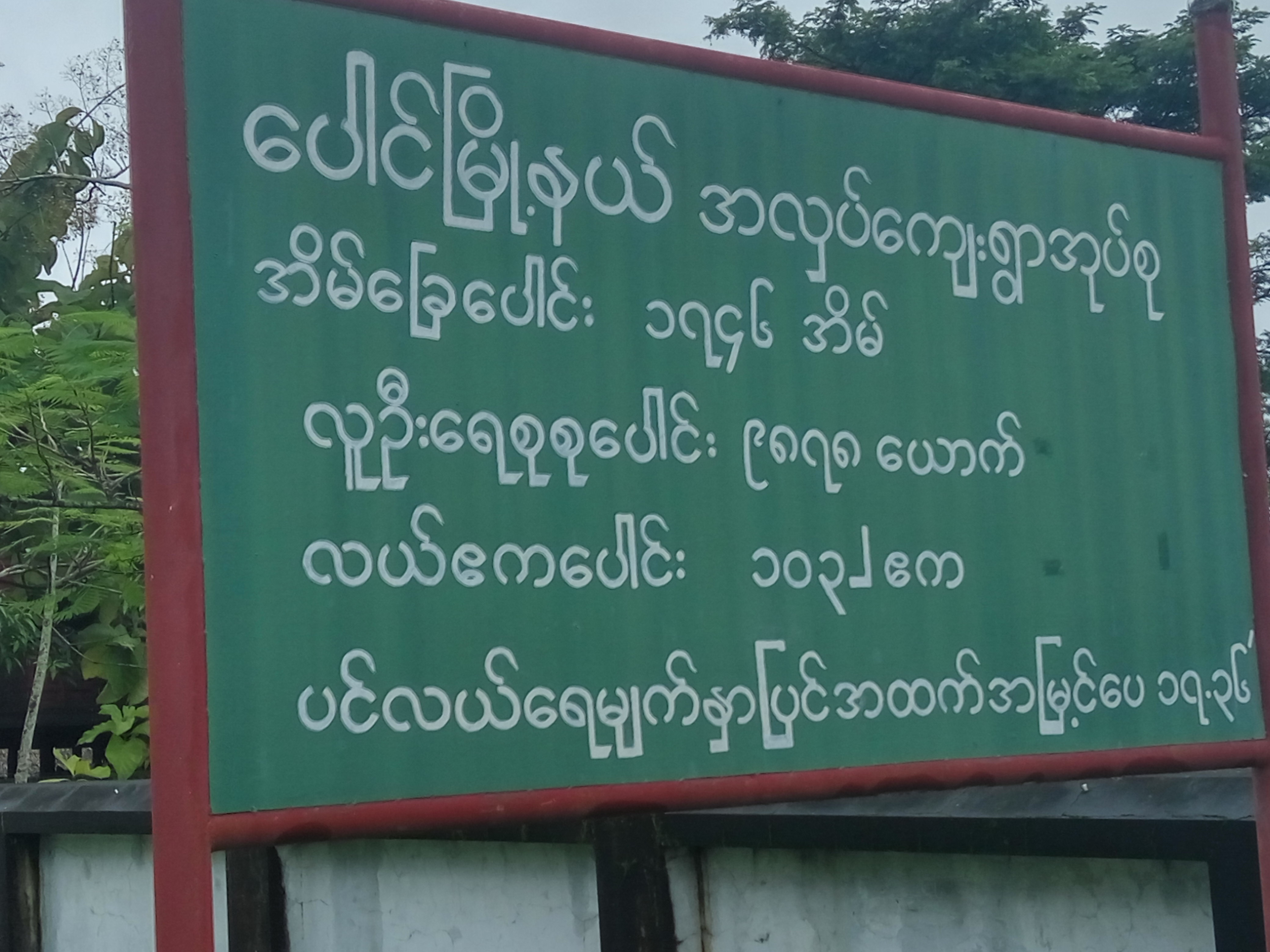 their destroyed homes in their original locations after flooding destroyed 44 houses and damaged another 45 between August 12–13th 2018. Read more
HURFOM: In August 2018, a 15-year-old girl from Kin Chaung village, Mudon Township, Mon State, reported being raped ten times by her 43-year-old father. The 15-year-old and her cousin reported the abuse to the village administrator on August 18th.
"I have been raped by my father about 10 times during this month. Then he threatened me that if I was to tell anyone about the rape, he would kill me with a knife. I want to send him to jail."
On August 19th, the village administrator went to arrest the perpetrator, U Hla Kyaw, and he was charged under Burma Penal Code Article #376 (punishment for rape) at the Mudon Police Station. Read more
HURFOM: Mon residents in Ye Township are unhappy over the removal of a billboard erected in Ye Town to welcome the 71st Mon Revolution Day which was held on August 26th 2018. Two billboards with the slogan of "Revolution for Freedom" were installed in both Ye and Mudon townships of Mon State. However, after pressure from the Mon State government to remove the slogan, the Ye Township billboard was taking down.
"We've used slogans with similar meanings every year. We used the word 'Revolution' to motivate the mood of the people. It is not to encourage rebellion or riot. They, the [Mon State] government, have also organized their Martyr's Day freely, so we must also have the right to organize our Martyr's Day [Mon Revolution Day] freely. There must be fairness and justice. Removing the slogan or the billboard is oppressing the ethnic people. We can't accept this oppression," said activist Monk Aot Jae. Read more
"Ta Rao Aa Arr" Mon charity, which is led by Monk Aot Jae, provided funding to repair Mon National Schools in Mon populated areas of Mon State, and donated the required school furniture.
The main requirements are the repair and construction of school buildings, but the "Ta Rao Aa Arr"grouponly helped with funding and providing furniture once the locals fix the schoolbuildings.
"We did not directly help to construct the buildings. The locals told us about their plan to repair andrenovate the school buildings, and we found a donor and helped them to get money for the construction," said Monk Aot Jae. Read more
WCRP: The Prisons Department of the Myanmar Ministry of Home Affairs confiscated farmlandfrom three villages in Bar Ann Township, Karen State – Hlarka Myint village, Latkanar village, and Hla Ka Daung village tract.The farmers are calling on the government to return the land to its owners or else pay compensation for the land.
The Prisons Department's confiscationshappened between 1988 and 2014. The farmland, totaling around 800 acres, had belonged to 84 farmers. The department has not yet done anythingwith the confiscated land, and so the 84 farmers are calling on the department to give them permission to work on their land.If the department will not allow them to work on their lands, they request that the department give them compensation for their lands. Read more