Weekly Overview: Human Rights Situation in Mon State, Karen State, and Tanintharyi Region
Week Two, June 2022
Across HURFOM target areas, cases of abductions and arbitrary arrest continued to rise. The ongoing human rights violations speak to the inhumanity of the Burma Army and their lack of compassion for civilians. Innocent villagers are targeted in a relentless, ongoing campaign of terror. Those who have shown their support and solidarity to pro-democracy campaigns have been deliberately targeted.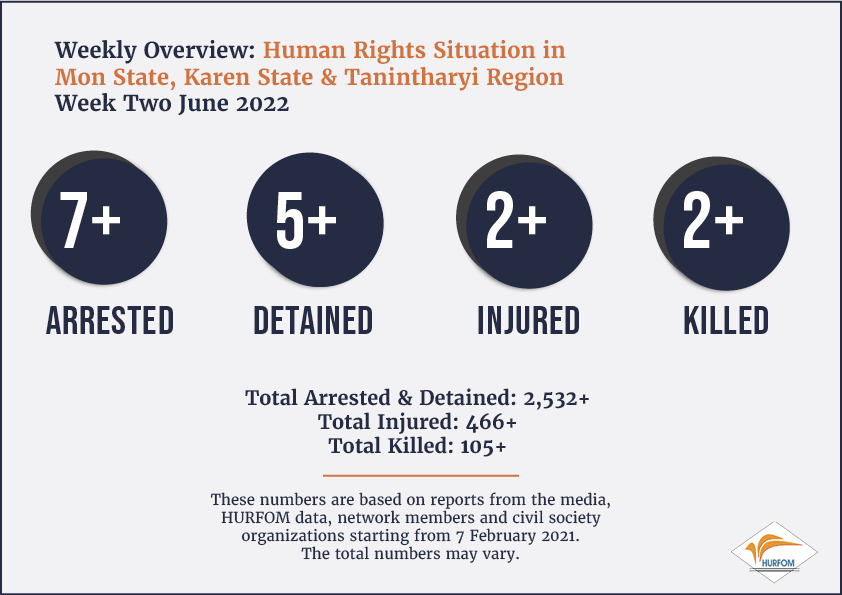 On 6 June 2022, at 1:00 PM, a teacher affiliated with the Civil Disobedience Movement (CDM) was abducted and arbitrarily detained in a detention center operated by junta military intelligence in Long Lon Township, Dawei. She was accused of posting an anti-coup photo on a brick wall at the primary school, situated in Ward (C), Long Lon Township. The regime also launched an unethical investigation against her husband and son.
The same day, a few hours later, Ma zin Mar Win, a resident of Zeyar Thiri Ward, Myeik Township, Tanintharyi region, was abducted and charged by plain-clothed junta informers. The junta administration and intelligence officers accused her of sharing 'false' information on social media. Junta forces said she was posting incorrect comments and information considered 'false news.' She's been filed under Section 505 (a) of the Penal Code. These charges are fabricated. "She was targeted because of her involvement in the pro-democracy protests," a friend told a HURFOM reporter on June 7.
Informers are also ruthlessly exercising no restraint and committing crimes with impunity. Around 4:00PM on June 9, 2022, U Nyi Nyi Thein, a member of the junta-backed "Pyu-Saw-Htee para militia force", a resident of Kyaukme Taung village, Dawei, killed two innocent villagers with his rifle gun near 23-mile checkpoint, according to witnesses.
Armed conflict also continued across target areas, leading to growing levels of forced displacement. On 10 June 2022, in Palaw Township, Myeik District, Tanintharyi Region, there were frequent clashes between the Palaw People's Defense Coalition and the junta. In the morning, the Burma Army attacked Nat Ein Taung and Shan Dut villages, forcing the locals to flee to safer areas.
Alongside the junta's instability which they are responsible for, a widespread failure with the rule of law coupled with a dysfunctional education system is thought to have contributed to 40% of youth in Ye Township, Mon State and Yebyu Township, Tenasserim Division succumbing to drug abuse. Individuals are also abusing Kratom leaves. Usage of this drug is the highest in Mon State while abuse of WY tablets stands at second place. According to Mon State Police records, there were 406 drug abuse cases in 2019. In 2020, drug abuse cases more than doubled — with 844 points recorded.

An additional cause for concern has been recent reports of civilians in Karen State experiencing a mobile phone and Internet shutdown of network services since 23 April 2022. There have been frequent armed clashes between the KNLA (Karen National Liberation Army) and the Burmese military who are based in Dagon Tie Police Station. The telecommunications network blackout is thought to be related to these ongoing armed clashes.
The people of Burma deserve peace in their homelands. For too long the junta has denied them their fundamental human rights. Action and accountability are long overdue.
Comments