WCRP: The family of a 13-year-old victim of rape from Pa Nga village, Thanbyuzayat Township, Mon State, is upset after learning that they had missed the perpetrator's first court date after the mother's signature was forged on the court attendance list. Read more
WCRP: Members of the women's committee at the Mon Political Conference held last weekend in Mawlamyine, Mon State, have voiced their concern over the lack of women's participation in politics. While women's marginalization in the political sphere is slowly decreasing, they argued more needs to be done to encourage and empower women to engage politically. Read more
WCRP: A sexual assault victim and her family are upset over the decision by the Kyaikmayaw Township Court to sentence her attacker to only three years in jail. The family is planning to appeal the decision at the Mawlamyine District Court. Read more
HURFOM: Villagers are upset over the dismissal of two Andin village Farmland Management Committee members in Ye Township, Mon State. U Maung Ye (Villagers' Representative) and U Min Myint Thein (Farmers' Representative) were forced to resign by the Ye Township general administrator after they refused to agree to rezone farmland for use in the planned Offshore Oil and Gas Supply Base. Read more
HURFOM: Excellent Fortune Development (EFD) Group Company Ltd. is pushing forward with a controversial stone mining project by Mount Bleh Patoi located near Dani Thakyar and Magyi villages, Ye Township, Mon State, despite a lack of consensus among local residents.
According to a former Magyi village administrator, the project poses no harm to local communities and would spur economic and social development. Read more
HURFOM: Organizers of the 6th anniversary of Mon Youth Day called for the unification of all Mon political parties into a single, inclusive entity, during the December 28th 2017 event in Kamarmo village, Chaungzone Township, Mon State.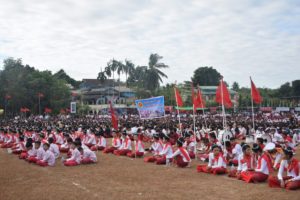 "As we now have the chance to be involved in politics, we don't want disunity amongst the Mon political parties. We just want a single political party that can represent all Mon people. We will also look for a solution during the upcoming Mon Political Conference in January 2018. We will never give up," said Nai Janu Oo, secretary general of the Mon Youth Forum (MYF), the primary organizer of the event. Read more
According to locals, drug use in Yebyu Township, Tenasserim Division has increased sharply as more youths are experimenting with drugs. Read more
Conflict is brewing between local villagers and Excellent Fortune Development Group Company Ltd. (EFD) over a planned stone mining project in Khaw Zar Sub-township, Ye Township, Mon State. EFD is planning to buy land near Mount Bleh Patoi located between Dani Thakyar and Magyi villages. Read more
Paddy production in Kamarwat Town, Mudon Township, Mon State is under threat due to a significant increase in pest infestations this year, according to local farmers.
"The farmland in Kamarwat has been infested nearly every year, but this year we had a huge infestation. Some farmers lost half of their farmland. They can't make a profit any longer, so they have had to stop working on their farmland," said Nai Bran, a local farmer from Kamarwat. Read more
WCRP: On October 25th 2017, an 11-year-old girl in Kaw Hla village, Mudon Township, Mon State, was raped by a 42-year-old man.
At approximately 1 pm, the perpetrator and the girl left to go fix the child's mobile phone without telling her parents. The girl was taken by the perpetrator to some brush nearby the railway station in Mainka Nain village where she was then raped. The perpetrator threatened that we would kill her if she told her family and that he would buy her a new phone if she remained silent. At around 5 pm, the perpetrator took the girl back to where her parents were working in Min Hla village. Read more