WCRP: A 13-year-old boy's family is accusing police of torture to try to force a confession from a 13-year-old boy after he was taken into custody. Thirteen-year-old Mg A— is suspected of raping and killing his 8-year-old adoptive sister on November 18th in the Tar Yar Aye Quarter of Mawlamyine, Mon State. The perpetrator's family said that the boy is currently being held in a Youth Care Training Center, under the control of the Ministry of Social Welfare, Relief, and Resettlement.
On October 18th, around 10 am, the victim left for her aunt's house but never returned home. The family, worried, went to look for her but could not find her. The family reported her as missing to the police on November 19th, and her body was found around 2 pm in a brick-making pit near Hlaing Yadanar Street. Read more
HURFOM joined together with Pyar Taung Region Social Development Association to launch a new report and documentary—The Attran River to Pyar Taung—on November 15th 2018 at the Rehmonnya Hotel in Mawlamyine, Mon State. The event was attended by around 150 people, including community-based organizations (CBOs) and locals from Kyaikmayaw Township. The report highlights the voices of locals negatively impacted by Mawlamyine Cement Ltd.'s (MCL) coal-powered cement factory and the resulting effect on natural resources and the environment along through Attran River and throughout the Pyar Taung Region in Kyaikmayaw Township, Mon State. Read more
HURFOM: Villagers affected by coal mining in Karen State have been speaking out with concerns for their health. Sparked by new plans announced in October 2018 to convert the natural gas powered cement factories in Myine Kalay and Hlar Kar village tract into coal-fired ones, villagers say the trucks lack proper protection against scattering stones and powder. The factories are owned by Myanmar Economic Corporation (MEC) operated by the Burmese military. Read more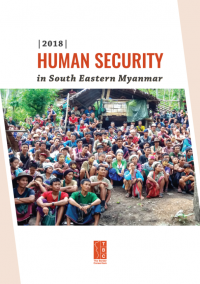 On 14 November 2018, The Border Consortium (TBC), which has been working with refugees from Burma/Myanmar since 1984, announced the launch of a research publication on human security in Southeastern Burma/Myanmar. This research shows at least 162,000 civilians remain internally displaced, while assessments found that 17 percent of children in communities affected by conflict are acutely malnourished.
[
Download PDF (4.15 MB)] Read more
Human Rights Foundation of Monland
Fighting reduced and tensions eased after bilateral ceasefire agreements were signed in 2012 by the Government of Myanmar with the New Mon State Party (NMSP) and the Karen National Union (KNU) respectively. While both KNU and NMSP were involved in negotiating the Nationwide Ceasefire Agreement (NCA), KNU signed in 2015 and NMSP waited until 2018. Read more
HURFOM: On October 28, a plantation worker was seriously injured by a landmine blast in Kyaung Shar Kwin, Yebyu Township, Tanintharyi Division. Around 100 owners and daily workers are too afraid to attend their nearby farms in case of further blasts. The area is currently under territorial dispute between the New Mon State Party (NMSP) and the Karen National Union (KNU). Read more
HURFOM: During a revision of the 2018-19 budget the State Government has significantly reduced its allocation to Mon National affairs. One third of the budget from the previous year has been scraped in favour of Karen National affairs. The lower budget will not cover proposed projects, impacting the most on Mon education programs. Read more
Yangon: Victims of human rights violations desire government reparations and deserve to see justice for what they have suffered, said the Reparations Working Group initiate by the Network for Human Rights Documentation Burma (ND-Burma) in a new report released today. The report, which is the first ever needs assessment of victims of human rights violations in Burma of its kind, offers preliminary recommendations for action that must be taken for victims of human rights violations to restore and rebuild their lives, including justice and accountability for the abuses that they have suffered and guarantees of non-recurrence. [Download the Report] Read more
A report scrutinizing the Myanmar National Human Rights Commission (MNHRC) was released by civil society groups on 9th October in Yangon. The report shows the failings of the commission to address rights violations committed by the military and to comply with international standards. Read more
HURFOM: On September 19th 2018, Daw Myo Tha Dar Shwe, aka Ma Pae Pae, a local fisherwoman, died after having an accident with the "MV Kaung Hein" vessel of the High Mix Company that was hired by the Mawlamyine Cement Limited (MCL) to transport coal to their coal-fired cement factory in Kyaikmayaw Township, Mon State.
"According to U Ohm Tun, a local fisherman, his boat was behind Ma Pae Pae's. Upon seeing the vessel, Ma Pae Pae rowed her boat to the [Ataran] riverbank. But the vessel tried to avoid the fishing net and also came near to the riverbank. After that, the rear part of the vessel hit Ma Pae Pae and she fell into the river. U Ohm Tun tried to save Ma Pae Pae, but he had to row back to the riverbank as another vessel reached the scene of the accident. After the [second] vessel left, U Ohm Tun tried to search for Ma Pae Pae, but he found nothing." said U Aung Tin Oo, the Chairperson of Kyaikmayaw Fisheries Department. Read more