NMSP claims their land use application aims to halt land grabs by investment companies, but locals see it differently
HURFOM: The New Mon State Party (NMSP) has been applying for permission to use land in the Parlain Region of Andin village tract, Kun Khari Island, and Man Gyi, Dani Dagyar, and Kaw Hlyne villages in southern Ye Township. Nai Win Hla, head of the Home Affairs Department of the NMSP, claims that the NMSP's application for land use is aimed at halting land grabs by investment companies who want to exploit local natural resources.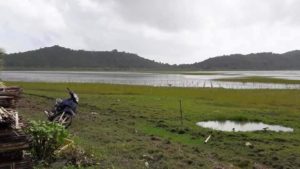 "Even if we can stop [investment companies from exploiting land and natural resources] now, we don't know what will happen in the next five or ten years. Mainly, we want to avoid exploitative investments. We want to protect our land and our people. We've been trying to create job opportunities and promote local development," said Nai Win Hla.
Even though the NMSP said the application for land use was for local development, the Andin community lacks trust in the party, according to Mi Dar Dar, a member of the Andin Youth Group.
"When the NMSP comes, a company always comes with them. So, the locals don't trust the party anymore," said Mi Dar Dar.
Nai Win Hla also mentioned that as no one could resist the power of investment forever, the NMSP must take over the land in the interests of Mon nationals' affairs.
He continued that when famous business persons directly cooperate with authorities or governments to do a project, no one can stop them. It is dangerous for those who oppose the projects.
"For instance, like Mawlamyine Cement Company Limited – the Cement Factory in Kyaikmayaw – they were in direct contact with the Mon State government, so no one could stop them. We aim to provide protection to avoid similar situations," said Nai Win Hla.
Soi Ha, the abbot of Man Gyi village, said that they oppose stone production in Balae Kha Boi Mountain near their village because they want to protect their village and local livelihoods.
"If we lose this mountain, the village won't be protected from strong winds. And the villagers will feel the impact in every aspect of their lives," said Abbot Soi Ha.
"The local people have a fear of both the NMSP and the [investment] companies as they have learned a lesson from the "coal case" [the controversial Andin coal-fired power plant project, which has inspired ongoing community-led environmental conservation projects]. Personally, I don't want to touch the natural resources in our region. I want to promote sustainable livelihoods. The fishing industry in our region can earn millions of kyats per year. If the company gets [the land], then only the company gains the profit. The poor villagers only benefit in the short-term. So, if possible, I would rather see no investment to this region," said Nai Shwe, the Chief Organizer of the Andin Mon Youth Group.
Comments