A new, unknown armed group has emerged in southern Ye, extorts and leaves locals in fear
HURFOM: On July 6th 2018, locals told HURFOM that an unknown armed group has been active in southern Ye Township, Mon State. Local villagers have been extremely cautious about travelling to and working their farms and plantations, which has had negative consequences for daily livelihood needs.
According to a local monk, the unknown armed group has been active between Ka Log and Ham Gam villages of the Mount Kyaik Mote Lot region in Southern Ye for the past three months, and they have been extorting money from local farmers.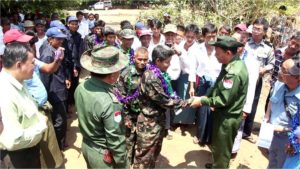 "The armed group who has extorted money emerged about three months ago. They have been active near the Kyaik Mote Lot Mountain region including in Wae Ga Loe, Wae Kawai, and Kwan Kaw villages. They have been extorting money like what we had experienced in the past," said Senior Monk Siri Hongsar from southern Ye Township.
According to locals, the unknown armed group has about 20 members.
"We heard that they extorted money from farmers who are on their way to their plantations. They've extorted 300,000 or 500,000 or one million kyat (US $210 or $351 or $702)so far. But we don't know exactly who they have extorted money from. In southern Ye, the local farmers are afraid and daren't go to their plantations and farms. Now they're extremely cautious—they go to their farms in the morning and return back in the evening [they avoid spending the night at their plantations or farms]," said the monk.
Even though the Burmese army's Infantry Battalion 31 began an operation to find the unknown armed group, they have not been able to catch anyone as the forest area is too big to do a thorough search.
"We've heard that [the unknown armed group] has been active in Ham Gam [village]. We don't know how many members they have, but we heard that they have been extorting money [from the local farmers]. I don't know any details," said Senior Monk Panthita from southern Ye.
"Several times, the Burmese military has begun an operation to find [the unknown armed group]. During their operations, the military banned local farmers from going to their plantation or farm. As the situation is unstable, the villagers don't feel free to go anywhere," said Senior Monk Siri Hongsar.
This isn't the first time local residents have experienced extortion at the hands of Mon breakaway armed groups. After the New Mon State Party (NMSP) signed a ceasefire agreement with the Burmese military in 1995, the party was not allowed to mobilize their troops in southern Ye. Since 2010, several armed groups have emerged and extorted money from the local villagers.
On June 25th 2016, a 20-member armed group led by Nai Ah Loon, Nai Ah Song, and Nai Ah Hlane, extorted locals in southern Ye and Yebyu townships, finally surrendering to the Burma Army 19th Military Operation Command (MOC-19) in Ye.
In January 2016, villagers from southern Ye and northern Yebyu townships told HURFOM how splinter groups operate with impunity, extorting millions of kyat per year from local farmers. 'Even the village head and monks cannot live in peace. If we don't pay them, we can't live in peace, and instead we have to worry about when they will come to kill us,' said Nai De Dot.
Nai Win [name changed to protect identity], described how in August 2015, a splinter group, Mon Chan group, extorted seven million kyat (5,800 USD) from Nai Win's village while taking 20 villagers hostage for an entire day. He himself has been kidnapped three times and taken to the jungle while his wife and villagers were forced to pay large sums to have him returned to them.
Comments