Intimidation and demands of extortion by an armed group creates instability in Thanbyuzayat villages
Thanbyuzayat
According to local village headman, an armed group which goes by the name of "Mon Revolution Army" sent intimidating letters to the villagers of Do-E-Saw (Ya-Tae-taung), Lago-Kanine (A-Nan-San) and Paran-Karen (Karen Taung) villages of Thanbyuzayat Township, Mon State, demanding payments of 15, 10, and 10 million kyat, respectively.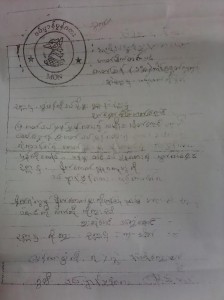 On March 17, 2015, village headman of a village neighboring Do-E-Saw stated, "As we know, the group is Chan Dien's group. They gave the letter in the center of the village. The village headman of Do-E-Saw can't accept the demand and requested protection from the Set-Se military. They've also prepared themselves for self-protection. The group gave the villagers seven days [to collect the demanded sums], and the deadline for Do-E-Sau has already passed. Lago-Kanine and Paran-Karen villages still have time. The group also demanded money from the wealthy businessman Khin Win, who has constructed hotels in Set-Se Beach."
Currently, villagers do not go outside at night, and Do-E-Sau Village had enacted a travel ban from 9pm-4am. About 30 troops from the Set-Se military have been rotating patrol duty around the village, and Do-E-Sau's situation is affecting the stability of neighboring villages.
"The villagers are frightened now. The village headman gave an order which banned going outside from 9pm to 4 am. Now, 3,000 kyat per house has been collected to support the village security guard. The New Mon State Party (NMSP), village militia and the Burmese military have offered protection for the village. The group demanded the money ten days ago, and the deadline has already passed," said a Do-E-Sau schoolteacher.
The residents near Thanbyuzayat have never had any experience with extortion by an armed group before, and this demand came as a complete surprise to them.
The letter presented by the armed group was signed by A-Zan, and described the method by which the villagers must pay the demanded sum as well as death-threats to the village headman if he were to inform the government about the group's demands.
Comments