Extended power cuts troublesome for Thanbyuzayat Town businesses
HURFOM: Residents in Thanbyuzayat Town, Mon State, are upset over the lack of warning concerning power cuts. The Thanbyuzayat Electricity Department will be cutting power for the last two weeks in March in order to install a new transformer and improve the town's electrical infrastructure.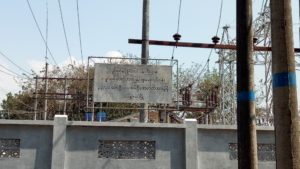 The head of the Thanbyuzayat Municipal Department, Nai Min Latt said, "from March 12 to the end of the month there must be a power cut from 8 am to 3 pm every day. The electricity department has to reinforce utility poles and extend power cables from Mawlamyine. In order to perform their task, they have to cut power."
The Thanbyuzayat Electricity Department has already installed a 33,00-KVA (kilo-volt-ampere) transformer, but due to high demand it has been supplementing the town's supply of electricity with the 66,000-KVA transformer in Mawlamyine. As local residents continue to increase their energy consumption, the local energy department can sometimes only provide an output of 100 Volts (V), requiring households to use their own electrical inverter in order to get 220 V of electricity.
"We originally planned not to cut the power for the whole day. But our plan didn't work. Now we have to cut the power for seven or eight hours during the daytime. Even though we know the difficulty of the customers, we have no alternative but to do so. Our minister has instructed us to finish our work before Songkran, so we have to try hard and cut the power," said a staff member from the Thanbyuzayat Electricity Department.
Currently, the Thanbyuzayat generator can provide 33,000 kVA and it sends equal amounts of power to three sub-generators in Kyaik Kha Mi, Pa Nga, and Wae Toon Chaung (Da Ton Chit).
After installing the new generator, the department will provide double the output of the current generator, which will relieve some of the stress on the electrical grid, according to the department staff. Thanbyuzayat Town's growing demand for electricity has led to frequent power outages over the last year.
Comments