Growing demand for electricity in homes leading to frequent power outages, Thanbyuzayat Township
HURFOM: Locals in Thanbyuzayat Township, Mon State are increasingly using electricity, leading to frequent power outages as the local grid is unable to cope with the growing demand. The issue is exacerbated by the already low voltage output of the Mon State Ministry of Electricity and Energy's local generator.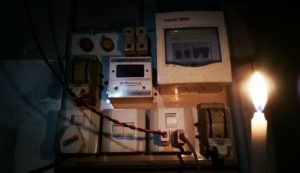 According to an official from the Thanbyuzayat Electricity Departmentthey have stopped installing new meter boxes as the generator can no longer provide power to new applicants.
"We don't allow the installation of new meter boxes for those who want to use electricity [provided by the state]. As we don't have enough electrical power, we have banned new applicants for four months," said the official.
The Thanbyuzayat generator can provide 33,000 kVA(kilo-volt-ampere) and it sendsequal amounts of power to three sub-generators in Kyaik Kha Mi, Pa Nga, and Wae Toon Chaung (Da Ton Chit).
"The power shutdownshappen automatically as the voltage is very low," said the official from the Thanbyuzayat Electricity Department. "The power shutdown doesn't happen because we stop the generator,rather it happens because of the very low voltage. The demand for electricity is increasing every day, but we can't upgrade our generator [quick enough]. So the generator can't provide for the growing demand and power shutdownsoccur."
A new generator that will provide double the output of the current generator is being constructed by the department, which will relieve some of the stress on the electrical grid.
"Now the department has been setting up new a generator, but I can't say when it will be finished. In the past, the Thanbyuzayat generator requested electrical power from the Mudon [Township] generator when it received high demand. The voltage is getting low as too many villages and households use electricity [now]," confirmed the official.
The new generator will receive electricity from the Mawlamyine generator and will provide 66,000 kVA which will suffice for Thanbyuzayat Township.
Because of the growing demand, the current Thanbyuzayat generator can provided electricity in a range from 130 to 150 V,however sometimes the voltage level drops down to only 100 V. Therefore, every household has to use their own electrical inverter in order to get 220 V of electricity.
Comments