Locals accuse former village headman in Thanbyuzayat of vote manipulation and electoral fraud
HURFOM: On October 15th 2017, a local election for village headman was held in Karotepi village, Thanbyuzayat Township, Mon State, and local villagers have accused the former village headman, Nai Cartoon, with interfering in the election process in order to ensure the election of his party's successor.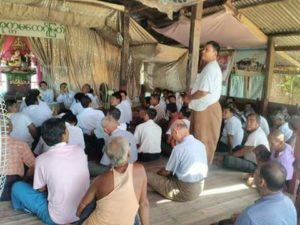 Nai Cartoon resigned from his position as village headman during an investigation by the General Administration Department (GAD) over accusations of corruption and selling community land for personal profit.
"He [Nai Cartoon] had known in advance that he would be punished [for his misconduct] and removed from his position. So before he was removed, he proposed his resignation. And then, when the new election for village headman was held, his [preferred] man was elected as the new village headman," said Karotepi resident Nai Ba Nyar Din, who monitored the election process.
Three days prior to the election on October 12th 2017, the chairman of the local Union Solidarity and Development Party (USDP) – U Aung Kyi Thein who won the 2017 by-election in Chaungzone Township – visited Karotepi and met with local community members. During his consultation with villagers, he said that only his party was capable of implementing local development projects. Later, on October 15th 2017, his fellow party member Nai Aung Yin was elected as the new village headman.
During the Karotepi village election, there were 1,586 eligible households and 647 households casted their votes. There were 939 absentees and 48 votes were canceled. Nai Aung Yin of the USDP won the election with 346 votes in favor, in contrast to Nai Hla Tin of the Mon National Party (MNP) who received 253 votes. Electoral monitors believe these voting figures may have been manipulated.
"As he noticed that he would be removed from his position, Nai Cartoon had planned to make his [party's] man become the new village headman. He and his party [the USDP] systematically manipulated [the election process] and a member of the USDP won the village headman election. But there was a difference [irregularity] between the number of voters and the numbers of villagers who have the right to vote. But it's still under investigation and we don't know yet," said Nai Myo Thein, another resident who monitored the election process.
Nai Cartoon's resignation as village headman comes amidst a slew of investigations into alleged corruption by village administrators in Mon State this year. Since Mon State Chief Minister Dr. Aye Zan took office earlier this year, ten village administrators have been investigated for alleged misconduct, including at least eight who have already been dismissed. Recently, the HmameKaNane village headman was sacked over corruption accusations, leading some villagers to protest the lack of transparency in the investigative process.
Comments