Villagers protest dismissal of administrator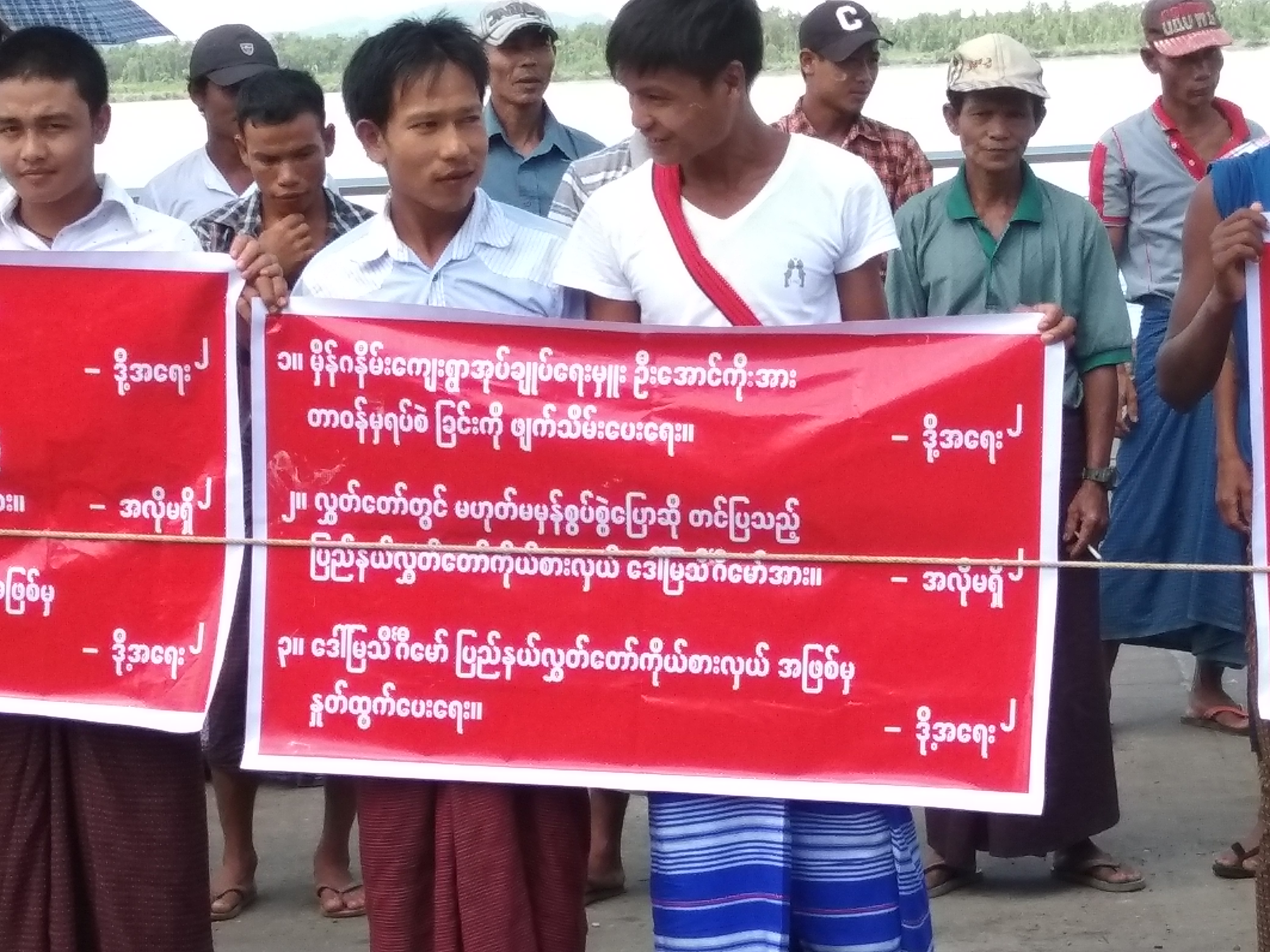 On September 21st 2017, locals organized two protests in HmameKaNane village and Mawlamyine in Mon Stateto voice their displeasure over the dismissal of HmameKaNane village administrator U Aung Ko from his position.Protesters areunhappy with the authority's decision to fire U Aung Ko, citing a lack of due process.
"There was no proper investigation. [Our administrator] was dismissed after a member of parliament submitted a proposal. We are not satisfied[with the process], so we've organized protests," said Daw Than Aye, a local protester.
U Aung Ko's dismissal came after Mon State Member of Parliament (MP) Daw Mya Thein Gee Maw (Mudon) proposed the termination of his duties, accusing him of corruption,selling public land for his own profit, and holding a bias. Protesters from Hmame Ka Nane village disagree with the MP's accusations and want justice for their administrator.
"People don't know exactly why [the administrator] was dismissed. If there is a report that the administrator abused public land and was involved in corruption, there must be an investigation at the ground level. Removing an administrator without any proper investigation is just an abuse," said U Maung Aye, a resident of HmameKaNane village.
Village Administrator U Aung Ko said he received the letter of dismissal on September 14th 2017, but did not know why he was removed from his position.
"I had to sign warning letters two times in the presence of the township administrator. The first time was for that I was weak in performing my duties and the second time was for that I yelled at a villager who accused me of having a bias when providing development funds to villagers," said U Aung Ko.
However, in response U Myint Than Win, Office Director of the Mon State Government, said after receiving a proposal from MP Daw Mya Thein Gee Maw to take action on HmameKaNane Administrator U Aung Ko, he instructed the district administrator to conduct an investigation and submit a report. According to U Myint Than Win, it was found that HmameKaNane Administrator U Aung Ko did not respect his colleagues in the Mon State Parliament, performed weakly in his duties, showed little cooperation with villagers and prominent persons in the village, and had many complaint letters filed against him. Therefore, the district administrator had reported that U Aung Ko was unfit for his position.
"We can't dismiss a village administrator as we wish. We have been investigating the HmameKaNane case for a long time," said U Myint Than Win.
Since Mon State Chief Minister Dr. Aye Zan took office earlier this year, ten village administrators have been investigated for alleged misconduct. Eight of them have already been dismissed and two are still under investigation.
Comments