On 18 July, 2015, a group from the Mon National Liberation Army (MNLA), the New Mon State Party's (NMSP'S) armed wing, arrested two drug dealers as they travelled through Sakhan Gyi Village, Thanbyuzayat Township, located in Mon State. Nai Cheain Kakao, an MNLA leader who coordinated the operation, spoke to HURFOM about the arrests. He also discussed worries that government restrictions on armed groups' movements preclude hopes for success of the MNLA's campaign to eradicate drug use in Mon regions. Read more
The relative of an arrested drug user has accused police officers in Thanbyuzayat Township, Mon State, of misconduct and corruption. Nai Kyaw Win, a relative of arrestee Nai Ah Mile, described how police forces threatened his relative with fabricated charges of drug dealing, using intimidation to extort bribes from Nai Ah Mile and his wife. Nai Kyaw Win also spoke to HURFOM about corruption and bribery within Mon State's prison system. Read more
HURFOM has joined 148 partner civil society actors in calling on the International Coordinating Committee Sub-Committee on Accreditation (ICC-SCA) to postpone official international accreditation for the Myanmar National Human Rights Commission (MNHRC).
WCRP: On June 29, 2015, the Mon Youth Progressive Organization (MYPO), a youth organization affiliated with the predominant Mon armed group, the New Mon State Party, began a two-month-long Women's Empowerment Training in Sangkhlaburi, Thailand. Fifteen women, aged 15 to 35 years old and from various areas of Mon State, are attending the training, which aims to empower women by strengthening both their knowledge and leadership skills. Read more
An anonymous source from the New Mon State Party (NMSP), the predominant Mon armed group, has stated that peace can be attained in southern Ye and northern Yepyu Townships, located in southern Mon State, if local people cooperate with the NMSP's efforts to rid the area of rebel armed insurgent groups. This news follows reports last week that the NMSP shot dead the leader of a key rebel group active in these areas. Read more
A defendant in Yindao Village, Mudon Township, has raised questions over the impartiality of local judicial processes, following a legal dispute between himself and the village's headman. Read more
With plans underway for "ecotourism" development in Mon State's Ye Township, HURFOM explores the issues, concerns and underlying concepts surrounding these proposals. Overall, HURFOM concludes that planned developments in Ye Township risk endorsing abuses in the name of "ecotourism", rather than promoting genuine ecotourism.
What is Ecotourism?
We begin with the question: what exactly is Ecotourism?
Ecotourism is a concept that has become very popular in recent years. While it is unconfirmed who initially coined the term, it is believed to have originated in the late 20th century, with use by academic Claus-Dieter (Nick) Hetzer in 1965. Hetzer defined four principles of responsible, or "eco", tourism:
Minimizing environment impacts,
Respecting host cultures,
Maximizing the benefits to local people, and
Maximizing tourist satisfaction (Weaver citing Hetzer, 1965; p. 5).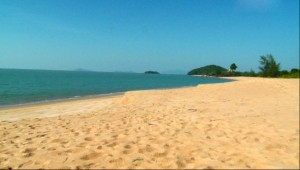 Today, the International Ecotourism Society defines ecotourism as, "Responsible travel to natural areas that conserves the environment, sustains the well-being of the local people, and involves interpretation and education" (TIES, 2015).
In the modern world, ecotourism means supporting village-based, small-scale enterprises. It is usually contrasted with mass tourism, or traditional tourism, which operates through large-scale projects run by big companies, building huge infrastructure developments in tourist zones.
Ecotourism stems from motivations to change society by promoting new relationships between people, the environment and people around the world from different cultures (Wall, 1996; p. 108-117). Ecotourism usually builds on adventure and culture tourism, providing new means to preserve nature and culture in countries with burgeoning tourist industries.
A Glance at Thailand's Community Based Ecotourism (CBET)
In 2013, 20.2 percent of Thailand's GDP came from tourism, with forecasts suggesting that Thailand's tourism industry will continue to grow into the future (Bangkok Post, 2014).  As tourism has increased in Thailand, the country has seen various cultural impacts and forms of resource exploitation.
In recent decades, communities in Thailand have turned to ecotourism to protect and sustain their national resources. According to Jian Ping Wang (2004), ecotourism in Thailand is seen by many as a success story. However, Wang's paper explains that ecotourism in Thailand developed as a form of Community Based Ecotourism (CBET), which is the result, not of national-level policy or regulation, but of the practices of communities and private organizations.
For example, in Northern Thailand, which is home to numerous indigenous communities, ecotourism is practiced by private partners and NGOs, in partnership with local communities. While private and NGO partners provide funding, training and marketing assistance, the indigenous people contribute land, labour and local knowledge of the area (Wang, 2004).
Although Thai ecotourism is not regulated by governmental policy, private organizations, local authorities and indigenous communities have collaborated to develop CBET. Together, they have learned about good and bad practices for ecotourism, making Thailand well-prepared for rising tourism; Thailand has strong knowledge of the pitfalls of tourism and how sustainable tourism can be developed.
We now look at the question: Will Myanmar be just as prepared as its tourist industry starts to grow?
Ecotourism in Kaw Zar, Ye Township, Mon State
As Myanmar has started to open up there has been a massive wave of development projects, with investment being attracted from numerous countries. Among various places of choice, Ye Township, Mon state, has been the target for many new investments. Recent projects have included the building of a coal power plant in Ann Din village and the development of mining across the Township. In addition, Ye Township is home to many attractive beaches and islands, which have begun to attract the attention of the country's growing tourist industry.
Recently, the beaches around Kaw Zar village, including Kabyar Wa beach, have been put forward for development by a company called Aurum Company Limited. While Aurum Company Limited proposed the project to the Mon State Government last year, their plans have only recently been more widely received.
According to a short video clip shown on Myanmar National TV, Aurum Company Limited has invested US$ 12 million in the Kabyar Wa Beach development project, working in cooperation with the Mon State government. The project site spans 8 miles from North to South and is divided into four zones:
Zone (1) From Kaw Zar to the beginning of Kabyar Wa beach, up to Kabyar Wa Northern bridge,
Zone (2) From Southern Kabyar Wa village to Tayoke Htauk village Northern beach bay,
Zone (3) From the Southern part of Kabyar Wa village to Kaw Zar Chaung Wa, and
Zone (4) From Kaw Zar Chaung Wa to Ma Gyee Chaung Wa.
The company has drawn on the idea of ecotourism in their marketing of the project, promising that the project will encourage "community-based tourism". Managing Director of Aurum Company Limited, U Htay Thwin, said, "This area is not developed yet. However if we compare it to other regions, the resources and forest in these areas has not yet declined. And so, with our new development plan, we will be able to invite more investments, enhance community-based tourism and improve local enterprises". U Htay Thwin also said that the company will upgrade existing infrastructure as part of the project, building roads, a healthcare center, a public library and a community market.
However, there are concerns that the project will not live up to these promises; in particular, that ideas of "ecotourism" and "community-based tourism" are being used as marketing buzzwords, rather than signifying a real commitment to protecting Ye Township from tourism's negative impacts. There are worries that "ecotourism" projects will end up exploiting local populations, rather than following the positive model seen in Thailand.
Locals' Worries and Concerns
Providing substance to these fears, residents have expressed concerns that Aurum Company Limited will exploit ideas of "ecotourism" by mobilizing unethical methods of acquiring land around Kabyar Wa beach for their development project.
The Aurum Company Limited has stated that they will cooperate with the Mon State government in order to acquire land. However, land in this area is mostly owned by local people, who use their land to grow betel nut and other regional crops.  Raising concerns about future land acquisition, many landowners in this area do not have owners' documents or land titles, with land instead passed from generation to generation through customary tenure. It has been suggested that people living in this area are particularly unlikely to possess land titles, given that in previous decades the region was a "black area", under the control of rebel groups rather than government authorities (Weng, 2008).
Min Zayar Lwin, a graduate from Yangon Economic University, explained:
"I am worried that there will be abuses under the name of ecotourism. For example, as the project land area is mostly owned by locals, if there are cases of land confiscation the authorities will cooperate with the company […] I am afraid that the company and authorities will continue land grabs, just like in other development projects in other areas. If abuses occur, as a local person I must protect my rights."
A villager from Kyone Nye village, who owns a plantation growing cashew nuts and other seasonal crops, reported that:
"This project is planned by Aurum Company Limited, in collaboration with some locals from Ye, and the State Government also has a stake in the investment. I worry that, with the government and companies working together, they will offer unjust compensation again, like in Kyiakmayaw Township [where land was acquired for cement production, with low rates of compensation]. Many people in this area cannot speak Burmese and they have simple livelihoods that depend on these resources [their land]. I worry that this will be no more after the development."
Elaborating theoretical aspects behind these concerns, Dr. Manoj Potapohn, from the Faculty of Economics of Chiang Mai University, added:
"Land grabbing is a problem, and it is political by nature. Generally, in former socialist countries where market institutions are not well developed, those in power are tempted to get land through confiscation rather than using the market. Myanmar is still a mosaic of people with different ethnicities and still has the issue of inter-ethnic relations to sort out. [In terms of good practices] there is, for example, the use of fair compensation for people negatively impacted by development projects and […] weighting negative effects with positive ones to make sure the region won't be left behind."
Meanwhile, locals' concerns go beyond fears about future land acquisition. Naing Soe Naing, 40 years old from Kyone Nye village, explained worries about possible cultural effects of the development project on Ye Township's communities:
"From my experience, many women in Thailand have become prostitutes because of economic development and […] tourist attractions. And local cultures are affected as other popular cultures arrive. I was uncomfortable when I saw this [in Thailand] and I worry for our region with the growth of this development project. I think that, before inviting investments, the authorities should consider protecting [local areas] from popular culture influences."
What Next for Ye Township?
Within a capitalist economy, the fundamental mission of the state and market is to create a good business climate, and in doing so increase profits. However, this becomes a concern when it affects the resources and wellbeing of local communities. While models of ecotourism in Thailand show that profit and social responsibility can go hand in hand, it seems likely that this may not transpire in Myanmar's tourist industry. Instead, we see fears that destruction of local communities will be committed under the guise of "ecotourism".
It is very difficult for a country like Myanmar, where transparency is infrequently practiced by both the government and private companies, to develop genuine ecotourism. Moreover, although there are many tourism development projects in Myanmar, there is no comprehensive national ecotourism strategy. In order to protect local communities, such as those in Ye Township, the government should take the lead in facilitating cooperation between various actors to promote ecotourism; this should include governmental agencies, NGOs, local communities, environment groups, and other related bodies.
People will always want to travel to new places, to explore beautiful surroundings and encounter local cultures and heritages. Sustaining and protecting these natural resources and cultures is a crucial role for all actors. Only if this takes place can local populations hope for true "ecotourism" and development in their communities.
Works Cited
Bangkok Post. (2014, March 19). Tourism income to hit B2.42 trillion. Retrieved June 25, 2015, from The Post Publishing PLC: http://www.bangkokpost.com/most-recent/400701/tourism-as-gdp-to-rise-by-0-1-in-2014
The International Ecotourism Society. (2015). What is Ecotourism? Retrieved 2015, from The International Ecotourism Society: https://www.ecotourism.org/what-is-ecotourism
Wall, G. (1996). The Ecotourism Equation: Measuring the Impacts. New Haven, Connecticut, USA: Yale School of Forestry and Environmental Studies, Sage Hall.
Wang, J. P. (2004). Community-Based Ecotourism Development in Northern Thailand. Kunming: Yunan University.
Weaver, D. B. (2001). The Encyclopedia of Ecotourism. Oxon: Cabi.
Weng, L. (2008, March 6). Two People Shot, One Fatally, in Ye Township, Mon State. Retrieved June 26, 2015, from Human Rights Foundation of Monland: http://rehmonnya.org/archives/9
Business owners report rising taxes for roadside restaurants and shops in Mudon Town, Mon State. With both Municipal and Gross Profit taxes increasing, even owners of large businesses have reported difficulties turning a profit. Exacerbating concerns, business owners have also complained of corruption and inequity amongst local tax collectors. Read more
In recent weeks forty people have been treated for cholera in Ga Own Guu village, located in the Thai-Burma border area of Three Pagodas pass. The village, comprised of approximately eighty households in total, is located in territory under the control of the Mon armed group, the New Mon State Party (NMSP). Read more
 HURFOM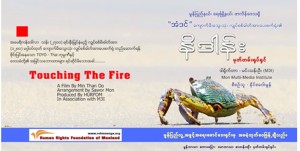 A human rights film entitled "Touching the Fire", directed by Min Than Oo and produced by the Human Rights Foundation of Monland (HURFOM), has won the Aung San Suu Kyi Prize at the 2015 Human Rights Human Dignity International Film Festival, Burma/Myanmar. Read more