HURFOM : Light Infantry Battalion (LIB) No. 406 has commandeered at least ninety acres of farmland in Yebyu Towship, Tennasserim Division, say local sources.
The battalion's commander claims the seizures are justified because farmers were not cultivating the land. July and August, farmers contend, saw unusually large amounts of rainfall, which caused flooding and mudslides that made farming impossible until water levels decreased. Read more
HURFOM : Members of Burmese exile groups are facing another round of cyber attacks. An email with the subject line "I need help" is infecting the computers of users who open the message, report sources in Mae Sot, Thailand.
"On October 2nd, after I finished my work, I logged into my email and clicked on an email titled 'I need help.' After that my computer froze, including the screen, cursor and keyboard. After waiting a few minutes, nothing changed so I shut the computer down. When I restarted, I could only get a black screen," says Maung Shwe, 40, a Burmese pro-democracy activist in Mae Sot. Read more
HURFOM : Local residents in Thanbyuzayat Township, Mon State, are being forced to pay the expenses of militia forces recently recruited by the Township Peace and Development Council (TPDC).
The new round of "taxation" began after significant numbers of the Township People's Militia Force resigned and replacements had to be found and paid for. The militia is headed by U Maung Gyi, 49, who demanded payments from residents of Wagaru and Taung Phalu villages. Read more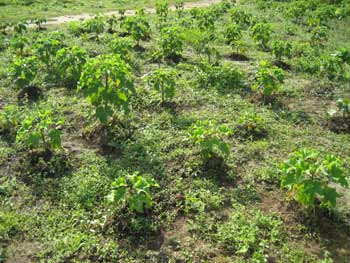 HURFOM :Three Pagodas Township authorities are forcing villagers to plant Jatropha "physic nut" trees along the seven kilometer road connecting Chaung Zone to Three Pagodas Pass. Residents have to pay authorities for the cost of the trees, and then plant the trees themselves.
The order was given on September 28th, by U Myo Kyi, 46, chairman of the Three Pagodas Township Peace and Development Council (PDC), and applies to Kyo-Ha-Blu, Jown-Kwee and Chaung Zone villages.
The recent order follows a similar one last year, when residents were also required to plant jatropha. "Last cold season, PDC officials ordered each households to grow ten to fifteen plants and took 50 baht from each household to cover the cost of the saplings," says Nai Bai, 35, a resident of Chaung Zone village. Read more
HURFOM:
Light Infantry Battalion No. 299 is forcing villagers in Komile village, southern part of Ye Twon ship, are being forced to work as unpaid laborers clearing brush on the battalion's rubber plantations, barracks and roads.
About thirty people are being forced to cut brush, each working four days a month sharing four gas-powered grass trimmers. Villagers are not only unpaid, but must provide all their own supplies; neither food nor fuel is provided. One day of work requires three to four litter of fuel, costing around 5,000 kyat. Read more
HURFOM, Mudon Township, September 30th, 2008
Residents of Mudon Tonwship report that they have been required to pay multiple rounds of exorbitant fees for electricity, but are still without power.
On August 20th, the Mon State Electric Power Corporation (EPC) demanded seven million kyat from villages in Mudon Township for the costs of setting up electricity. Six villages, including Let-Tet, Kyaik-Ywe, Wet-Tae, Nyaung-Gone, Kyone Phaik and Kaw-Kha-Pone, made the initial payment. Barely two weeks later, the electricity supply was cut. Read more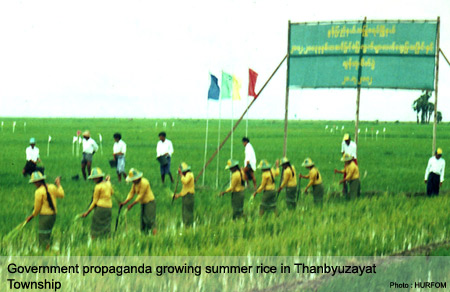 HURFOM : Mudon Township authorities have ordered farmers to grow summer rice crops, in spite of the season's unsuitability to rice cultivation.
The order, given in a September 25th meeting between township authorities and village headmen, applies to Mudon Township's twelve village tracts, each home to at least twenty-six villages. Farmers will be required to grow rice during the summer hot season, even though the weather is not conducive to rice cultivation. "Last year we had to grow summer paddy like they want us to do again. It did not work because the weather is no good for rice. We also had to buy everything even though it is their idea – the seeds, fertilizer and water," said a farmer from Mudon Township. "We were not allowed to use our native seeds, the Myanmar Agriculture Service (MAS) only allowed us to use their seeds. But their seeds are not good or suitable for our land, and they are more expensive." Read more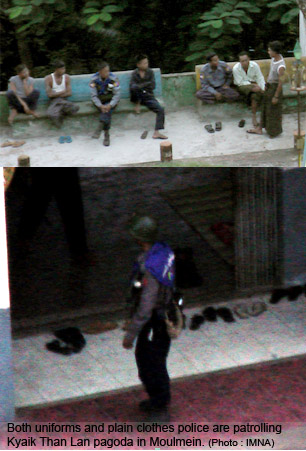 HURFOM : Police officers, soldiers and members of SPDC-sponsored civilian groups have increased surveillance and patrols in Mon State, report sources in Moulmein and Mudon Township. Officials are especially targeting monks and students, and have posted sentries at Moulmein University and Kyaik Than Lan Pagoda. The authorities' increased watchfulness comes as the one-year anniversary of the Saffron Protests approaches.
"The police are in both uniforms and plain clothes, and are patrolling the University and big pagoda in Moulmein. There are about fifty police officers and soldiers patrolling in each place, and they keep watch twenty-four hours a day. The reason the sentries are there is because this time last year monks and student gathered and protested." Read more
I was born in Mon State, but recently traveled to Rangoon. I went to get a passport, but the moment I walked into the immigration office, I became afraid I would not succeed. Hundreds of people were crowded around – so many people it seemed as if a wealthy person was making a rice donation to the people.
The office is small and so crowded I felt as if I could not breath. A government official said that three hundred people apply for a passport every day; every person I talked to said they were trying to leave Burma. Read more
September is a month with a bloody history in Burma. September1988 saw thousands participate in pro-democracy demonstrations, until the military regime – then called the State Law and Order Restoration Council – responded with overwhelming force, killing at least three thousand people.
September 2007 saw more protests, and violent responses. Beginning in August, Buddhist monks and supporters took to the streets throughout Burma. The regime responded brutally – police, soldiers and armed regime-supported civilian thugs crushed the demonstrations. Monks and civilians were beaten and shot, monasteries were ransacked and scores of people were tortured and detained.
September 2008 has been quiet, but only because people are afraid, and the regime continues to bloody its hands every day. The people of Burma have sought help from the international community, especially the United Nations Security Council. But the UN and the international community have failed to end the plight of Burmese people. The regime stays strong, and it is clear that democracy activists, ethnic minorities and other Burmese people will continue to suffer in an oppressive system.