Weekly Overview: Human Rights Situation in Mon State, Karen State, and Tanintharyi Region
HURFOM | May Week Two
As the Human Rights Foundation of Monland (HURFOM) documents the military junta's ongoing atrocities and war crimes, impunity only continues to thrive as the international community fails to respond. During the most recent ASEAN summit last week, regional leadership refused to take progressive steps forward to hold the Burma Army accountable.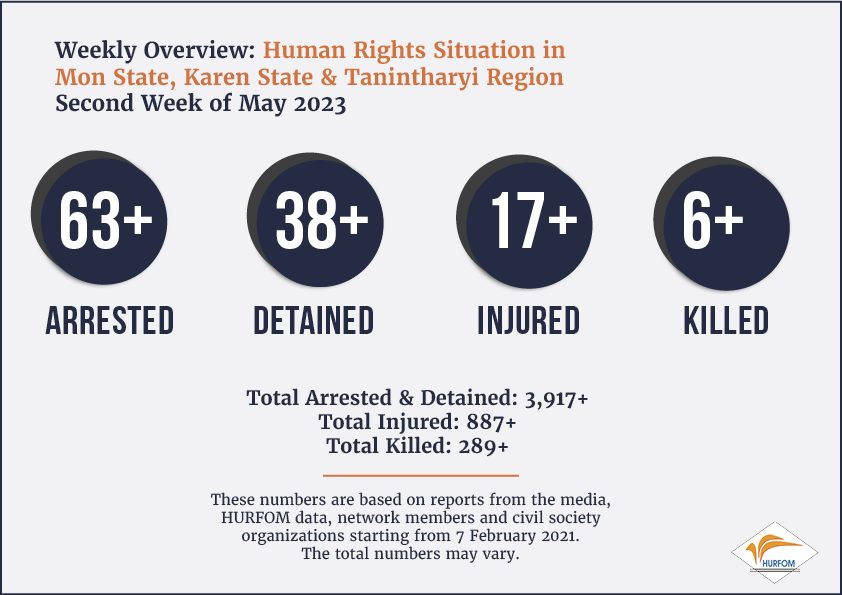 A lack of consequences emboldens the mass-murdering regime to scale up its war tactics as civilians are deprived of their fundamental human rights. A cyclone affecting the country has only increased worries and concerns about the safety of those most likely to be the worst affected, particularly those in Rakhine State, including the Rohingya, who are among the most vulnerable.
Although there was no armed conflict in the area, the military junta deployed airstrikes to bomb a village where Karen people lived in Ye Township, Mon State. It happened twice on the night of May 7 and the morning of May 8. Due to this sudden aerial attack, at least eight local villagers were seriously injured. Three were in critical condition, and an estimated 500 local villagers fled their homes. War Pa Tae village a Karen majority village located in Bay Lamu village tract.
One of the villagers fleeing the attack said that the military started the aerial attack with an air jet on May 7: "We heard the sound of a jet plane at 11:00 PM. We immediately realized it was not a typical plane sound and ran down to hide in the ditch by our home. As expected, the sound of a bomb explosion began near the school," said a witness.
There has not been any fighting or conflict around Chaung Hnit Kwa, War Pa Tae, and Tha Pa Taw villages. "I can't understand why they came to fight with an airstrike," said a local villager.
The junta's indiscriminate artillery fires also killed and injured women and children in Kawkareik, Karen State. Junta battalions are continuously firing at the residences of the local people with artillery weapons. Local people, including women and children, were killed or injured when they opened fire on community homes with artillery.
On May 5, Light Infantry Battalion (LIB) No. 97, based in Kawkareik Township, fired artillery at 7:30 am. A 58-year-old woman was injured:
"Artillery motors fell into our village and exploded. They continued firing until nightfall, some of which exploded in the courtyard. Naw Ma Latt, age 58, from the middle quarter of the village, was hit by artillery on the right side of her head. It's not life-threatening, but it she needs a lot of treatment. Currently, there are no medical teams in the village," said a local news source of Maung-Ma-Ywa-Thit Village. LIB No.97 and military troops at Hlaing Wa Hill constantly fired artillery mortars at the town, causing fear, panic and alarm.
Residents in Karen State were attacked again the next day on 6 May. One was killed, and the junta's artillery shells injured six other brick kiln workers. Artillery shells exploded in the brick factory site near the exit of Kawkareik town, in Karen State, at around 6:00 AM. One civilian was killed and six were injured during the explosion.

According to an anonymous witness, the military troops were based in the hills on the eastern side of Kawkareik town. They fired many indiscriminate shots toward the local Karen villages. Many of these shootings fell near residential areas and inside the neighbourhood. Some houses were destroyed and burnt by mortar shells. The villagers fled from their homes when they heard the shots fired. Some of those who couldn't run were sheltering in trenches.
Because of the weapon that fell outside the city, 35-year-old Ko Zeya, who came to work from Zatha Phyin village in Hpa-an township, Karen State, was killed, and six other brick kiln workers were injured. Among the six includes a woman.
These attacks will continue unless meaningful accountability measures ensure an end to the junta's terror.
Comments